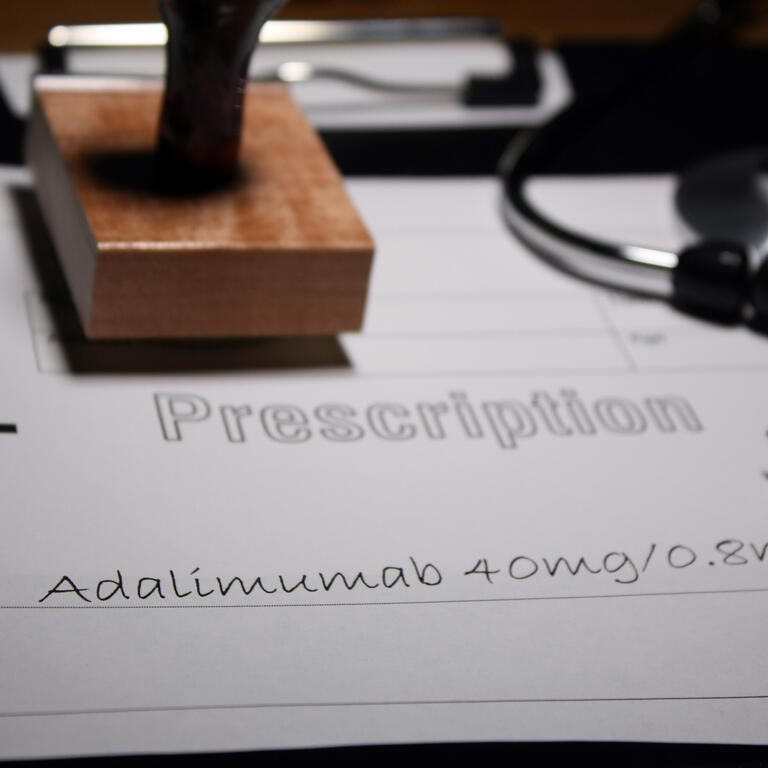 Hailshadow/iStock via Getty Images
AbbVie (NYSE:ABBV) shares have recently outperformed the market, but it is no time to fade the move. Shares have been cheap for far too long, and the melt-up that is taking them to a proper valuation appears only about half done. I believe ABBV shares have the potential to appreciate by another 20-30% within 2022 on the company's continued growth and guidance, as well as earnings multiple expansion upon improved market sentiment.
In Q3 of 2021, ABBV shares sustained a considerable decline after the FDA updated safety warnings on Janus kinase (JAK) inhibitors, which includes AbbVie's Rinvoq. The FDA's notice was due to a concern over increased risk of certain heart conditions that were correlated with taking Xeljanz, and possibly caused by taking it. Xeljanz is a competing JAK inhibitor made by Pfizer (NYSE:PFE). Despite the concern originating from Xeljanz, the FDA wants revisions to the warnings for all JAK inhibitors, so Rinvoq was affected.
Rinvoq made about $731 million in sales in 2020 and has the potential to become a blockbuster, so this is a legitimate concern, but the market response was a clear overreaction. ABBV lost over $20 billion in market value in the weeks following the updated safety profile for JAK inhibitors. That sharp decline largely self-corrected before 2021 ended.
More recently, on January 14, 2022, the FDA approved Rinvoq for moderate to severe atopic dermatitis in adults and children over the age of 12. The same day, the FDA also approved Cibinqo, yet another JAK inhibitor from Pfizer, for moderate to severe atopic dermatitis in adults. These approvals indicate the FDA is not so concerned with this recently realized risk as compared to the efficacy of JAK inhibitors.
At least some of AbbVie's apparent discount to the market and many large-cap pharma peers is due to its political risk. In May on 2021, the House Oversight Committee complained about AbbVie's use of patents to protect and extend the longevity of its intellectual property.
The Senate Finance Committee also demanded information on AbbVie's use of international corporate domiciles, as well as the tax laws they were using to shield their income from U.S. taxation. They literally asked them how even though the answer was those laws you legislators wrote.
AbbVie also continues to benefit from their 2019 acquisition of Allergan. That deal was not appreciated by the market, and it remains under-appreciated. Allergan provided needed diversification from Humira for AbbVie, and that diversification is also profitable.
Allergan was a great acquisition for AbbVie back in 2019, and the market never gave them much credit for it. Allergan had over $2 billion in revenue from eye care and almost $2 billion in gastrointestinal revenue. Allergan also contained a women's health division that is likely to grow in the coming years.
Allergan was best-known for its aesthetic and/or cosmetic treatments, such as Botox, Juvederm, and CoolSculpting, but it also provided a promising neuroscience division. For example, Vraylar is the fastest-growing atypical antipsychotic in the United States. Vraylar could be a future blockbuster, and its revenue is wholly differentiated from AbbVie's historical core revenue drivers, or the old Allergan's key lines of business.
AbbVie is a Dividend Aristocrat that is likely to increase its quarterly payout each year. AbbVie is also a regular repurchaser of shares and a constant beater of guidance. AbbVie has met or exceeded both total revenue and adjusted EPS guidance in all 35 quarters since becoming an independent company.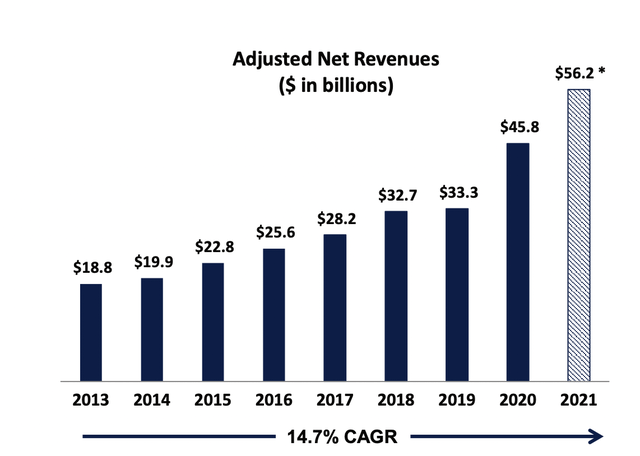 ABBV revenue history
AbbVie
AbbVie's earnings per share are growing even faster than revenue, as the company cuts costs and repurchases shares. Of course, the not so secret sauce at AbbVie is the continued success of Humira, which is still over 30% of AbbVie's revenue.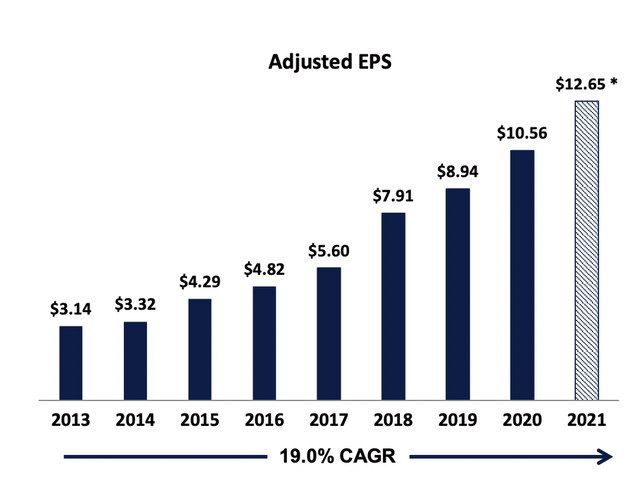 ABBV EPS growth
AbbVie
AbbVie is scheduled to next report quarterly earnings on February 2, 2022, at which point it is likely to beat guidance once again.
Increased congressional scrutiny could result in a serious gap down in share price. AbbVie is sensitive to political risk, but it was dragged before congress just last year. In my opinion, it is probably not their turn again this year. Declines of 20% or more to even the largest of drug companies are reasonably foreseeable when the headlines get negative. Similarly, risk and uncertainty for pharmaceutical companies often peaks with elections.
AbbVie's continued dependence upon Humira remains its most frequently discussed risk. Humira has the potential to continue growing, though at a declining rate. Also, biosimilar competition has the potential to eventually affect margins and take market share.
AbbVie remains an undervalued large biopharmaceutical company. ABBV's recent outperformance is likely to continue in 2022. ABBV also provides a well-covered dividend yielding over four percent at current prices, and with a high probability of being increased this autumn.
This article was written by
Disclosure: I/we have a beneficial long position in the shares of ABBV, PFE either through stock ownership, options, or other derivatives. I wrote this article myself, and it expresses my own opinions. I am not receiving compensation for it (other than from Seeking Alpha). I have no business relationship with any company whose stock is mentioned in this article.