4kodiak/iStock Unreleased via Getty Images
Amazon (AMZN) is one of our favorite names to own in 2022. Consequently, we recommend investors buy Amazon shares here and opportunistically in the future. Amazon underperformed S&P in 2021 and was up about 2.5%, while S&P was up about 27%. Amazon's underperformance was mainly driven by slowing e-commerce growth due to retail stores re-opening as the pandemic began to ease in 2H2021. In addition, margin pressure due to labor shortages and higher delivery costs also impacted the stock's performance. Based upon credit card receipts data from Bank of America (BAC) and JPMorgan (JPM), Amazon has gained e-commerce share in 2021. On top of e-commerce share gains, AWS enjoys strong demand as many companies have irrevocably embarked on the digital transformation and adoption of AWS cloud. Amazon's valuation is also cheap when compared to FANG and other e-commerce stocks. As estimates are conservative, we expect Amazon to beat and raise throughout 2022. Therefore, we expect Amazon to outperform the peer group in 2022. Consequently, we recommend investors buy shares here.
Investors are grappling with the growth outlook for Amazon post-pandemic. Following the pandemic outbreak, Amazon benefited from a sharp increase in e-commerce between 2Q20 and 1Q21. e-commerce growth is facing potential moderation in some categories as countries come out of the pandemic. However, we believe market share gains are driven by improvement in service levels and newer categories to drive overall growth. While some e-commerce categories may have peaked penetration, many more recent categories are underpenetrated, including food, clothing, and pharmacy. The following chart illustrates the penetration levels of various e-commerce categories.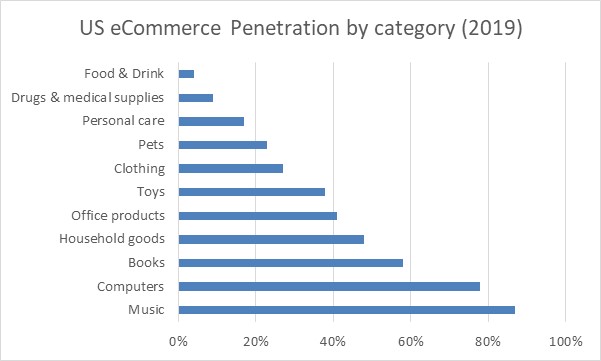 Boston Consulting Group
Amazon is likely to benefit from several growth drivers post-pandemic. Some drivers include Amazon for business customers, continued AWS growth, and penetration into newer e-commerce segments, including food, medicinal drugs, clothing, and pets. In addition, we expect Amazon to also benefit from the international expansion of its services and e-commerce offerings.
Amazon's Prime membership is an excellent proxy to Amazon's future business strength. Prime strong growth is usually a precursor for business strength and volume. Over 75% of transactions on Amazon are from Prime members, and an average member spends 3x more than a non-prime member. Amazon has over 150 million prime members in 2020, up from 100 million members in April 2018. We expect many Prime members to renew their Prime membership even after the pandemic ends at some point in 2022. We believe Prime membership is much more economical and makes sense, given the benefits it offers, in addition to free delivery, when we factor in the price Netflix charges for its subscription.
AWS continues to remain one of the growth engines for Amazon. Demand for automation and higher labor costs are likely to drive growth for AWS. Since the pandemic began, AWS growth has accelerated. AWS growth accelerated from 28% exiting F4Q20 to 32% in 1Q21, 37% in 2Q21, and 39% in 3Q21. Recently Meta (FB) announced it had chosen Amazon as its long-term strategic partner. Meta is a marquee win for Amazon AWS, as the infrastructure required for building metaverse is mainly undeveloped and will take several years to deploy. We expect Amazon to also enter the AR/VR hardware arena, given its recent progress on developing Alexa-enabled devices, in addition to wearables. We view AMZN as a critical partner to FB and others to build the Metaverse. We also expect Amazon to offer AR/VR services and expect Metaverse investments to drive growth in 2022 and beyond.
Amazon's business reached a $25 billion run rate in March 2021, up from a $10 billion run rate in September 2018. The number of sellers using the Amazon platform is several hundred thousand. Amazon now can reach over 5 million business customers worldwide, including 80% of the fortune 100. We expect Amazon Business GMV to steadily increase from $31 billion in 20121 to about $85 billion in 2025.
We expect Amazon to claim a significant piece of holiday e-commerce spend due to its 1) wide and deep product selection, 2) competitive pricing, 3) One day to same-day delivery, and 4) best in class customer experience. We expect Amazon to ring in at least 43% of all GMV spend, slightly lower than last year due to Prime day being pulled forward to 3Q in 2021 versus 4Q in 2020. The following chart illustrates Amazon's share of the e-commerce pie in the US.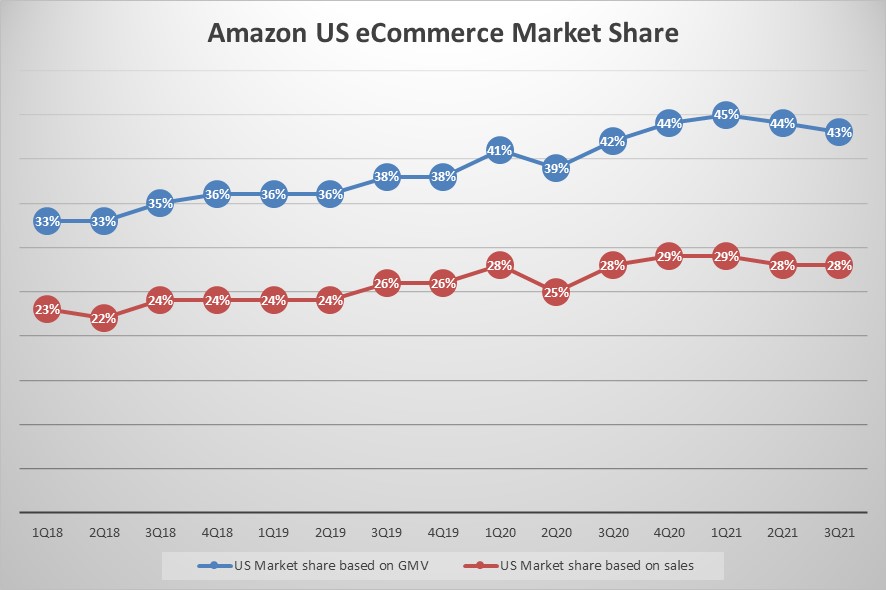 Morgan Stanley
Following disappointing F2Q and F3Q21 results, we believe Amazon provided conservative guidance for F4Q. Net product sales are expected only to grow about 2% (down from 41% in 4Q20) and services to grow around 20% (down from 48% in 4Q20) for a total growth of approximately 10%, versus the prior year of 44%. For F1Q22, the estimates are also conservative, with product sales expected to grow around 4% (down from 37% in 1Q21) and Services sales of 20% (down from 52% in 1Q21) for total revenue growth of 12%. Given that the estimates are conservative, we expect Amazon to report results ahead of estimates and likely guide ahead of estimates.
In a JPMorgan buy-side sentiment survey published last week, 69% of the survey respondents indicate Amazon will be the best performing stock amongst the FANGs in 2022. Amazon is a clear favorite for both long-only funds and hedge fund managers. In addition, the sell-side sentiment is also positive, with a majority of sell-side analysts being positive on the stock. The following chart illustrates buy-side sentiment survey.

JPMorgan
Amazon is select few companies in our coverage universe that are profitable on a GAAP basis. Most of its revenue is derived from e-commerce. We like to use EV/Sales and EV/EBITDA as the primary valuation metric. Amazon is inexpensive when evaluated on an EV/Sales basis. Amazon is currently trading at 2.9x on EV/C2022 sales or 2.5x EV/C2023 sales. Historically Amazon traded at a 3.6x on the last three-year average or 3.2x on the previous five-year average. On an EV/EBITDA basis, Amazon is currently trading at 19.0x versus the 3Y average of 25.9x. Compared to the large-cap peer group, Amazon is trading at a discount on EV/Sales and EV/EBITDA bases. The following charts illustrate Amazon's historical multiple and large-cap valuation.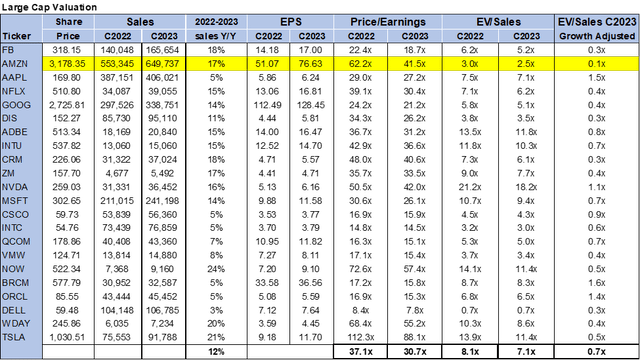 Refinitiv & Techstockpros
Refinitiv & Techstockpros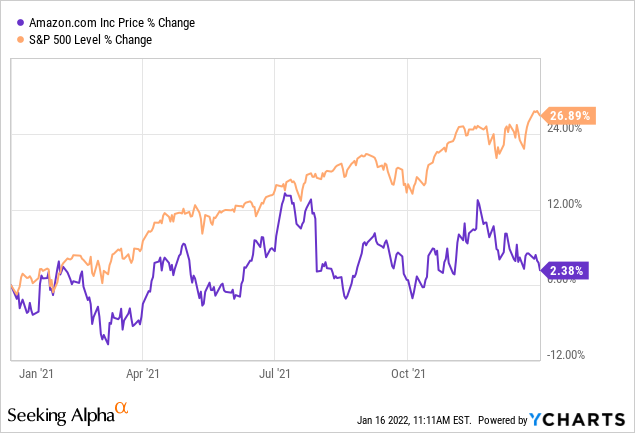 YCharts
We are bullish on Amazon stock. An overwhelming majority of Wall Street analysts are bullish on Amazon. Out of the 55 analysts covering the stock, 54 are buy-rated, and one is hold-rated. The stock's current price is well below the mean of $4,102 and the median of $4,055. The following charts illustrate analyst ratings and the price targets.


Refinitiv & Techstockpros
Refinitiv & Techstockpros
Amazon is the clear e-commerce leader and the leader in Cloud computing. In the era of rising interest rates, Amazon is a reasonably valued quality stock. Amazon is cheap and has underperformed the FANG stocks in 2021. Amazon also consistently underperformed the S&P index in 2021 as many investors expected revenue growth to slow following a stellar 2020. Amazon benefited disproportionately from the Covid pandemic during 2020. However, the pandemic benefits are beginning to unwind, which leads to slow revenue growth in 2021. In 2H of 2022, the Y/Y comparisons will likely improve, and we expect the stock to perform better. We are bullish on Amazon and a majority of fund managers agree with our stance. In addition, most Wall Street analysts are also optimistic about the story and recommend investors buy shares of Amazon.
This article was written by
Disclosure: I/we have no stock, option or similar derivative position in any of the companies mentioned, but may initiate a beneficial Long position through a purchase of the stock, or the purchase of call options or similar derivatives in AMZN over the next 72 hours. I wrote this article myself, and it expresses my own opinions. I am not receiving compensation for it (other than from Seeking Alpha). I have no business relationship with any company whose stock is mentioned in this article.