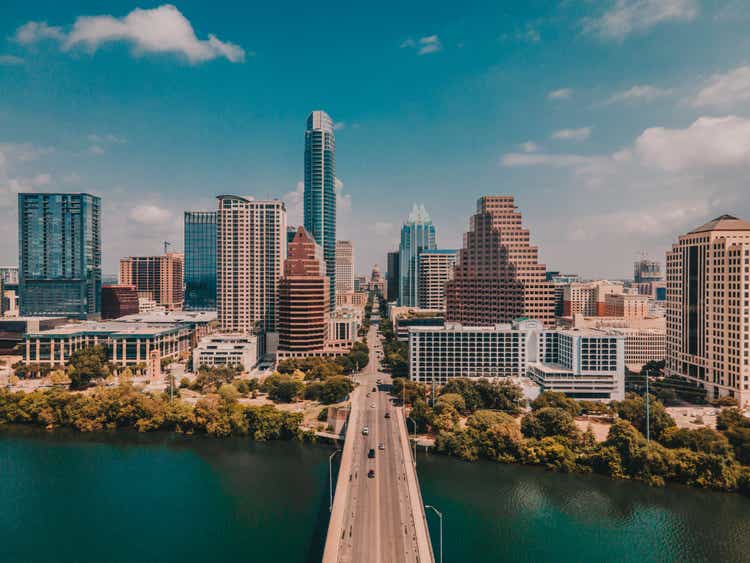 Raymond Palmer/iStock via Getty Images
In one of my favorite investing books of all time, The Most Important Thing, Howard Marks' shares a quote which goes something along the lines of: "predictions are hard to make especially about anything involving the future." I love that quote. It speaks to the fact that the future is unknowable. In fact, much of the book boils down to the simple notion that it is essentially impossible to consistently predict the future, so in reality, we are more likely better off focusing our efforts on assessing where we currently stand and identifying our best course of action based on that assessment. Consider, for example, the magnitude of people forecasting impending doom in the housing market. While it is sure to grab clicks and headlines and attention, I would suggest fears of a housing sector crash are a potential macro-level worry that will lead you to miss a micro-level opportunity worth looking into – Green Brick Partners (GRBK).
The housing market has become a focal point for analysts, forecasters, market watchers, water cooler gossipers, and Tarot card readers alike to share their ideas about what will happen in the future. And the problem is that all these people are smart and knowledgeable and they project copious amounts of confidence and conviction which makes them quite convincing in their views/predictions but I have to say in my estimation this analysis may be a red herring. How can that be?
Consider the analysis that Steve Eisman voiced a few years ago on his short thesis against Zillow (NASDAQ:Z). The crux of his argument against Zillow (as I understood it) and more specifically Zillow's effort to dunk on all other realtors by directly flipping properties themselves while boasting about the size of their potential TAM in flipping homes to investors. His core argument was that the strategy was doomed to fail from the start as the underlying premise essentially assumed one unified housing market – which Mr. Eisman points out does not really exist. As Mr. Eisman articulates the U.S. housing market is easy to talk about as one conceptual thing but the reality is that the U.S. housing market is thousands of mini-housing markets each with its own micro-supply and demand dynamics thus what works in one market does not necessarily work in another market. Enter Green Brick Partners.
The company has a market cap of $1.1B and trades at a forward P/E of 5.98 which is cheap compared to the sector median as well as to itself basis the 5-year average all according to Seeking Alpha metrics:

Seeking Alpha
I would argue this disparity in forward multiples stems from investors' macro-level concerns/assumptions that monetary policy normalization is bound to cause an outsized correction across the housing sector. But, I would also suggest that GRBK is unique in the fact that although GRBK is a homebuilder, it is a focused play on a select set of markets – all markets in which I personally tend to believe will continue to develop favorably irrespective of shifts in monetary policy. Step away from the panic button and think about it for a second…is it reasonable to think that higher interest rates are going to make California a cheaper place to live in and do business in than Texas? I don't think so.
I have been laying out various write ups on my case for GRBK in a piecemeal fashion across several articles previously which can be seen here.
So what has changed lately? The big news is that GRBK announced plans to begin operating in a new market – Austin, TX. Living in TX myself and having traveled to Austin on several occasions, it's not difficult to see the appeal and understand why so many people from the coastal states have been migrating to Texas and Austin in particular among the other big cities. Considering the vibe and sense of politics, Austin is an easier transition for folks from San Francisco or New York to make to Texas vs. say Amarillo. It is a vibrant, high energy and increasingly technology/startup-focused city. Also, no surprise is that it also happens to be one of the most griped-about places to live from a logistics and congestion point of view as the city struggles to deal with the tremendous population growth they have experienced in recent years – which is not a great unintended consequence, but at the same time, I guess it's what they get for being the trendy place to live in Texas.
Per the news announcement put out from GRBK:
"Green Brick Partners will make its debut into the Austin market through its Trophy Signature Homes brand…Economic opportunities and an unmatched quality of life have driven people to relocate to the Austin area, creating a robust demand for new homes," said Jed Dolson, Chief Operating Officer and Executive Vice President of Green Brick Partners. "Inventory of new homes, particularly entry-level homes, continues to be incredibly limited and is exacerbating the issue of access to affordable homeownership. By expanding our footprint to the Austin market, we seek to alleviate some of these issues through our value-rich, entry-level homes." The Company has purchased approximately 383 acres of land in Elgin, Texas, 25 miles northeast of Downtown Austin, for the development of its first Austin-area community, Trinity Ranch…". Construction of the homes is currently slated to start by early 2023, and Green Brick Partners anticipates opening for sales in the spring of 2023. The Company is also pursuing other expansion opportunities in Austin."
So rhetorically speaking, do people who allocate capital for a living seem to care about this potential development into a new market? Well, take a look at the chart: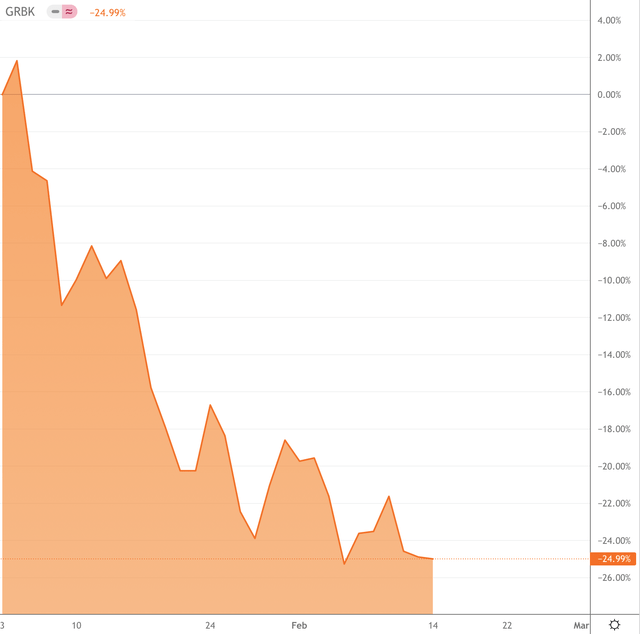 Seeking Alpha
Green Brick Partners, like essentially all homebuilders, has had a rough go of 2022 so far. GRBK shares have fallen some 25% from around $32 down to <$22 and best I can tell the primary factor driving the drop is the macro interest rate narrative that a 100-200-basis point uptick in mortgage rates are going to drive a massive correction across the housing market. But this analysis provides no nuance on geography, land position, balance sheet strength, etc. at all and I would argue at the very least geography really matters when it comes to housing.
I think GRBK is easily worth more than $21/$22 per share. Could it trade lower? Absolutely. When Green Brick Partners reports earnings in the coming weeks, who knows what will happen. This market has been pretty rough on conservative forward guidance and I sincerely doubt that any prudent manager of a homebuilder is looking to be a hero on guidance. Additionally, there has been a lot of flipping out based on the talk alone from Fed officials, so who knows, so it's anybody's guess on what will happen when they actually raise rates for the first time. All to say, who knows what will happen to GRBK stock in the near term. Long-term, however, I see a ton of value in partnering with GRBK, considering their focused positions in fundamentally great regions supported by underlying population trends that are arguably structurally independent of the interest rate environment, terrific margins, and a conservative balance sheet, and a stock that is already pricing in a pretty bad outcome in the future.
Thanks for reading!
This article was written by
Disclosure: I/we have a beneficial long position in the shares of GRBK either through stock ownership, options, or other derivatives. I wrote this article myself, and it expresses my own opinions. I am not receiving compensation for it (other than from Seeking Alpha). I have no business relationship with any company whose stock is mentioned in this article.