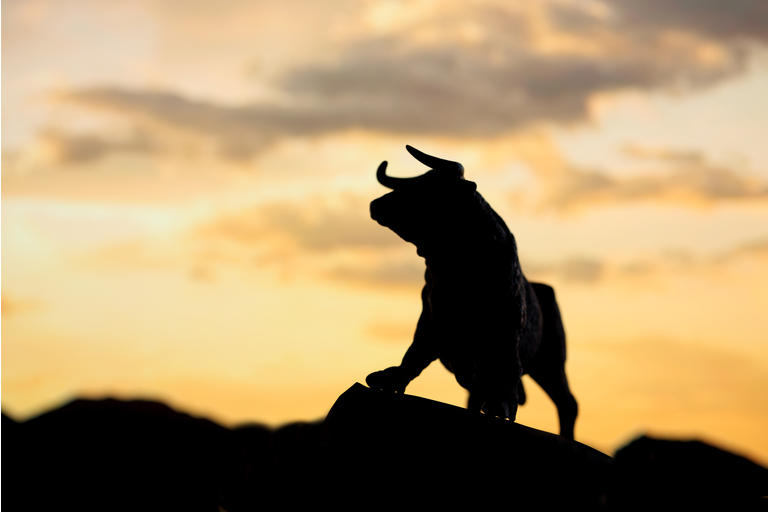 As an investor, you come to Seeking Alpha to glean information to hopefully assist in increasing your investment account. At the end of the day, as an investor, you should have no goal other than to increase your investment account. Engaging in anything that will not further that goal is a waste of your time. PERIOD!
Yet, there are many authors who are more concerned with being right about their economic perspective rather than being able to increase their investment accounts by maintaining on the correct side of the market trend. So, they will continue to repeat the same economic perspective until the market actually complies.
Of late, I have read a certain author whose entire premise since 2011, when he began writing publicly, is that inflation is going to kill the stock market. And, resultingly, he has retained an overall bearish perspective of the stock market since 2011.
Yet, if you read his articles of late, you would not see him lamenting the fact he has been bearish for the last decade, while the market increased four-fold during that time. Rather, you would see him thumping his chest due to the seemingly inflationary information that has been coming out over the last several months, while claiming he has been right all along. In fact, he is even giddy at the supposed inflationary data, while being wrong about the market direction for an entire decade.
Now, let's get something straight. If you have been bearish of the stock market for the last decade, you have lost the opportunity to increase your investment account by four-fold. While the inflation question will not likely be resolved until 2022, whether you are right about whether we have inflation or not is an absolutely ridiculous measurement of your success as an investor. You may win a very small academic battle, but you have gotten completely obliterated in the war. So, at the end of the day, such a person is an absolute failure as an investor. Yet, they have certainly bolstered their ego.
I have a secret for all those reading this article: If you want to be a successful investor, there is no room for ego. ZERO! You must remain objective about the market at all times, and your only focus must be to remain on the correct side of the market trend. Engaging in a useless debate about economic definitions is a complete waste of your time and effort as an investor, and is only for those who are more concerned about their ego rather than the true goal of an investor – to increase your investment account.
So, if you truly want to be a successful investor, you need to have tools which will assist you in viewing the market objectively at all times. While I have heard many complain that Elliott Wave analysis is too subjective in nature, we have developed an objective framework which we apply to the standard Elliott Wave structure which provides us with an objective view of the market at all times. It keeps us on the correct side of the trend, and provides early warning when we are wrong in our initial assessment, which allows us to course-correct rather quickly.
For those interested, I have outlined our methodology in this six-part series I have written for Seeking Alpha readers:
This Analysis Will Change The Way You Invest Forever – Part 1
This Analysis Will Change The Way You Invest Forever – Part 2
This Analysis Will Change The Way You Invest Forever – Part 3
This Analysis Will Change The Way You Invest Forever – Part 4
This Analysis Will Change The Way You Invest Forever – Part 5
This Analysis Will Change The Way You Invest Forever – Part 6
As our members have noted regarding this methodology:
Avi applies the most rigorous application of Elliott wave and Fibonacci analysis that I have seen. Add to that the invention of Fibonacci Pinball, a simple and elegant Fibonacci extension theory that I haven't seen anywhere else. It provides an almost eerie sense of direction once a second wave is identified. – ChillyD
I've been an equity analyst for almost ten years but that can't compare to how well your fib pinball works. – HenryAdam
The accuracy of your Fib pinball method is just mind blowing! I have been using it for a while now and still shake my head in disbelief each and every time the market turns right on these levels. – Mick
Fibonacci Pinball is one of the most profound discoveries in EW analysis, as well as one of the most useful practical tools… there is simply no better system of applying EW analysis, period. It is that good. There is no sentient life form or computer software that could explain this chart pattern without using Avi's Fibonacci Pinball! – RoyPrasad
In fact, it was due to our Fibonacci Pinball methodology that I was able to turn quite bullish as we were hitting the lows in the 2200SPX region last March, and expected us to rally to 4000+, with an ideal target of 6000. And, this was at a time of extreme fear in the market, when most were quite certain that we had begun a long-term bear market.
So, let's generally outline where our Fibonacci Pinball method of Elliott Wave analysis views us within the market trend today.
First, I want to remind you that the larger trend within the bull market off the March 2009 low is still well intact, and my ideal target for a major market top is in the 6000SPX region. So, while I will now discuss the very small degree analysis, please make sure you understand it is within the context of a much larger bull market trend which I expect to take us higher well into 2022.
As I outlined to the members of The Market Pinball Wizard last week, as long as the market holds the 4287SPX support, then our next target is the 4385-4440SPX region. That was presented in these charts I provided to our members at the time: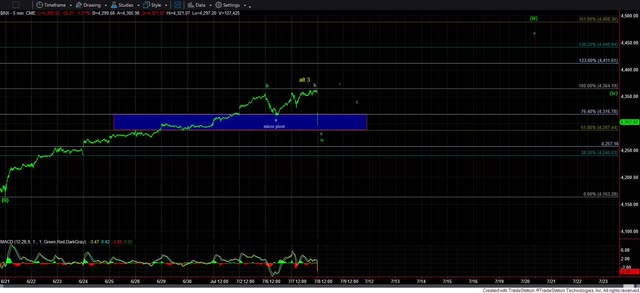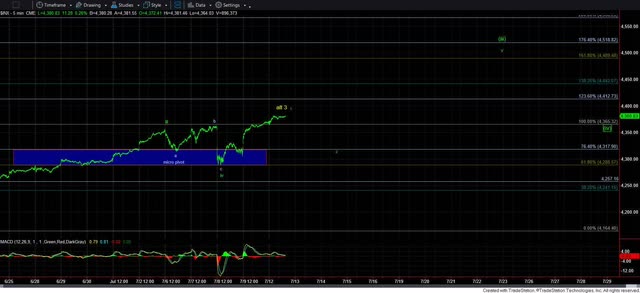 As we know, we struck a low of 4289SPX on that last pullback, and began a rally which topped out at the 4392SPX level this past week.
As we approached the 4380/90 region, I then outlined that I expected a pullback from that region. And, that is the pullback we were experiencing for the last half of this past week.
That was presented in this chart I provided to our members earlier this past week: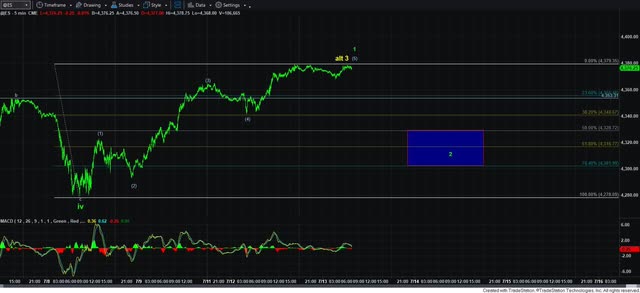 For now, as long as the market holds over the 4310-30SPX support region, I am looking for a rally to take us towards the 4500SPX region next.
However, should we break below 4310SPX, and follow-through below 4289SPX, then I think the market can be capped at 4390-4440SPX this summer and I think we can see a pullback towards the 4165SPX region later this summer before we begin the next major rally into the end of this year. So, what a break of 4289SPX does is push off the rally to 4500+ until later this year.
Lastly, I want to remind you that we provide our perspective by ranking probabilistic market movements based upon the structure of the market price action. And, if we maintain a certain primary perspective as to how the market will move next, and the market breaks that pattern, it clearly tells us that we were wrong in our initial assessment. But here is the most important part of the analysis: We also provide you with an alternative perspective at the same time we provide you with our primary expectation, and let you know when to adopt that alternative perspective before it happens.
As I have said many times before, this is no different than if an army general were to draw up his primary battle plans, and, at the same time, also draws up a contingency plan in the event that his initial battle plans do not work in his favor. It is simply the manner in which the general prepares for battle. We prepare for market battle in the same manner.
So, while I will never be able to tell you with certainty how the market will move in the coming weeks, months, and years, I present you with enough information to know where my primary perspective is wrong so that you can adjust in order to take account for the alternative situation. And, until such time that the market proves our primary perspective is wrong, we will continue to follow our primary perspective, which at this time is pointing us to much higher levels in the coming years.
By now, I hope you recognize the difference in our analysis approach, other than the accuracy thereof. We strive to view the market, and utilize our mathematically based methodology, in the most objective fashion as possible, no matter how crazy it may sound. Moreover, it provides us with objective levels for targets and invalidation. So when we are wrong in the minority of circumstances, we are able to adjust our course rather quickly, rather than fighting the market like many others you may read.
So, while I hope I am helping many of you in maintaining an objective perspective within this non-linear environment we call the stock market, I want to wish you all well in your future trading and investment endeavors. As of now, I maintain my long-held expectation to see the market in the 6000SPX region in the coming years, of course, unless the market tells us otherwise. And, thus far, it has provided us rather clear and accurate guidance.
If you would like notifications as to when my new articles are published, please hit the button at the bottom of the page to "Follow" me.
THE #1 SERVICE FOR MARKET & METALS DIRECTION!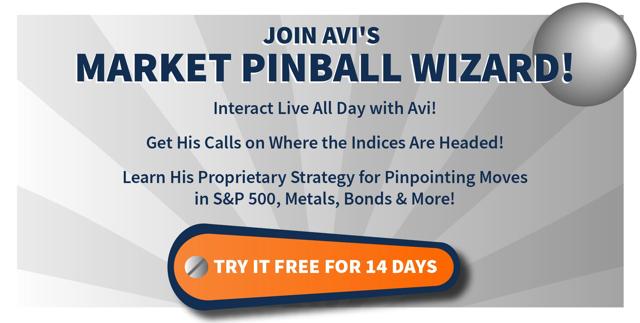 "I manage about $100m, been in the business for about 28 years. . . it seems for every dollar I spend here, I make about 10,000%" (misterk)
"This is almost as good as printing money…..These guys are AMAZING" (monkeyboy)
"Coming here was transformative" (Defyant)
"I am very impressed by one technical Elliott Wave analyst – Avi Gilburt" (Willem Middelkoop, Founder-Commodity Discovery Fund)
"I know I fought this.. but damn it works . . . My accounts are killing it.. returns I did not think possible." (Bigdaddytuna)
CLICK HERE FOR A FREE TRIAL.
This article was written by
Avi is an accountant and a lawyer by training. His education background includes his graduating college with dual accounting and economics majors, and he then passed all four parts of the CPA exam at once right after he graduated college. He then earned his Juris Doctorate in an advanced two and a half year program at the St. John's School of Law in New York, where he graduated cumlaude, and in the top 5% of his class. He then went onto the NYU School of Law for his masters of law in taxation (LL.M.).
Yet, when it came to learning how to accurately analyze the financial markets, Avi had to unlearn everything he learned in economics in order to maintain on the correct side of the market the great majority of the time. In fact, once he came to the realization that economics and geopolitics fail to assist in understanding how the market works, it allowed him to view financial markets from a more accurate perspective.
As an example of some of his most notable astounding market calls, in July of 2011, he called for the USD to begin a multi-year rally from the 74 region to an ideal target of 103.53. In January of 2017, the DXY struck 103.82 and began a pullback expected by Avi.
One of his most shocking calls in the stock market was his call in 2015 for the S&P500 to rally from the 1800SPX region to the 2600SPX region, whereas it would coincide with a "global melt-up" in many other assets. Moreover, he was banging on the table in November of 2016 that we were about to enter the most powerful phase of the rally to 2600SPX, and he strongly noted that it did not matter who won the 2016 election in the US, despite many believing that the market would "crash" if Trump would win the election. This was indeed a testament to the accuracy of the Fibonacci Pinball method that Avi developed.
Disclosure: I/we have no stock, option or similar derivative position in any of the companies mentioned, and no plans to initiate any such positions within the next 72 hours. I wrote this article myself, and it expresses my own opinions. I am not receiving compensation for it. I have no business relationship with any company whose stock is mentioned in this article.