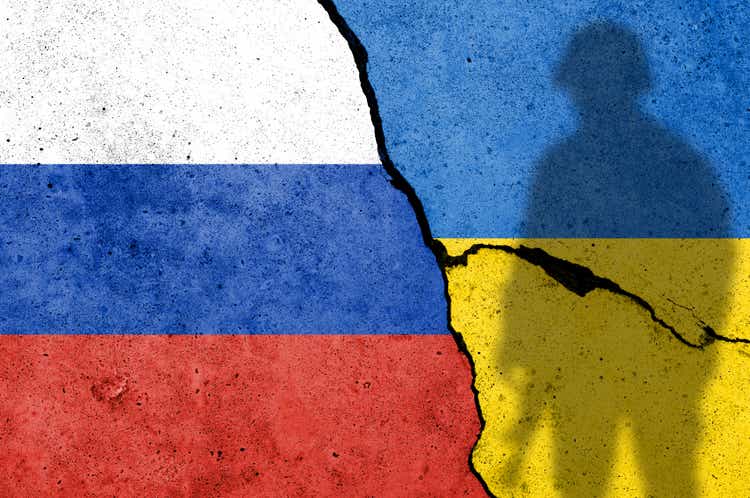 Tomas Ragina/iStock via Getty Images
Update (2:00 a.m. ET): The Ukraine parliament has approved a presidential decree on martial law as Russia confirms it is conducting an operation aimed at demilitarizing the country. Military facilities have been targeted across the country, including airfields and anti-aircraft systems. Ukraine has closed its airspace to civilian flights.
Commodity watch: Aluminum climbed nearly 3% to $3,388 a ton in London, topping its 2008 peak. Gold has hit its highest level in more than a year, rising 2% to $1944.50. WTI crude is now up nearly 7% to over $98/bbl, while Brent crude has touched $103.
Forex: The ruble was trading at 89.8903, down more than 10% versus the dollar. Moscow has announced a currency intervention and has also suspended trading on all its markets.
Stock futures are plummeting Thursday after Russia commenced military action in Ukraine, with explosions heard in the Ukrainian capital of Kyiv.
Dow futures (INDU) slid more than 2.5% – more than 800 points on word of the attack – while S&P 500 futures (SPX) were off some 2.3% shortly before 1 a.m. ET.
Meanwhile on the energy front, Brent crude has jumped above $100/barrel for the first time in eight years, and WTI crude (CL1:COM) was up 5% shortly ahead of 1 a.m. ET to pass $96/bbl. Natural gas futures were up more than 5% as well.
Separately, Asian markets were trading some 2% to 3% lower on the news. Hong Kong's Hang Seng Index was off 3.1% at shortly before 1 a.m. ET, while Australia's ASX 200 was down 3% and Japan's Nikkei 225 was trading 2% lower.
European stocks likewise appeared poised to open weaker Thursday, while cryptocurrencies fell. Ethereum (ETH-USD) was off 11.7% shortly before 1 a.m. ET, while Bitcoin (BTC-USD) shed 8.2%. Conversely, gold rose some 1.8%.
Russian President Vladimir Putin announced a special operation to take place in Ukraine's Donbas region, home of separatists, and that Russia didn't plan to occupy the country. Explosions are being reported across the country, however, in other parts of the country (including Kharkiv and Kramatorsk as well as Kyiv).
NBC is reporting that Russian troops have landed in Odessa (a Ukrainian southern port city on the Black Sea) and are crossing the border Russia shares with Ukraine in the north at Kharkov.
President Joe Biden condemned the attack in a statement, saying that "the prayers of the entire world are with the people of Ukraine tonight as they suffer an unprovoked and unjustified attack by Russian military forces.
"Russia alone is responsible for the death and destruction this attack will bring, and the United States and its Allies and partners will respond in a united and decisive way," Biden said. "The world will hold Russia accountable."
The president added that he plans to meet with other G7 leaders Thursday morning and then address the American people to "announce the further consequences the United States and our allies and partners will impose on Russia for this needless act of aggression against Ukraine and global peace and security. We will also coordinate with our NATO Allies to ensure a strong, united response that deters any aggression against the alliance."
For the latest market news, click here.