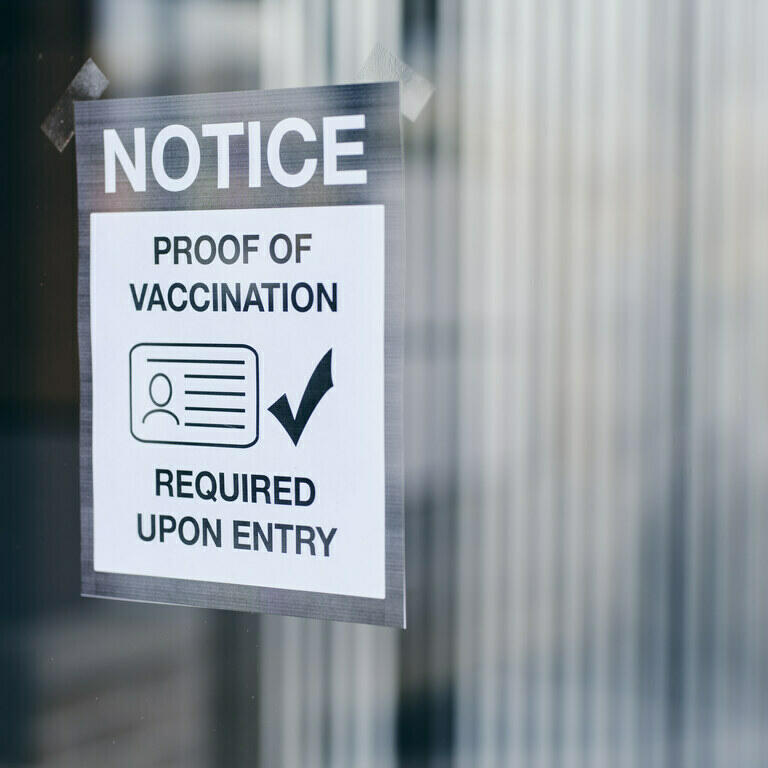 RichLegg/E+ via Getty Images
For somehow this is tyranny's disease, to trust no friends."― Aeschylus, Prometheus Bound
Today, we take our first look at BioNTech SE (NASDAQ:BNTX). Few companies have benefited more from the pandemic that has swept the globe than this vaccine maker. However, recently the stock has fallen by more than half from recent highs, and Covid seems on its way to being an 'endemic' concern, much like another strain of flu. So is the good time over for shareholders? We attempt to answer that question via the analysis below.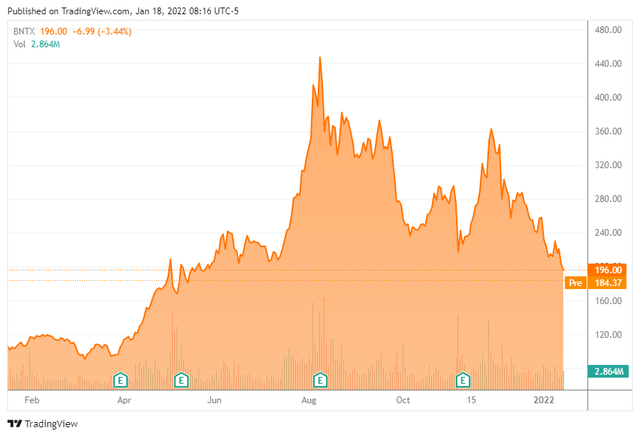 1 YR Stock Chart
Seeking Alpha
This large drug maker is headquartered in Germany. The firm is focused on developing and commercializing immunotherapies for cancer and other infectious diseases. The stock currently trades just under $200.00 a share and sports a market capitalization just under $50 billion.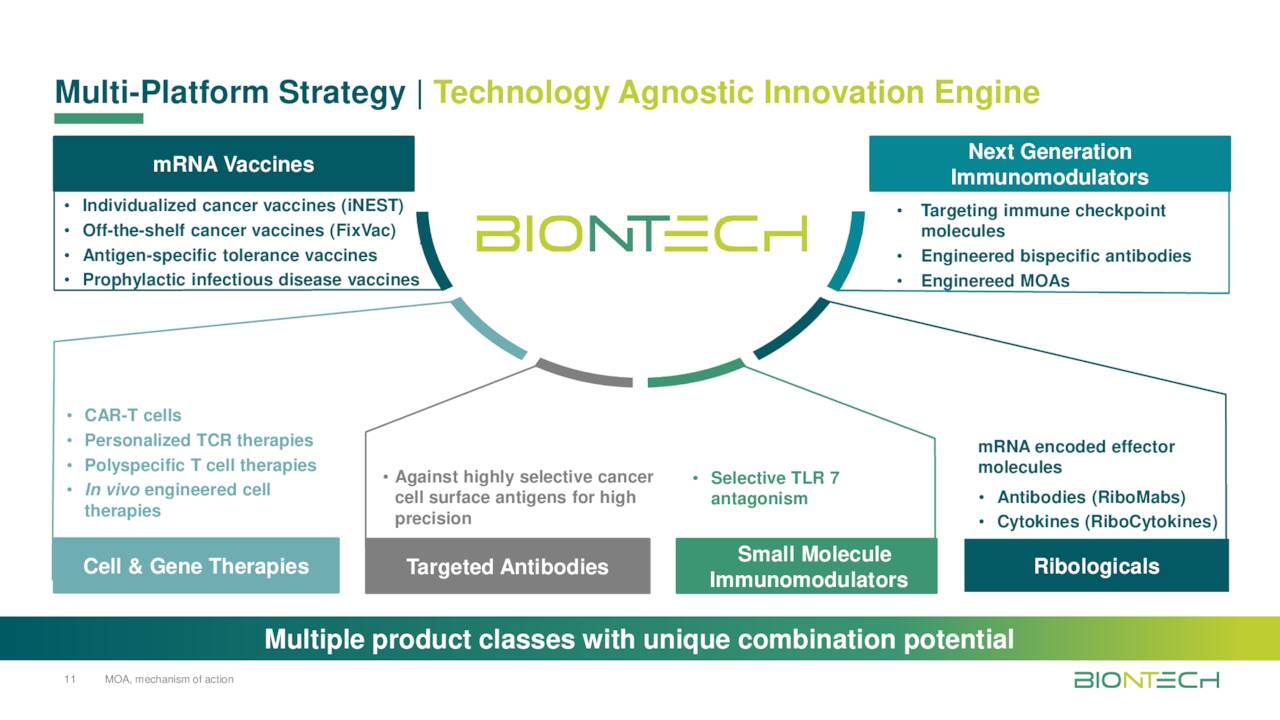 BioNTech's Development Platforms
Company Presentation
The company is developing drug candidates off four different major drug platforms. The most important product in the company's arsenal is Comirnaty, a Covid-19 vaccine developed from its mRNA technology platform. This vaccine was co-developed with American drug giant Pfizer (NYSE:PFE) as well as Shanghai Fosun Pharmaceutical (OTCPK:SFOSF)
Recent Events: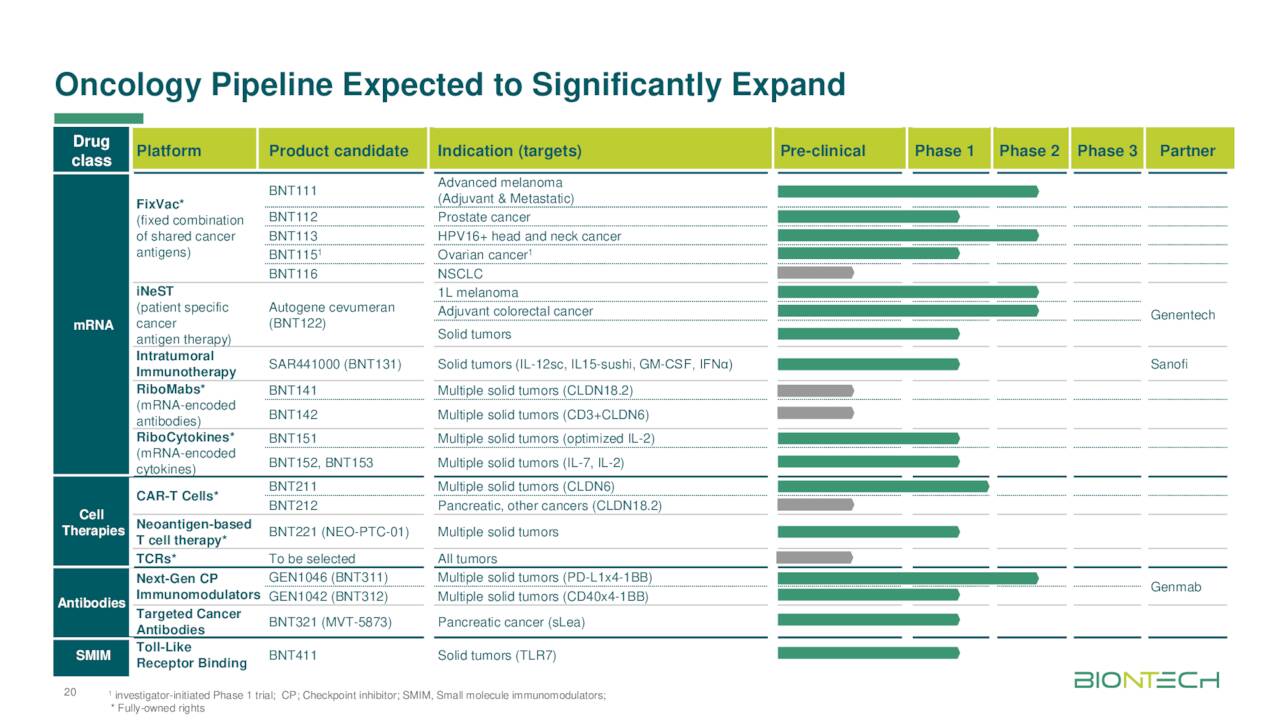 BioNTech's Pipeline
Company Presentation
The company has myriad 'shots on goal' within its pipeline as can be seen in its pipeline chart above. However, most of the candidates are in early-stage development, with a few in mid-stage development. BioNTech's most advanced candidates are mRNA cancer immunotherapies. These are BNT111 and BNT113 for advanced melanoma, and head and neck cancer, respectfully. Both are in phase 2 development and BNT111 has recently received Fast Track status for the above indication. Another recent article goes into more detail about the other non-Covid-related assets in BioNTech's pipeline.
On November 9th, the company announced third quarter results. Revenues came in at €6.09 billion from basically nothing in the same period a year ago. Q3 GAAP EPS was €12.35 from a loss in 3Q2020. The company guided vaccine revenues for FY2022 to a range of €16 billion to €17 billion. BioNTech recently lowered the floor of 2022 revenue guidance to €13 billion.
A recent article did a solid job of breaking down those revenues from Comirnaty in the third quarter.
BNTX's COVID-19 revenue in FQ3'21 is made up of €4.35B from PFE/SFOSF territories and €1.35B from BNTX territories in Germany and Turkey. It represents a QoQ increase of 6.5% and 30.4%, respectively. The rest of its revenue of €312.3M and €18.5M comprises sales to other collaboration partners, representing a QoQ increase of 226% and 127%, respectively."
Analysts have become quite negative on the company's prospects in recent months. Since early December, five analyst firms, including Morgan Stanley (NYSE:MS) and Goldman Sachs (NYSE:GS) have reissued Hold ratings on the stock. Price targets proffered from these pessimists range from $253 to $349. Three analyst firms, including Berenberg Bank have reiterated Buy ratings over that time. Their price targets range from $350 to $400 a share. BioNTech ended the third quarter of 2021 with nearly €2.4 billion worth of cash and marketable securities on its balance sheet.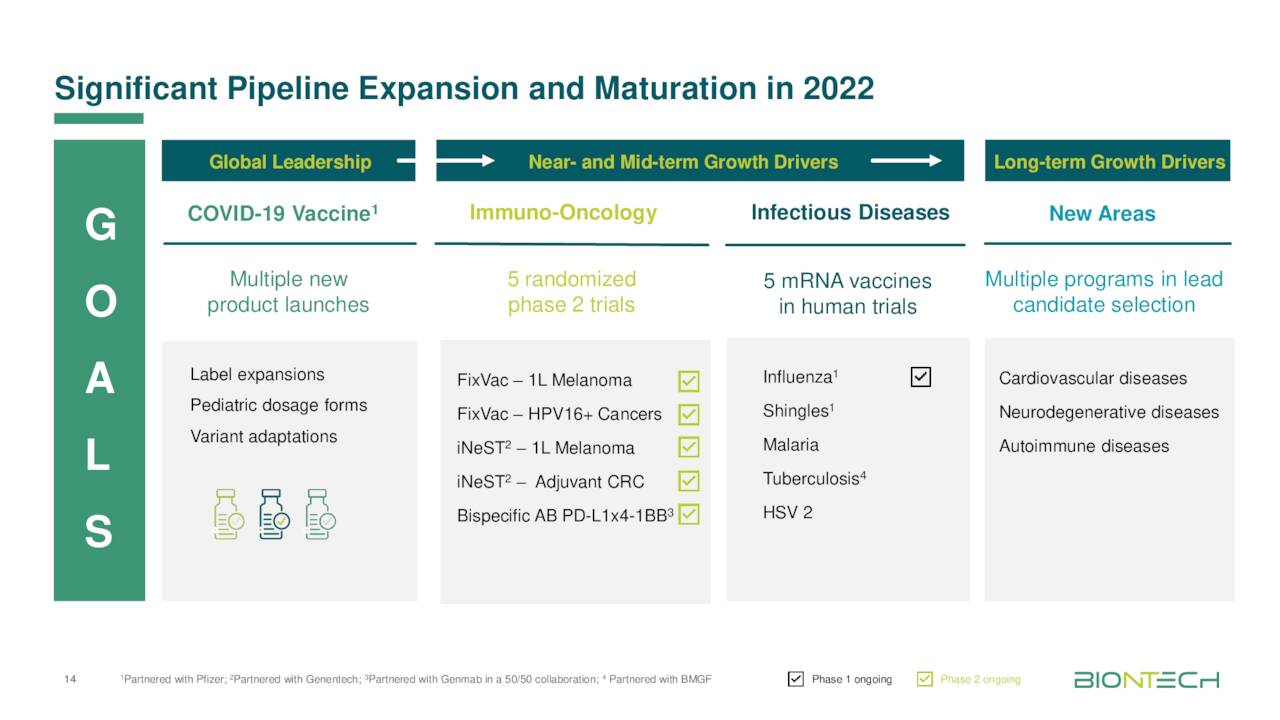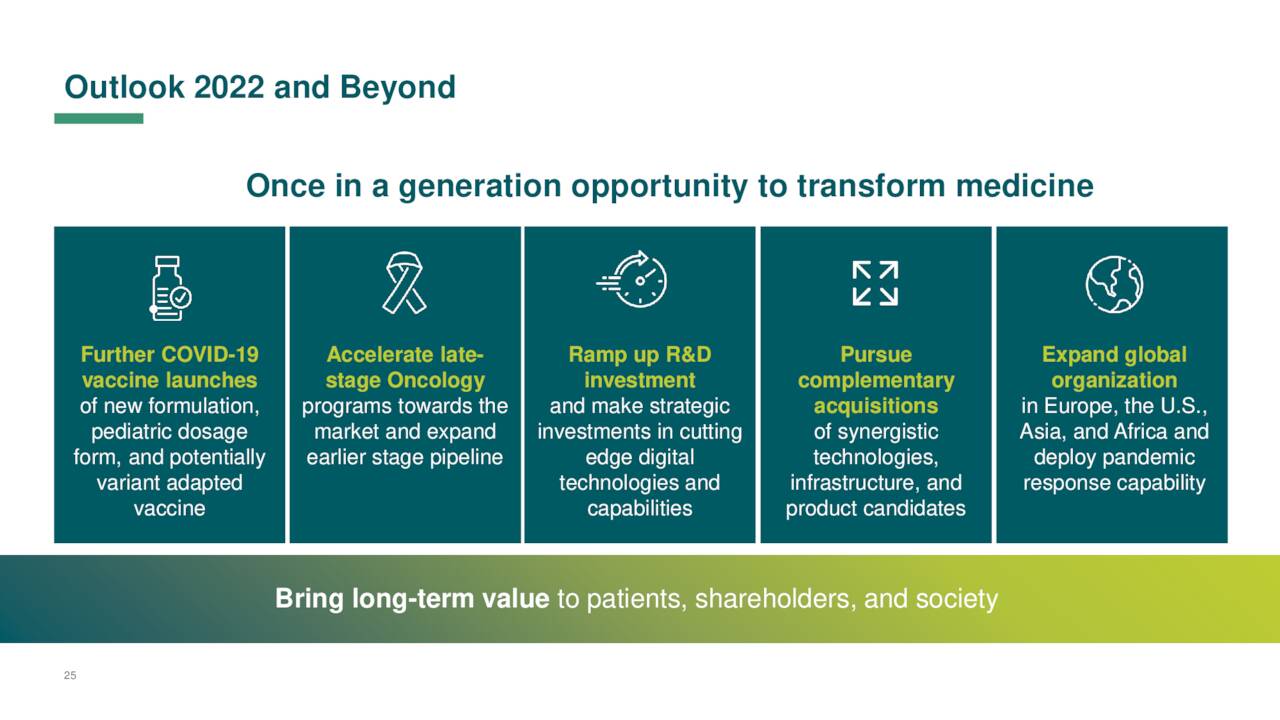 BNTX Growth Drivers
Company Presentation
2022 Outlook
Company Presentation
Valuing BNTX makes an investor guess at how long Covid will remain a 'pandemic' before it reaches 'endemic' status. Nearly two years since Covid-19 came to our shores, and the impacts of the coronavirus continue to take their toll. Despite multiple vaccines on the market and over 60% of the nation vaccinated, Covid hospitalizations remain near record highs and Friday saw nearly 2,500 fatalities from the coronavirus reported. This is higher than all but a few weeks in 2020 when no vaccines were available.
Omicron still seems to be less lethal than previous variants but continues to have negative impacts on the global supply chain, inflation, job growth, and economic activity. The Supreme Court also just did provide a rebuke to the administration regarding their mandate for compulsory vaccinations at employers with 100 or more employees while leaving it in place for healthcare workers. It also feels there are more and more calls in 2022 for treating Covid-19 as an endemic disease (I, II, III).
The stock, as well as shares of other vaccine makers, have started to deflate as this view becomes more of a consensus. Analysts already expect revenue to fall for BioNTech in FY2022 (Below).
Fiscal Period Ending
Revenue Estimate
Forward P/S
Low
High
# of Analysts
Source: Seeking Alpha Projections
In addition, other vaccine makers will enter the market in 2022, including Valneva SE (NASDAQ:VALN) and Novavax (NASDAQ:NVAX). The bet is BioNTech's Covid vaccine revenues have peaked. Now, they are unlikely to fall off a cliff like sales did for Gilead Sciences (NASDAQ:GILD) for its hepatitis C program. Their product Harvoni actually cured people, so there were no 'repeat' customers. Covid vaccines have a much better business model as they provide protection over a limited amount of time and have to be altered for every new variant that becomes dominant on the scene. Unfortunately, one can also still get and spread Covid even if fully vaccinated. This means revenues for both vaccines and booster shots for long out on the horizon.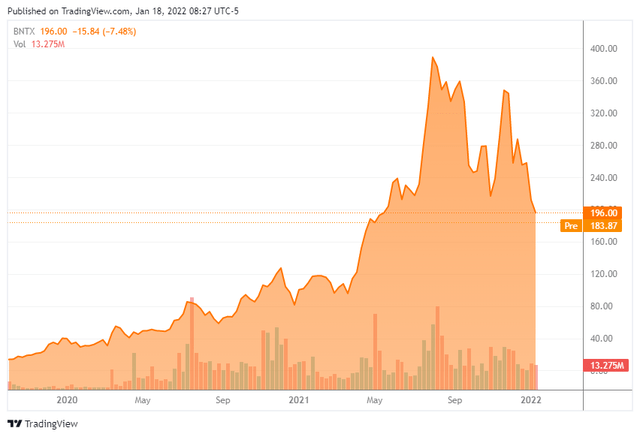 BNTX Stock Chart
Seeking Alpha
Right now, BNTX is very cheap on a P/E basis as the stock goes for less than five times this year's likely earnings. The question is how fast do these Covid vaccine revenues slide and how successful the other candidates in BioNTech's pipeline ultimately become. I don't want to hazard a guess on the first question, but if Covid does become 'endemic' in the near future, that decline could be faster than the company projects. In addition, while BioNTech's product pipeline has multiple 'shots on goal', how much is it worth? Even with the recent sharp decline in the stock, the shares trade for much, much more than when Covid began. Subtracting out cash, the company is valued at $45 billion, which still seems rich for my blood.
I do like BioNTech better than Moderna (NASDAQ:MRNA) as it has several technology platforms it is developing drug candidates off of, and a more diverse pipeline. Pfizer is the lowest risk of the big Covid vaccine makers given it is only getting approximately 30% of its overall revenue from these vaccines and also now has a Covid therapeutic pill targeting treating the symptoms of the disease as well.
No disease that can be treated by diet should be treated with any other means."― Moses Maimonides
Bret Jensen is the Founder of and authors articles for the Biotech Forum, Busted IPO Forum, and Insiders Forum
Live Chat on The Biotech Forum has been dominated by discussion of lucrative buy-write or covered call opportunities on selected biotech stocks over the past several months. To see what I and the other season biotech investors are targeting as trading ideas real-time, just join our community at The Biotech Forum by clicking HERE.
This article was written by
Finding tomorrow's big winners in the lucrative biotech sector, The Biotech Forum focuses on proprietary, breaking research on promising biotech and biopharma stocks with significant potential for outsized alpha. It is the fourth most subscribed to investment service offered through the Marketplace on SeekingAlpha.com. Our service offers a model-20 stock portfolio as well as the most active Live Chat on the Marketplace. This is where scores of seasoned biotech investors trade news and investment ideas back and forth throughout the trading day.
• • •
Specializing in profiling high beta sectors, Bret Jensen founded and also manages The Biotech Forum, The Insiders Forum, and the Busted IPO Forum model portfolios. Finding "gems" in the biotech and small-cap stock sectors, these highly volatile spaces proven hugely successful have empowered Bret Jensen's own investing portfolio.
• • •
Learn more about Bret Jensen's Marketplace Offerings:
The Insiders Forum | The Biotech Forum | Busted IPO Forum
Disclosure: I/we have no stock, option or similar derivative position in any of the companies mentioned, and no plans to initiate any such positions within the next 72 hours. I wrote this article myself, and it expresses my own opinions. I am not receiving compensation for it (other than from Seeking Alpha). I have no business relationship with any company whose stock is mentioned in this article.