Denis_Vermenko/iStock via Getty Images
Dividend investors tend to value income and stability, and many consumer staple stocks fit this bill. This brings me to Unilever (UL), which is a giant among household staples. It's also provided relative stability since the last time I visited the stock towards the end of December, dropping by just 2.9% since then, compared to the 7.0% drop in the S&P 500 (SPY) over the same time period.
In this article, I highlight UL's recent quarterly results, and why it's attractively valued at the moment for potentially strong long-term income and growth, so let's get started.
Unilever PLC is a British multinational consumer goods company that's headquartered in London, England. It has a diversified product base that includes personal care and packaged foods, with top brands including Hellmann's mayonnaise, Ben & Jerry's ice cream, Dove skin products, TRESemme hair-care, Seventh Generation cleaning, and the mail-order business, Dollar Shave Club. UL generated $59.7B in total revenue over the trailing 12 months.
UL recently delivered respectable top-line results, with underlying sales growth of 4.5% YoY, comprised of 2.9% price growth and 1.6% volume growth. This was driven by a strong showing in China and India, with sales in these 2 large markets growing by 14% and 13%, respectively, and U.S. sales grew by 3.7%. Notably, UL is also seeing strong traction in e-commerce, with robust 44% YoY growth in this segment.
Challenges to UL's business model include higher input costs, but UL has been able to largely offset these pressures with price increases. As noted above, UL increased prices by an average 2.9% last year, with increases accelerating to 4.9% in the fourth quarter. This helped to offset margin pressures, with operating margin declining by just 10 bps to 18.4% for the full year 2021.
As shown below, UL maintains an A+ score for profitability, with a sector-leading EBITDA margin of 21.7%, and an 11.5% net income margin, which is more than double the sector median of 5.2%.
UL Profitability (Seeking Alpha)
Margin pressures may not ease in the near-term, however, as it may require continued price increases in an inflationary environment. Morningstar noted the potential for cost pressure to continue over the next 2 years in the latest analyst report:
We acknowledge the guidance that cost pressures will not ease until 2024 has increased the risk to our valuation. We still believe a normalized EBIT margin of 20% is achievable in five years, but it now requires a sharp improvement in profitability once inflation abates, as well as ongoing price increases being somewhat sticky.
Encouragingly, management has dropped its bid for GlaxoSmithKline (GSK) and Pfizer's (PFE) consumer health business, as investor sentiment was against this deal. The consumer health business isn't UL's core competency, and management acknowledged in the recent earnings call that they will not be proposing transformational acquisitions for the foreseeable future and that they are off the agenda.
Also encouraging, management is turning its attention inward towards value creation in a number of different ways, as outlined during the recent conference call:
First, we'll continue to accelerate organic growth, investing in our biggest and best brands, which are in great health, stepping up the benchmark quality of our products and continuing to strengthen our innovation. We will build our position in the growth markets of the future, starting with the U.S., India and China. And e-commerce remains both an overarching priority and a part of the business that continues to grow very well.
Secondly, a powerful, new organization model will be a further accelerant. An operating model that moves away from a heavy matrix is simpler, more focused and provides greater accountability. It is designed for growth but does so at materially lower cost.
And thirdly, we will continue to reshape our portfolio but through bolt-on acquisitions and selective disposals. We've built substantial, fast-growing new businesses in Prestige Beauty and in Functional Nutrition, and this will continue to be the direction of travel for our portfolio. Our capital allocation will be disciplined, and we will maintain Unilever's historically high levels of return on invested capital.
Meanwhile, UL maintains a strong A+ rated balance sheet with $5.3B in cash and short-term investments on hand, and a net debt to EBITDA ratio of 2.2x, sitting below the 3x level that's generally considered safe.
At present, UL yields 3.9% (based on TTM dividends) and it comes with a safe 65% payout ratio (based on full-year EPS of €2.62) and a 7.7% 5-year dividend CAGR. As shown below, UL's dividend yield is now sitting at one of the highest points over the past decade.
UL Dividend Yield (YCharts)
I see value in UL at $51.60 with a forward PE ratio of 17.6, sitting below the ~20x PE I would expect well-established consumer staple stocks to trade at. In fact, UL is currently trading below its normal PE of 19.7 over the past decade. Morningstar has a $59 fair value estimate, and sell side analysts have a consensus Buy rating with an average price target of $60, implying a potential one-year 20% total return including dividends.
UL Valuation (FAST Graphs)
Unilever is demonstrating respectable growth and has shown resiliency in the face of inflationary pressures. While margin pressures may be a headwind over the next couple of years, the company's value creation strategies may yield operating leverage and pricing power. Meanwhile, UL maintains a strong balance sheet and currently pays an attractively high yield. I see value in UL at the current price for stable and growing income.
Gen Alpha has teamed up with Hoya Capital to launch the premier income-focused investing service on Seeking Alpha. Members receive complete early access to our articles along with exclusive income-focused model portfolios and a comprehensive suite of tools and models to help build sustainable portfolio income targeting premium dividend yields of up to 10%.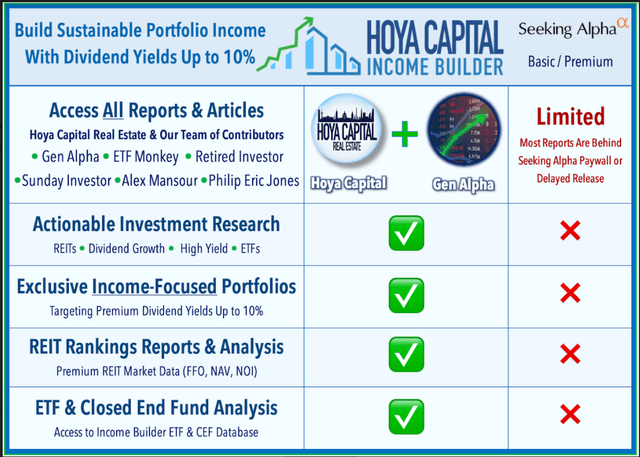 Whether your focus is High Yield or Dividend Growth, we've got you covered with actionable investment research focusing on real income-producing asset classes that offer potential diversification, monthly income, capital appreciation, and inflation hedging. Start A Free 2-Week Trial Today!



This article was written by
I'm a U.S. based financial writer with a BSc in Economics and an MBA in Finance. I have over 12 years of investment experience, and generally focus on stocks that are more defensive in nature, with a medium to long-term horizon. My goal is to share useful and insightful knowledge and analysis with readers.  Contributing author for Hoya Capital Income Builder. 
Disclosure: I/we have a beneficial long position in the shares of UL either through stock ownership, options, or other derivatives. I wrote this article myself, and it expresses my own opinions. I am not receiving compensation for it (other than from Seeking Alpha). I have no business relationship with any company whose stock is mentioned in this article.
Additional disclosure: This article is for informational purposes and does not constitute as financial advice. Readers are encouraged and expected to perform due diligence and draw their own conclusions prior to making any investment decisions.