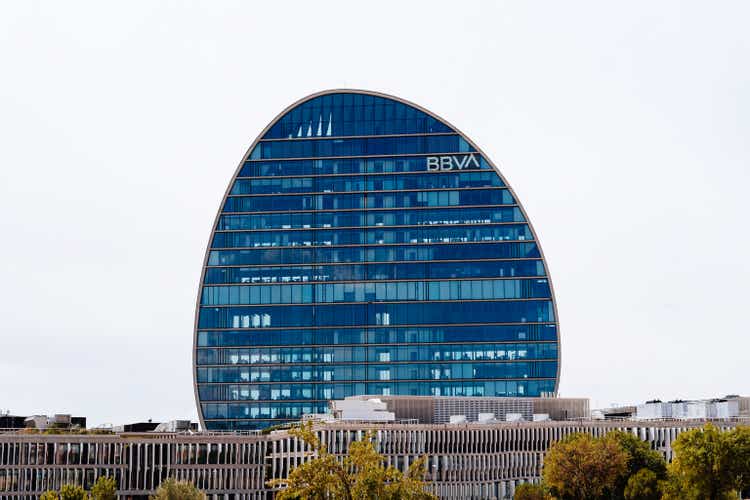 JJFarquitectos/iStock Editorial via Getty Images
The share price of Banco Bilbao Vizcaya Argentaria (BBVA) (here after just "BBVA") has barely moved since my previous article on this Spanish bank was published in May 2021. As there's now greater clarity in the world on how the COVID-fallout will be dealt with, it's perhaps a good idea to dig a bit into the recently released financial results for FY2021 to see how the bank performed and what it is expecting for this year.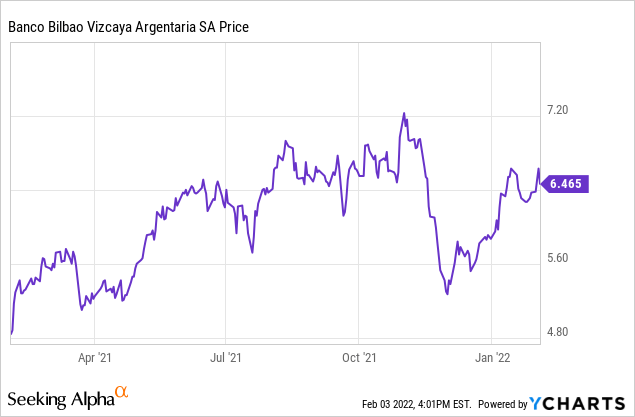 BBVA has a liquid listing in the US with an average daily volume of in excess of 2M shares but as BBVA is an European bank reporting its financial results in EUR, I will refer to the bank's main listing on the Madrid Stock Exchange, where BBVA is also trading with BBVA as its ticker symbol. The average daily volume in Madrid exceeds 20M shares.
Although this is a Spanish bank, reporting its results in Euro, we should keep in mind Spain is really just a rather small contributor to the consolidated profit. In 2021 for instance, Spain contributed less than 30% tot the total net attributable profit while Mexico accounted for almost half (!) of the net income. This means BBVA could also rightfully be seen as a Mexican bank with some foreign exposure.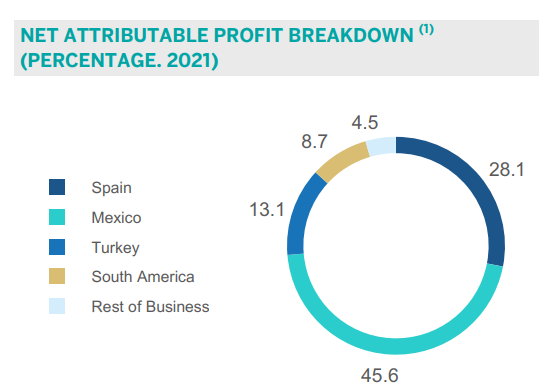 BBVA Investor Relations
During 2021, BBVA reported a net interest income of 14.7B EUR, an increase of approximately 0.6% compared to the reported net interest income generated in 2020. The gross income increased by 4.5% to 21.1B EUR thanks to a much higher fee, commission and trading income.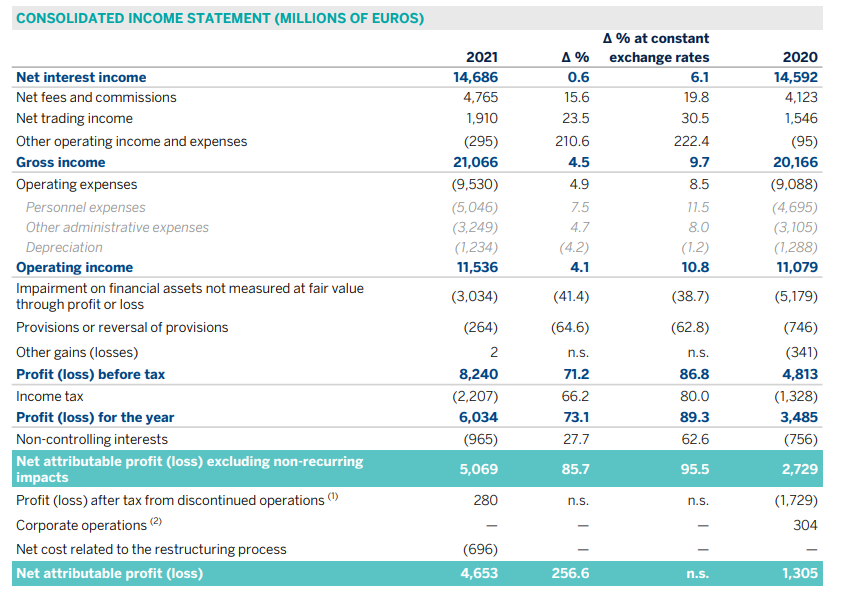 BBVA Investor Relations
The operating expenses also increased, at a rather similar pace, and this means the operating income of BBVA increased by approximately 4.1% to 11.5B EUR. A good result which was actually negatively impacted by changes in the exchange rate as at constant exchange rates, BBVA would have been able to report a 10.8% increase in the operating income.
The pre-tax income came in 71% higher than in 2020, and that's predominantly caused by a much lower impairment charge and provision charges, which dropped from a combined 5.9B EUR in 2020 to just under 3.3B EUR in 2021. The net income was approximately 6.03B EUR and the attributable net income including the impact from non-recurring elements was 4.65B EUR, for an EPS of approximately 0.71 EUR per share. This means BBVA is currently trading at just around 8 times its 2021 EPS.
BBVA already paid an interim dividend of 0.08 EUR per share in October and has now proposed to make a final dividend payment of 0.23 EUR per share. This would bring the full-year dividend to 0.31 EUR per share, which is a dividend yield of approximately 5.4%. The dividend policy has recently been updated as well and BBVA is now targeting a payout ratio of 40-50% of the attributable net income compared to the previously used payout ratio of 35%-40%.
Additionally, BBVA will likely continue to buy back its own stock. In October 2021, the bank received the official approval from the ECB to spend 3.5B EUR on share buybacks. Since that authorization was granted on Oct. 26, a total of 171M shares have been repurchased by the end of January 2022. That's almost 3% of the share count. This means we can expect the 2022 EPS (and DPS) to remain strong, even if the reported net income won't increase at all.
While the bank clearly saw less of an impact from the COVID pandemic and loan loss provisions (and impairments), it will be interesting to see how the bank can perform in 2022 and there are several elements I'll keep an eye on.
First of all, after excluding the non-recurring items from the equation, the attributable net income would have been almost 10% higher. This, in combination with a lower share count would already be sufficient to boost the EPS to in excess of 80 cents per share, keeping all other elements unchanged. Perhaps we can expect the improving net interest income to cancel out potentially higher loan loss provisions and impairment charges in 2022. Another element I'll have to keep an eye on is the Turkish division as the Turkish economy has been exceptionally volatile and the FX fluctuations will have an impact on the attributable profit expressed in EUR. As shown below, we have seen the Non-Performing Loan ratio increase from 6.51% at the end of Q3 to 7.09% at the end of FY2021 and I wouldn't be surprised if the situation gets worse before it gets better.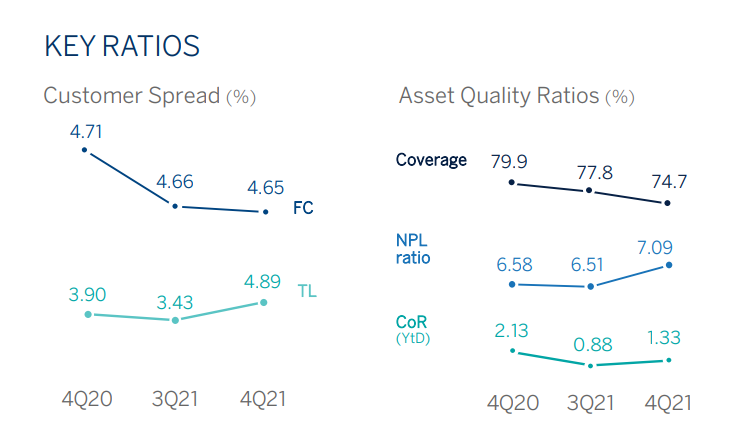 BBVA Investor Relations
Despite this, BBVA is determined to further increase its exposure to Turkey. It already generated a net attributable income of 740M EUR in FY2021 but is now in the final stages of acquiring the 50.15% stake in Garanti, the Turkish division. Due to the formula used to calculate the CET1 capital of a minority-owned stake, the maximum impact of the Garanti acquisition will remain limited to just 46 basis points on the CET1 ratio which will remain comfortably above 12% and could likely exceed 12.5% by the end of this year. BBVA mentioned the acquisition could boost the net income by 13.7%. It's also very interesting the acquisition offer is made in Turkish Lira and the Lira has lost about 30% of its value. Whereas BBVA was expecting to pay a total consideration of 2.25B EUR based on the FX rate when the deal was announced, the weak Lira has now reduced the Euro-equivalent price tag to just 1.65B EUR, a cost saving of 600M EUR making the Turkish acquisition slightly less risky (but of course, the profits generated by the Turkish division expressed in Euro will be hurt as well).
BBVA has posted a good result for FY2021 and investors should be aware that although this appears to be a Spanish bank, the vast majority of its income will be generated in Mexico and Turkey, likely to the tune of about 65%-70% after the completion of the Turkish acquisition.
I think BBVA has a good shot at keeping the EPS at least stable this year despite the headwinds in Turkey. The increased exposure to the Turkish market and the 3.5B EUR share buyback program will protect the per-share performance and this also means I don't think we'll see a dividend below the FY2021 dividend of 0.31 EUR per share.
Trading at less than 0.9 times the tangible book value and at just around 8-8.5 times the anticipates earnings for this year, BBVA is not expensive. I had been looking to increase my exposure to the financial sector (to indirectly increase my exposure to potentially rising interest rates) and BBVA is now a good contender thanks to its geographically diversified exposure.
Consider joining European Small-Cap Ideas to gain exclusive access to actionable research on appealing Europe-focused investment opportunities, and to the real-time chat function to discuss ideas with similar-minded investors!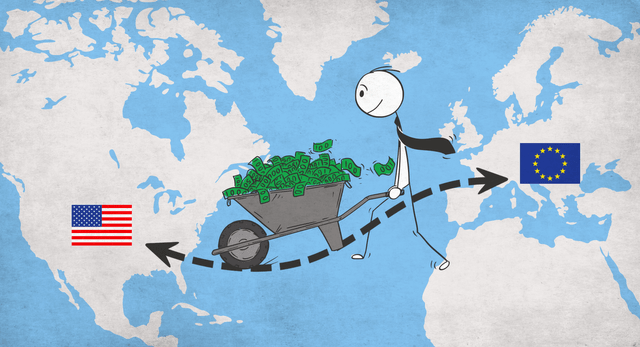 This article was written by
Disclosure: I/we have no stock, option or similar derivative position in any of the companies mentioned, and no plans to initiate any such positions within the next 72 hours. I wrote this article myself, and it expresses my own opinions. I am not receiving compensation for it (other than from Seeking Alpha). I have no business relationship with any company whose stock is mentioned in this article.