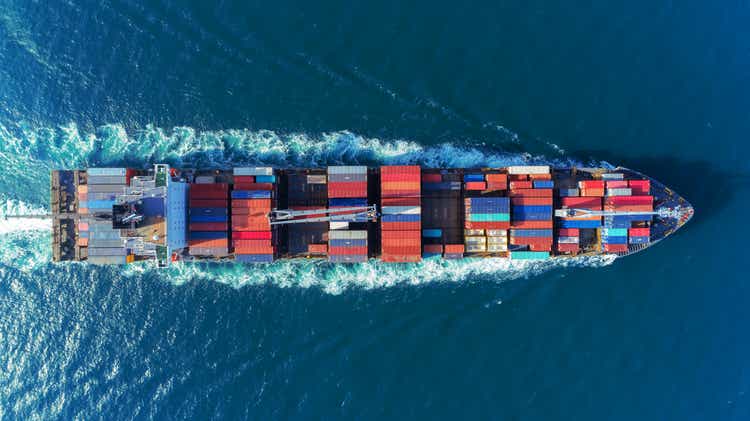 Suriyapong Thongsawang/iStock via Getty Images
Bermuda-based Frontline Ltd. (NYSE:FRO) reported its fourth-quarter and full-year 2021 results on February 17, 2022.
Frontline reported a net income attributable to the company of $19.78 million for the quarter ended December 31, 2021, compared with a net loss of $33.21 million in the previous quarter.
The adjusted net loss attributable to the Company was $4.8 million for the fourth quarter of 2021, compared with an adjusted net loss of $35.9 million in the previous quarter.
The decrease in adjusted net loss from the previous quarter was due to an increase in time charter equivalent earnings from $64.3 million during the last quarter to $95.3 million in the current quarter. Higher TCE rates and a reduction in ship operating expenses of $3.7 million in the fourth quarter were the reason for the decrease.
Frontline owns and operates a large and modern fleet. As of December 31, 2021, the Company's fleet consisted of 70 vessels, with an aggregate capacity of approximately 12.7 million DWT:
2.1 – 64 vessels owned by the Company (17 VLCCs, 27 Suezmax tankers, 20 LR2/Aframax tankers);
2.2 – Two VLCCs that are under finance leases;
2.3 – and four vessels that are under the Company's commercial management (two Suezmax tankers and two Aframax tankers)
2.4 – In October and November 2021, the Company took delivery of 2019 built VLCCs, Front Driva, and Front Nausta, respectively, from Hyundai Heavy Industries ("HHI"). In November 2021, the Company took delivery of the LR2 tanker, Front Feature, from Shanghai Waigaoqiao Shipbuilding Company Limited ("SWS").
2.5 – As of December 31, 2021, the Company's Newbuilding Program consisted of six VLCCs, which are expected to be delivered during 2022, starting in the first quarter.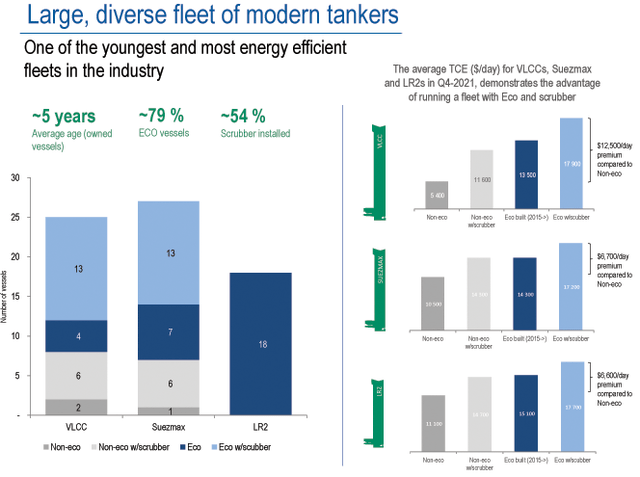 FRO Fleet Presentation (FRO: Fleet 4Q21)
Frontline has outperformed DHT Holdings (NYSE:DHT) and is now up 9.2% on a one-year basis, far behind the excellent performance of SFL Corp.
Note: I recommend reading my recent article on SFL published on February 16, 2022, by clicking here.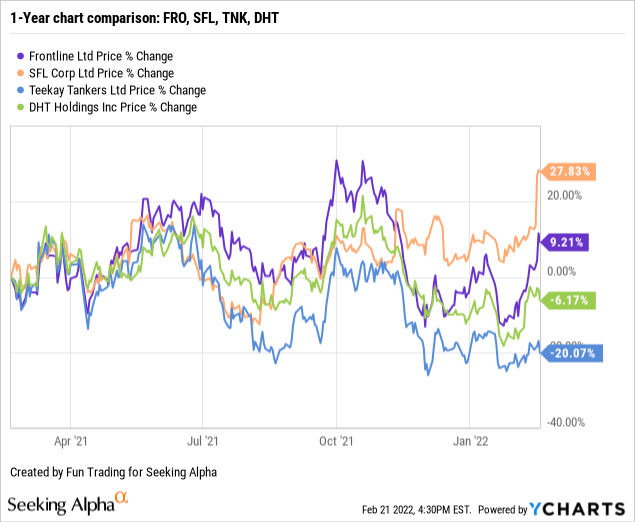 I continue to believe that trading FRO short-term LIFO to profit from the excessive volatility inherent in this sector is crucial and potentially the only way to generate a steady profit. The fourth-quarter results are another proof of the volatile nature of this sector.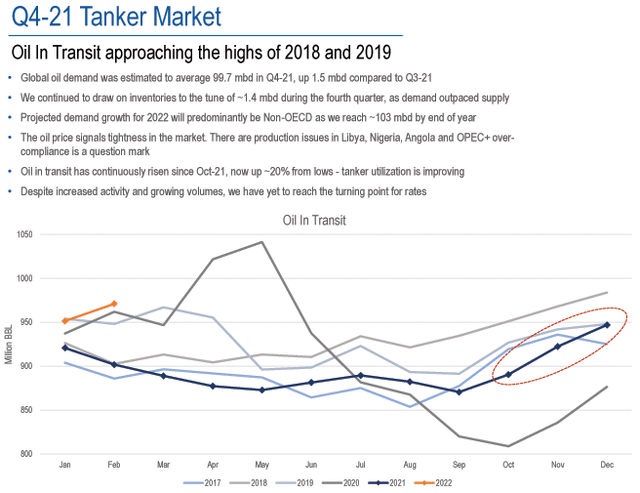 FRO Tanker Market – Presentation (Frontline Ltd.)
The stock has performed exceptionally well recently, but the outlook for tanker rates has always been dicey. 2021 was the worst year in three decades, and we had a terrible start in 2022.
One positive is that the high steel price helps to recycle. Activity picked up in 2021, and the company believes this trend will continue in 2022.
Thus, I recommend primarily using FRO as a trading vehicle and keeping a minimal long-term position waiting for a massive rebound in the sector. The idea is to keep a core position and trade short-term LIFO.
Lars Barstad – Interim Chief Executive Officer, said in the conference call:
We continued our stride through what ended up being a somewhat less exciting market than expected. And towards the end of the third quarter, we actually started to see a recovery in demand for freight as exports volumes grew, which was continued into the fourth quarter, but regretfully, it was not enough to move the needle in the vessel supply and demand equation to make a significant change in rates in absolute terms.
Source: Frontline material
* Estimated by Fun Trading
Note: More data are available to subscribers only.

FRO: Revenues history (Fun Trading)
Frontline announced lower-than-expected revenues of $213.55 million for the fourth quarter of 2021 (see chart above).
The company posted a net income of $19.783 million, or $0.10 per diluted share, for the fourth quarter of 2021 and an adjusted net income of $4.8 million for the fourth quarter of 2021, compared with an adjusted net loss of $35.9 million in the previous quarter.
Frontline took delivery of an LR2 tanker and two VLCCs in 4Q21.
Frontline's average daily time charter equivalents (TCEs) were $16,500, $14,200, and $13,900 per day for VLCCs, Suezmax tankers, and LR2 tankers, respectively. OpEx expenses in the fourth quarter were $7,600 per day for VLCCs, $6,900 per day for Suezmax, and $6,100 per day for LR2, and we drydocked 1 VLCC and 1 Suezmax tanker in the fourth quarter.
For 1Q22, Frontline estimates spot TCEs on a load-to-discharge basis of $21,300 for VLCCs, $19,600 for Suezmax tankers, and $18,800 for LR2 tankers.

FRO: Free cash flow history (Frontline Ltd.)
Note: Generic free cash flow is cash from operation minus CapEx
Trailing Twelve-month free cash flow is now estimated at a loss of $381.47 million, with a loss of $200.33 million estimated in 4Q21.
As a reminder, FRO stopped paying dividends starting in 3Q20.

FRO: Chart Cash versus Debt history (Fun Trading)
As of December 31, 2021, total cash was $115.508 million, and long-term debt, including current, was 2,316.2 million.
In November 2021, Frontline announced that it had entered into an agreement to sell four of its scrubber-fitted LR2 tankers built in 2014 and 2015 for an aggregate sale price of $160.0 million to SFL Tanker Holding Ltd., a company related to Hemen Holding Ltd. ("Hemen").
Note: Frontline has no material debt maturities until 2023.
As of December 31, Frontline has $181 million in cash and cash equivalents, including undrawn amounts under our senior unsecured loan facility, marketable securities and minimum cash requirements.
Source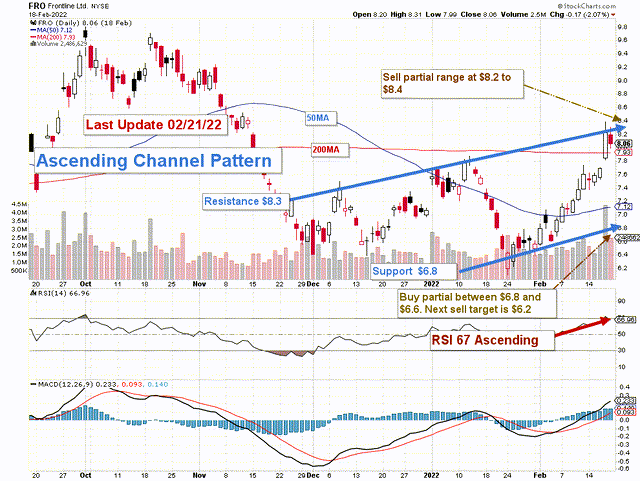 FRO: TA chart short term (Fun Trading)
Note: The chart is adjusted from the dividend.
FRO forms an ascending channel pattern with resistance at $8.3 and support at $6.8. RSI is now starting to be overbought at 67.
The short-term trading strategy is to trade LIFO about 60%-70% of your position and keep a core long-term position for a much higher payday. I suggest selling between $8.20 and $8.40 and waiting for a retracement between $6.80 to $6.20. You can start accumulating at the 50MA, now at $7.10.
The risk of Russia potentially invading Ukraine creates some concerns, and the stock could experience wild swings.
If the market turns bullish, FRO could break out and reach $9.80-10.20.
Warning: The TA chart must be updated frequently to be relevant. It is what I am doing in my stock tracker. The chart above has a possible validity of about a week. Remember, the TA chart is a tool only to help you adopt the right strategy. It is not a way to foresee the future. No one and nothing can.
Author's note: If you find value in this article and would like to encourage such continued efforts, please click the "Like" button below as a vote of support. Thanks.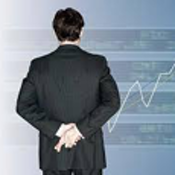 Join my "Gold and Oil Corner" today, and discuss ideas and strategies freely in my private chat room. Click here to subscribe now.
You will have access to 57+ stocks at your fingertips with my exclusive Fun Trading's stock tracker. Do not be alone and enjoy an honest exchange with a veteran trader with more than thirty years of experience.
"It's not only moving that creates new starting points. Sometimes all it takes is a subtle shift in perspective," Kristin Armstrong.
Fun Trading has been writing since 2014, and you will have total access to his 1,988 articles and counting.
This article was written by
I am a former test & measurement doctor engineer (geodetic metrology). I was interested in quantum metrology for a while.
I live mostly in Sweden with my loving wife.
I have also managed an old and broad private family Portfolio successfully — now officially retired but still active — and trade personally a medium-size portfolio for over 40 years.
"Logic will get you from A to B. Imagination will take you everywhere." Einstein.
Note: I am not a financial advisor. All articles are my honest opinion. It is your responsibility to conduct your own due diligence before investing or trading.
Disclosure: I/we have no stock, option or similar derivative position in any of the companies mentioned, and no plans to initiate any such positions within the next 72 hours. I wrote this article myself, and it expresses my own opinions. I am not receiving compensation for it (other than from Seeking Alpha). I have no business relationship with any company whose stock is mentioned in this article.
Additional disclosure: I trade short-term FRO occasionally. I own SFL long-term.