D-Keine/E+ via Getty Images
The market's recent sell-off has taken a heavy toll on many high growth stocks that were the darlings of 2020 and even much of 2021. The most glaring example of this is the Ark Investment Innovation ETF's (ARKK) nosedive over the past 12 months:
However, with the calendar turning to 2022, many other large-cap stocks – including a few members of the highly revered FAANG stocks (Facebook (FB) and Netflix (NFLX)) – have taken a nosedive while ARKK's sell-off has accelerated:
The reasons for this as usual are wide ranging, including shockingly poor individual results from these individual companies alongside broader macro trends such as geopolitical unrest in Eastern Europe and East Asia, lingering uncertainties about the timing of full recovery from the COVID-19 pandemic, and – most of all – concerns about how aggressively the Federal Reserve will try to fight soaring inflation that has now reached multi-decade highs:
Stocks with higher growth rates and sky-high valuation multiples have been hit far harder than those in the value sector (which have lower growth rates and valuation multiples and often return substantial amounts of capital to shareholders) as a large part of their cash flows are long dated, meaning that a rising discount rate (from higher forward interest rate assumptions) impacts their net present value much more than companies whose intrinsic values are tied to a much greater percentage of near-term cash flows.
While no one knows for sure exactly how high interest rates will go nor how these other geopolitical and macroeconomic risks will play out, the violent sell-off in some of these large cap stocks could spell opportunity for investors. As the Oracle of Omaha Warren Buffett likes to say:
Be fearful when others are greedy, and greedy when others are fearful.
In this article, we will take a look at the 10 most beaten-down large cap stocks year-to date and discuss which looks the most opportunistic to me right now.
The biggest U.S. large cap loser year-to-date is RIVN, a high upside and high growth potential electric vehicle designer, developer, and manufacturer.
The fact that the company has had such a dramatic pullback is unsurprising when you consider that it had reached a market capitalization of over $150 billion despite barely generating any revenue in 2021 and being expected to run up over $3.5 billion in net losses in 2021.
In fact, analysts do not expect the company to turn a positive EBITDA until 2025 and will take even longer than that to reach GAAP profitability. As a result, rising interest rates have an outsized impact on computing its likely net present value.
That said, the company does have quite a bit going for it at the moment as Morgan Stanley recently reported that RIVN emerged as a clear winner when compared to fellow electric vehicle stock Lucid (LCID). As Analyst Adam Jonas said, an investment in RIVN:
… requires a need for long-term thinking and preparation for significant potential volatility around the ramp to high volume manufacturing. Technical factors aside (LCID's 30% free float, 17% short base, high retail component, etc.), the market appears to be making the case that LCID can scale its award-winning Air into new segments and far lower price points to achieve many hundreds of thousands or potentially millions of units of EVs at some point in the future.
Another big feather in RIVN's cap is the fact that Amazon (AMZN) recently disclosed a massive 18.1% equity stake in the company. Given that a company with the immense recourses and economic clout as AMZN has so much skin in the game not only gives credibility to RIVN's valuation, but it also could open up significant growth, additional capital injection, and even joint research and development opportunities down the road. At a minimum, establishing an all-electric commercial delivery fleet for AMZN should provide substantial ongoing business for RIVN.
Ford (F) also reportedly owns ~12% of the company, which could also provide immense benefits, especially given that F has enormous automotive manufacturing and consumer data as well as automotive design and manufacturing expertise that could substantially bolster RIVN's long-term potential.
While all of this bodes well for the company eventually becoming a major player in the electric vehicle space, the fact still remains that price is what you pay and value is what you get. RIVN is running up heavy losses and likely will continue to do so for the next half decade and even beyond. This puts enormous risk on any investment in the company at such a lofty valuation and prevents me from wanting to buy shares myself.
SHOP's 2022 swoon is really just a continuation of a downturn that began late in 2021, with the stock nearly halving in value over that span:
Nonetheless, it still sports a hefty market capitalization of $101.7 billion and trades at a lofty EV/EBITDA of 129.23x on a forward looking basis.
While its competitive strength as a popular one-stop shop for small retail businesses and large e-commerce footprint put it in-tune with the current industry trends, the valuation still does not look overly compelling even after the massive pullback.
Analysts do forecast an EBITDA CAGR of 50.4% over the next four years, but even then the EV/2025E EBITDA is still 36.6x, so the cash flows remain very long-dated with this investment at the current share price.
SHOP is working hard to strengthen its global network advantage by partnering with JD.com (JD) to open up access to China for its merchant members and also continues to grow closer to Coinbase Global (COIN) in the two companies' joint efforts to further decentralize finance and entrepreneurship. This positions the company's merchants to profit from China's massive and growing economy, cryptocurrency growth and the explosion of interest in NFTs.
Overall, however, SHOP's strong growth momentum and runway are offset by its sky-high valuation multiples as well as the risks rising from its recently reduced fulfillment network, high merchant churn rate, and significant competition. As a result, I do not find it to be a particularly compelling buy even after losing nearly half of its value over the past several months.
MRNA – as one of the primary COVID-19 shot developers – has profited substantially from the COVID-19 outbreak. However, its shares suffered an epic meltdown in January as it became the worst performer in the entire S&P 500 (SPY) during the month. Despite boasting fat profits and low valuation multiples, the stock is suffering from uncertainty stemming from wide-ranging viewpoints on the effectiveness of the COVID-19 shot, substantial competition from other developers, and growing expectations that the worst of the COVID-19 outbreak and the severity of its variants are behind us. As a result, there's a strong possibility that demand for MRNA's COVID-19 related products may decline substantially in the coming months and years. In fact, analysts are expecting revenue to plunge by 43% in 2023 and another 36.4% in 2024.
Still, the company does have some promising non-COVID-19 treatments under development, including an mRNA treatment candidate for cardiology as well as an Epstein-Barr prophylactic vaccine.
Time will tell, and MRNA's 4.81x price to forward normalized earnings ratio provides some margin of safety, but there's a lot of uncertainty still lingering over MRNA which prevents us from getting too excited about it even after its latest sell-off.
Fintech giant PYPL is suffering from a bitter one-two punch stemming from the termination of its eBay (EBAY) partnership as well as the ending of COVID-19 related government stimulus programs that fueled online spending habits from consumers.
That said, the stock looks quite opportunistically priced on the pullback, even if growth slows for the foreseeable future as the economy normalizes.
While new account growth is expected to slow to between 15 and 20 million in 2022 (a growth rate that would be below even pre-COVID-19 levels), analysts still see revenue growing by 15.9% in 2022 off of a high base before accelerating to around 20% annually through 2026. EBITDA is also expected to experience a strong 29% CAGR through 2026 and normalized earnings per share are forecasted to grow at a 25% CAGR through 2026.
Given that the stock trades at just 27x 2022 expected normalized earnings, this looks like a very attractive opportunity to buy into a strong long-term growth story.
SQ is another fallen fintech giant as it faces competitive risks stemming from reports that Apple (AAPL) may soon turn into a giant rival by undermining SQ with a feature that would convert iPhones into payment terminals. It also suffers from a similar tail end of COVID deflation of trends that were proving to be a massive tailwind for business.
However, unlike PYPL, SQ trades at a much steeper valuation of 73.6x 2022 expected normalized earnings. That said, growth is also expected to be much greater as analysts still see revenue growing at a 26.9% CAGR through 2026. EBITDA is also expected to experience a strong 35.4% CAGR through 2026 and normalized earnings per share are forecasted to grow at a 45.2% CAGR through 2026.
That said, if AAPL's new feature turns out to be effective – and I'm not one that wants to ever bet against AAPL – these growth numbers could prove to be too optimistic, especially if the cryptocurrency bubble continues to deflate and AAPL builds additional fintech services into its emerging platform. As a result, I think PYPL is the more compelling fintech bet at the moment.
Subscriber growth is slowing substantially for NFLX which – along with the broader aforementioned macro themes – is the main reason why shares have plunged year-to-date. This is unsurprising, however, as the competition for online streaming services is increasingly robust and developed markets are largely saturated by now. Even high growth markets like India see growing competition in the industry.
With 223 million global subscriptions, it is hard to see how much more the company can grow that number, especially when you consider that each subscription often represents a family or even multiple families. Analysts expect revenue growth to slow substantially moving forward to 11.2% annualized through 2026, while EBITDA is forecast to see solid 21.5% annualized growth and normalized earnings per share is expected to see healthy 22.2% annualized growth over that span.
That said, with shares trading at 36.8x expected 2022 normalized earnings after the latest pullback, there is virtually no margin of safety if NFLX fails to deliver on those fairly optimistic analyst forecasts. With the likes of Disney (DIS), Amazon (AMZN), and others investing heavily into the streaming space, NFLX will likely have a hard time driving strong profitability growth from its business moving forward, so I have a hard time being exceptionally bullish on the shares here.
Like MRNA, BNTX is largely a bet on the longevity and severity of COVID-19 from this point forward. That alone is enough to make it a bit too much of a speculative bet for us, especially when the general consensus is increasingly that the omicron variant is significantly less severe than previous variants and that future variants could likely be even less severe than omicron.
Furthermore, when you consider that a high percentage of the population in developed countries has already taken a COVID-19 shot and that antibody levels run high in the wake of the rapid and broad spread of omicron cases, it's unlikely that we will see a spike in COVID-19 cases anytime soon. This all adds up to a reduced demand outlook for additional COVID-19 shots moving forward.
While the 5x price to expected 2022 normalized earnings ratio implies some margin of safety, revenue, EBITDA, and normalized earnings per share are expected to fall off significantly in the years following with a -36.9% revenue CAGR, a -67.3% EBITDA CAGR, and a -45.3% normalized EPS CAGR forecast from 2023-2025.
Once again, I do not see a compelling buying opportunity here, though perhaps one or both MRNA and BNTX could serve as a hedge against further outbreaks of more severe variants of COVID-19.
SE has enjoyed rapid growth across its three business segments (Digital entertainment, E-commerce, and Digital financial services), each of which are hot industries right now. However, given that it is concentrated in developing economies in Southeast Asia and Latin America, it faces substantially more geopolitical and macroeconomic risk. When combined with the likelihood of meaningfully higher interest rates and its lack of profitability, it is unsurprising that SE's stock price has seen a sharp pullback, especially when considering how much it had soared previously:
That said, the company is still not cheap as it's not expected to become profitable on a GAAP basis until 2024 and trades at an enterprise value that is 22 times 2024 expected net normalized income of $3.6 billion. The stock is not outrageously expensive, but when taking into account the elevated geopolitical and macroeconomic risks, it does not jump out to me as a compelling buy either with profitability still several years away.
FB recently sold off – losing more than a quarter of its market cap – in the wake of reporting its Q4 and FY2021 results.
Revenue and earnings per share numbers were fine as revenue actually beat analyst expectations and earnings per share only missed expectations due to higher than expected investments in improving the business. Given that FB has a world-class brain trust through employing among the best and brightest technical minds in the world, I actually like the fact that they invest more aggressively in developing the business as it is leveraging one of the company's greatest strengths.
However, there was also some negative news as FB guided for Q1 revenue that was below expectations, family daily active people growth decelerated to a crawl sequentially, and the core business platform – Facebook – saw its daily active users decline sequentially for the first time in its recorded history. Of particular concern was that it also declined in the U.S. and Canada (its most profitable advertising market) as well as in its highest growth potential developing markets.
As you can see from the charts below, the U.S. is by far the company's most profitable region, so the fact that it declined sequentially is particularly concerning, while profitability per user has been growing rapidly in Rest of World, where it saw its steepest user declines.
FB ARPU (FB.com)
These numbers bode poorly for the business. That said, on the net, I believe the business remains very healthy with growth in store for its future.
First of all, while daily active users may have declined slightly on the net, revenue per user in each of its regions increased meaningfully sequentially, driving substantial revenue growth.
Second, the company's aggressive investments in growing future technologies while also improving the advertising business should bear fruit in future years thanks to the company's proven technical prowess and capital allocation capability.
Third, while Apple's data policy change will pose a short-term challenge for FB's advertising business, like all great companies, FB has repeatedly risen to the challenges posed by small bumps in the road and will likely do so again here.
The biggest reason for optimism here for investing in FB stock is that it is generating incredible returns on capital and equity:
… and also has very little debt (0.12 debt to equity), is actually net cash positive, and has a whopping $50 billion in cash and short-term investments on its balance sheet along with over $14 billion in accounts receivable. This gives it nearly $67 billion in current assets against only $21.1 billion in current liabilities and $41.1 billion in total liabilities.
This absolute fortress of a balance sheet and wildly profitable business model that is backed by some of the sharpest and most innovative minds in the world are on sale for a mere 18.33x 2022 expected normalized earnings. By way of comparison, over the past three years, the average price to normalized earnings ratio was 24.82x, so the company could see substantial multiple expansion as it moves past the current bump in the road.
Even if FB sees no multiple expansion over the next five years, analysts expect normalized earnings per share to see a 16.5% CAGR, which alone would generate attractive total returns.
With the metaverse poised to launch as a meaningful growth engine in the not-too-distant future, the current core businesses continuing to gush cash, and the cash and the company's current assets being enough to buyback over 10% of the company, FB looks like an extremely attractive buy on the pullback.
Rounding out our list of 10 biggest year to date large cap decliners, electric vehicle technology company LCID has a similar investment thesis as the biggest year to date large cap decliner RVIN. The company has enormous growth potential as its technology and products are award winning and it soon expects to enter the world-leading China electric vehicle market, which should turbo charge its growth further.
That said, similar to RVIN, it lacks substantial scale and faces stiff competition. Moreover, it is a long way from profitability, as analysts do not expect EBITDA profitability until 2024 and GAAP profitability is unlikely before 2025. Until then, it is expected to run up billions of dollars in losses.
Between likely execution and technological development challenges, substantial competitive, macroeconomic, and geopolitical risks, and rising inflation and interest rates wreaking havoc on the net present value of its long-dated cash flows, LCID is a highly speculative investment. As a result, it is hard for me to have strong conviction on buying this dip.
While the massive pullback in the growth component of the stock market was likely long overdue, especially with the market largely ignoring soaring inflation throughout 2021, nearly every market panic also brings opportunity with it. Of the 10 most beaten-down large-cap stocks year-to-date, most of them are justified in our view. However, I see a significant buying opportunity in both PYPL and FB for investors with long-term outlooks, particularly in FB. While I personally prefer to invest the vast majority of my portfolio into relatively unknown and deeply undervalued dividend-paying stocks, if I were to buy a large cap tech stock today it would most definitely be FB.
Diversification is often called the only 'free lunch' in investing. While I invest in Tech Stocks, I invest even more heavily in dividend growers that add stability, income, and diversification to my Portfolio: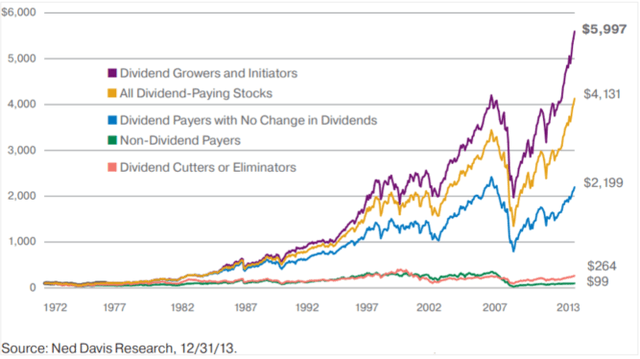 If you want access to my Portfolio that has crushed the market since inception and all our current Top Picks, join us for a 2-week free trial at High Yield Investor.
We are the fastest growing high yield-seeking investment service on Seeking Alpha with ~1,200 members on board and a perfect 5/5 rating from 145 reviews.



This article was written by
Samuel Smith is Vice President at Leonberg Capital and manages the High Yield Investor Seeking Alpha Marketplace Service.
Samuel is a Professional Engineer and Project Management Professional by training and holds a B.S. in Civil Engineering and Mathematics from the United States Military Academy at West Point. He is a former Army officer, land development project engineer, and lead investment analyst at Sure Dividend.
Disclosure: I/we have no stock, option or similar derivative position in any of the companies mentioned, and no plans to initiate any such positions within the next 72 hours. I wrote this article myself, and it expresses my own opinions. I am not receiving compensation for it (other than from Seeking Alpha). I have no business relationship with any company whose stock is mentioned in this article.