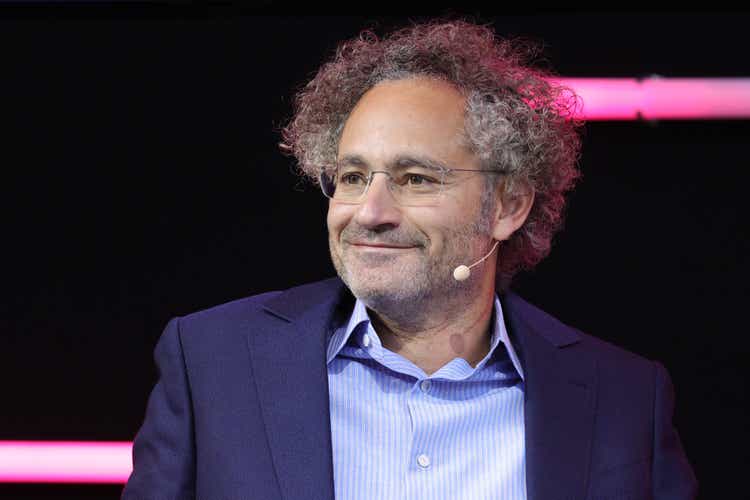 Andreas Rentz/Getty Images Entertainment
Last week, Palantir (PLTR) reported its results for Q4 and fiscal year 2021, while the call was led by CEO Alex Karp. Palantir is not by any means a normal company as its original clientele consisted of government agencies for the U.S. and its allies.
So it's like we, obviously, our primary clients are our clients. which doesn't mean — and then now we're thinking about how do we expose the data in a way that people on the outside like you and professional analysts and others can look at the data and get a better sense of what's tracking, what's not tracking. But the primary source of a lot of these like questions really comes down to look, we built the company to support the U.S. warfighter primarily and then do – take dual, use it for the glory of humanity, particular humanity in the West. That was our idea. And because our primary client was not what someone had a hedge fund would think, we didn't actually think of these things from inception. And so now there's a process of normalization." – Alex Karp
Palantir started by deploying advanced software solutions for the government agencies and now is developing new solutions to tackle more of the most complicated problems for other industries, whether the largest ones through its Skywise partnership with Airbus (OTCPK:EADSY) or its Foundry for Builders initiative which brings Palantir's platform to startups. Palantir's Foundry solution is an operations platform that uses artificial intelligence (AI) and deep data insights to provide its customers with critical information to help maximize their profits. Palantir's solutions are built around "mission-driven engineering" to leverage information from siloed and unstructured platforms or data sets.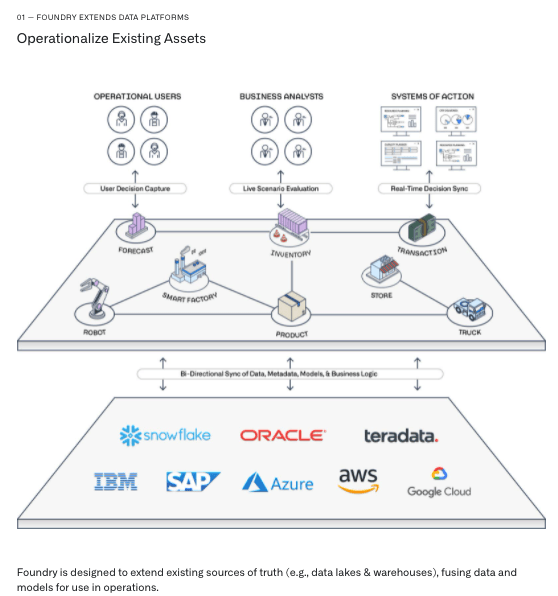 Palantir
Palantir's solutions are still in their early days as Palantir is heavily focused on still developing its platform's capabilities while it expands its team of engineers. This quarter's earnings call and report reflect that Palantir's business is trending in the right direction and Karp described a path to GAAP profitability. As Palantir continues to develop new platform solutions internally, it will continue to redefine the standard for modern operations platforms for organizations of all sizes, and one-day consumers.
We're in the market to hire aggressively across Palantir, honestly, mostly not salespeople because we believe we live and die based on our ability to build products of tomorrow delivered today." – Alex Karp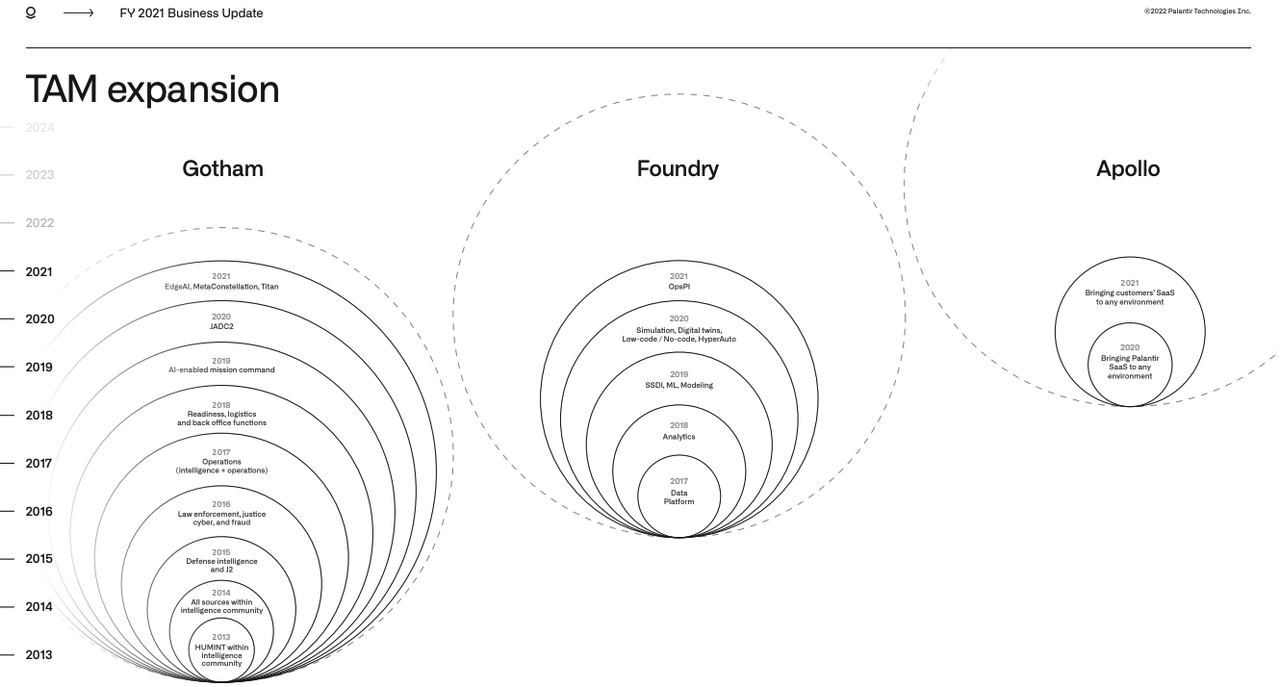 Palantir Earnings Presentation
Palantir is a unique company as its original customer was the U.S. government and built for its warfighter, hence its services were top secret. In 2021, Palantir increased its total customer count to 237, a 71% increase from 2020. Palantir hired ~150 salespeople, with plans to hire another 175-200 in 2022.
Complex sales work best when you don't have "salesmen" at all. Palantir…doesn't employ anyone separately tasked with selling its product. Instead, Alex, who is Palantir's CEO, spends 25 days a month on the road, meeting with clients and potential clients. Our deal sizes range from $1 million to $100 million. At that price point, buyers want to talk to the CEO, not the VP of Sales." – Peter Thiel, Zero to One, 2014
While this approach was quite successful in Palantir's early stages, it is now focusing on commercial opportunities, compared to when it was selling government contracts, when Karp was the only salesperson. This approach was successful because Palantir offers an extremely complex solution, but it ultimately has a great impact on its customers. Now that Foundry is expanding to target the commercial sector, it is building a sales team. At the start of 2021, Palantir had 30 sales reps, which is expected to grow to 100 sales reps by the end of the year." – Author's Previous Palantir Note (August 2021)
Palantir is growing its sales team rapidly, which started from a small base in 2021 of just 30 and will reach over 300+ by the end of 2022. As more of its sales force becomes accredited after the nine-month period, Palantir's top-line growth should start to see an impact, which should start to be realized in the second half of 2022.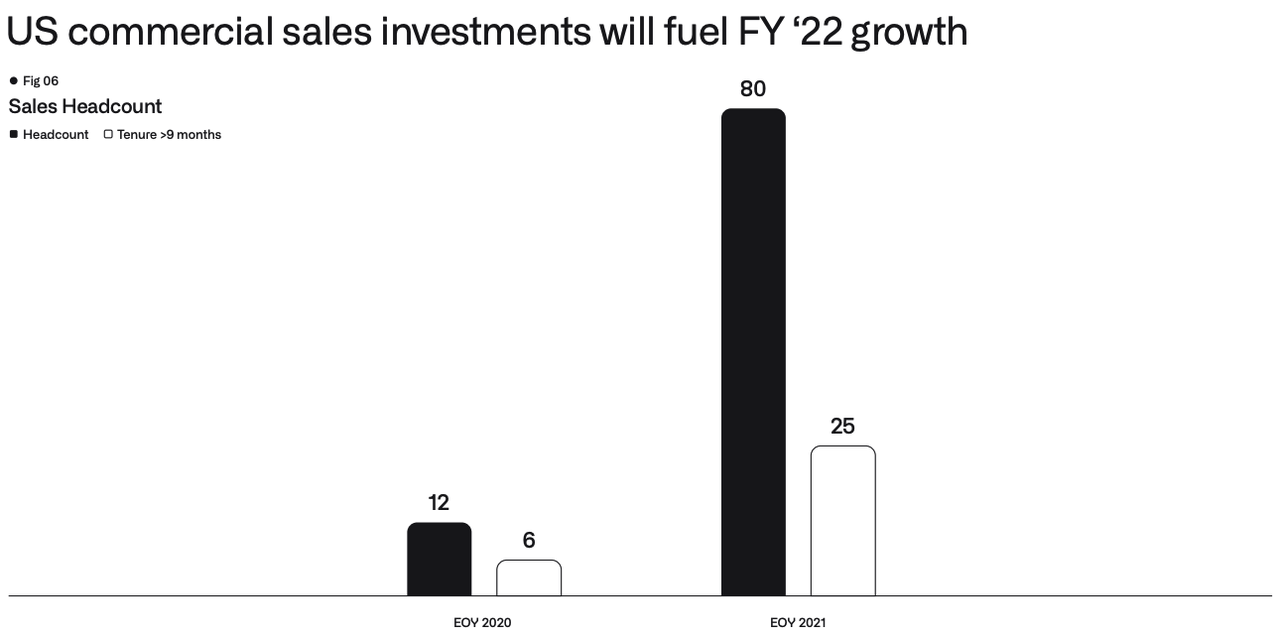 Palantir Earnings Presentation
Palantir has massively grown its U.S. sales headcount, but it still takes about months for its salespeople to become fully accredited to sell Palantir's software and develop comprehensive strategies with prospective customers. As best described in the quote above from Zero to One, Palantir's deal sizes can span from a large range, and while this deal size will go down over time as Palantir looks to go down-market. Palantir becomes the central operating system for its customers, which means the sales cycle for Palantir is extremely important to demonstrate to potential customers the value of Palantir.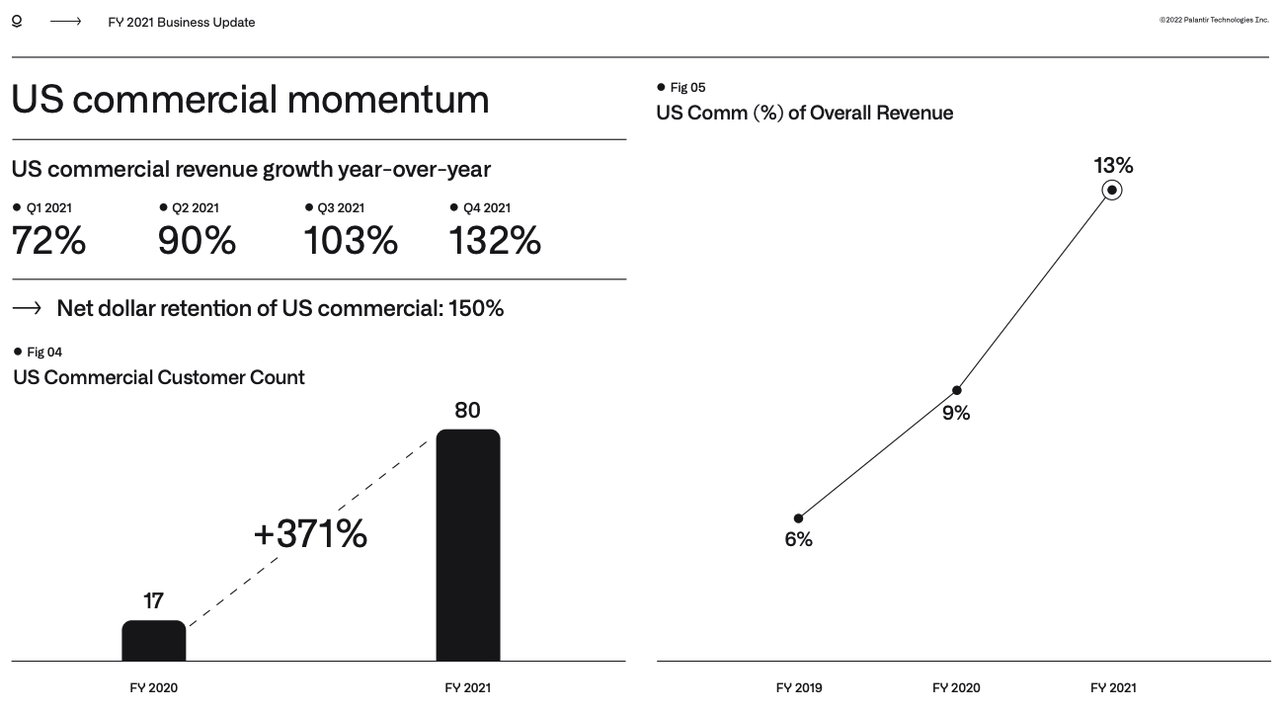 Palantir Earnings Presentation
U.S. commercial revenue sported a 150% net dollar retention rate, which indicates that Palantir's investments in commercial sales are paying off.
You take the data, like it's oil, you pump it out, you churn it, and then you save — churn the data and you move on, but actually operationally determinative for your business. What you see here [below] is cohort analysis. This is the — and what you see is from the inception of Foundry, the decline of older software products and just the massive exponential growth, obviously, rough math. It's 100% growth year-on-year. And then starting last year, not off of a small integral, which is obviously very important because small numbers can grow quickly even if the software is not strong. Big numbers don't grow quickly if the software doesn't exist, especially given that our sales force is super nascent. We're building it quickly, but we only have 25 fully accredited software… And what you see here, obviously, the CAGR here is just unbelievable and in like the 150-plus range, which is super interesting… We've agreed that this is something like the Phoenix rises." – Alex Karp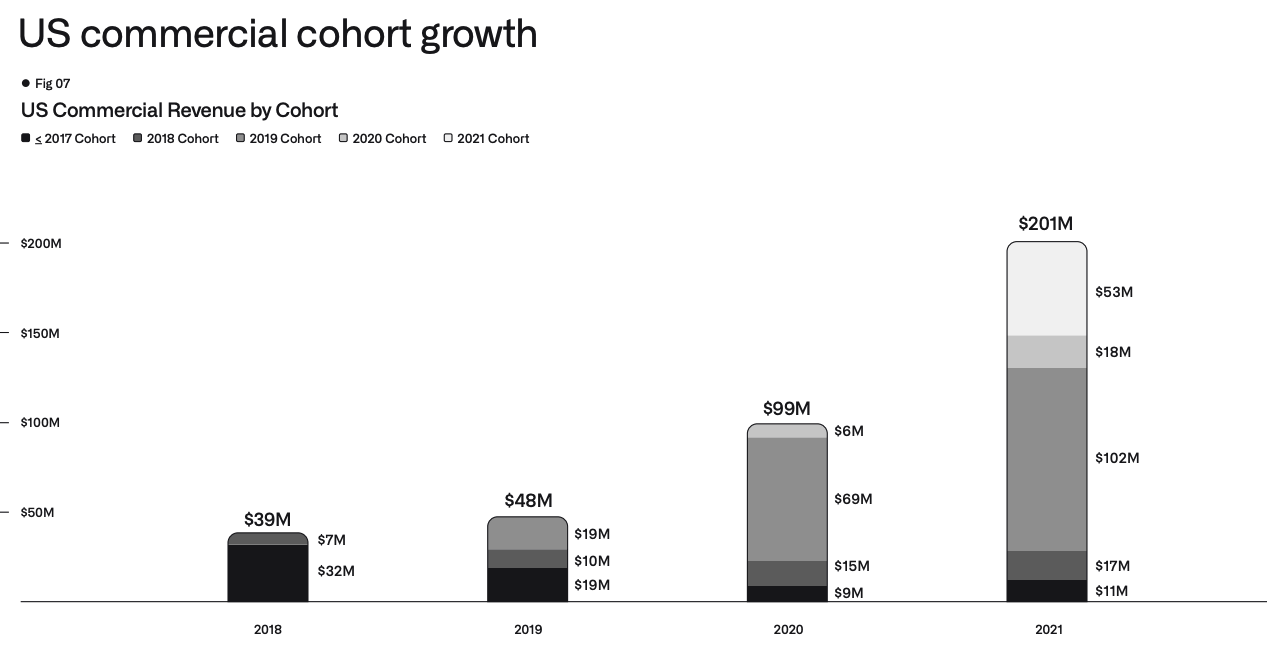 Palantir Earnings Presentation
The cohort growth is impressive, and U.S. commercial revenue has doubled annually since 2019. Palantir's U.S. commercial growth is a highlight for the quarter, and this will eventually normalize, but still remain above its 130% target net dollar retention rate. Given the early success of Foundry in the U.S., it could also be indicative of Palantir's non-U.S. commercial opportunity.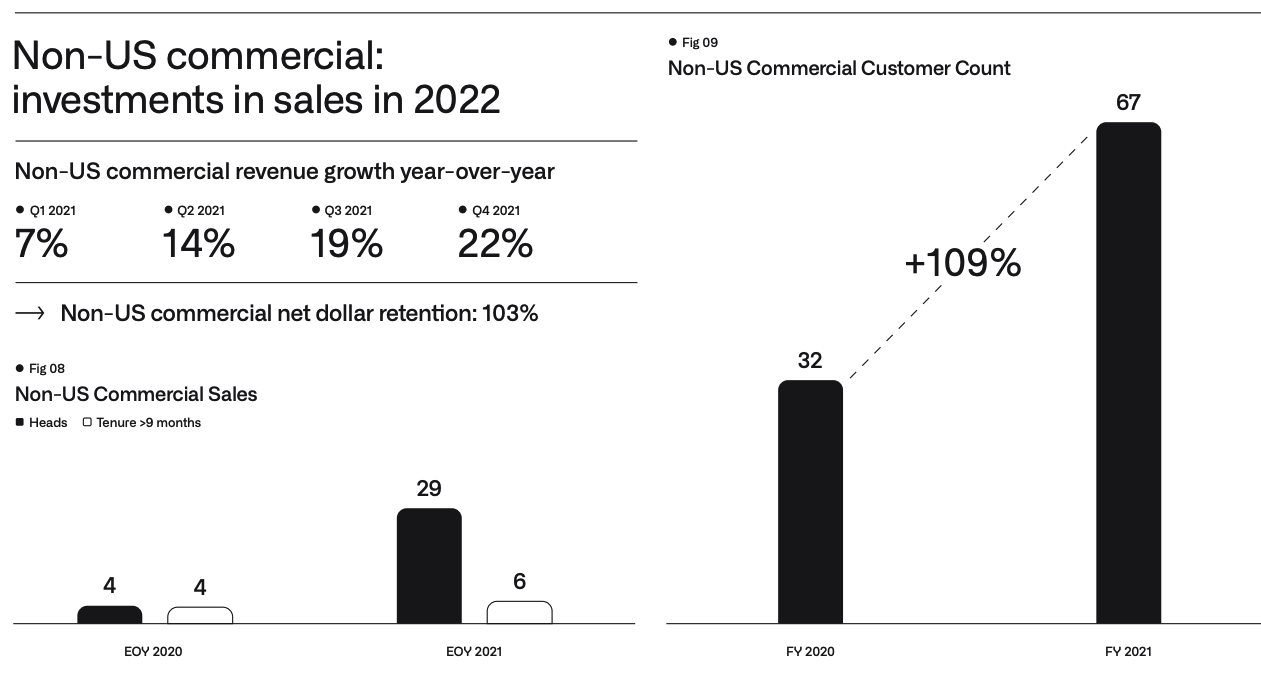 Palantir Earnings Presentation
Non-U.S. commercial revenue growth is trending in the right direction, but the 22% growth in Q4 is minuscule compared to the 132% growth of Palantir's U.S. commercial business. Palantir is now investing in its sales force outside the U.S. which should provide a boost to this segment as well as help raise its net dollar retention outside the U.S. Palantir's sales force is still small and, as it grows, it will drive expansion in its customer base, especially considering its current size.
Palantir was built to thrive in times of adversity, whether through its robust software or the company's financial position. Palantir has no debt and $2.29B of cash, while Palantir's stock-based compensation (SBC) is holding it back from GAAP profitability.
This is a company built for bad times. Bad times means strong finances internally. And that means at some point, you have to be GAAP profitable. You can't be GAAP profitable if you're diluting people or — correctly your stock based comp is totally — is not in conformity with other companies.
So you're seeing a normalization. This will change. It will change in the relatively near future. It will be linked to other things that we believe are important for Palantir like having a company that thrives in bad times. And we are — bad times are very good for Palantir because we build products that are robust, that are built for danger. And then the finances internally are actually built for bad times. And bad times means you have free cash flow, the free cash flow turns into GAAP profit." – Alex Karp
Palantir's SBC should normalize as a percentage of its revenues over the next 18 to 24 months, which means Palantir should reach profitability sometime during 2023 on a GAAP basis. Palantir is investing in its business through developing new products which require attracting top talent and retaining the people who build the most innovative products. Palantir believes that it lives and dies by the products it delivers today and tomorrow, hence the company needs to invest in its products and have its builders aligned as shareholders. As mentioned earlier, Palantir wasn't expecting to direct list when it did in the fall of 2020, as it was heavily focused on developing software to address new markets. The SBC will normalize at a percentage of revenues over time, while this will enable Palantir to thrive in the good times as well as the bad times, given its high-margin business model and ability to retain its builders.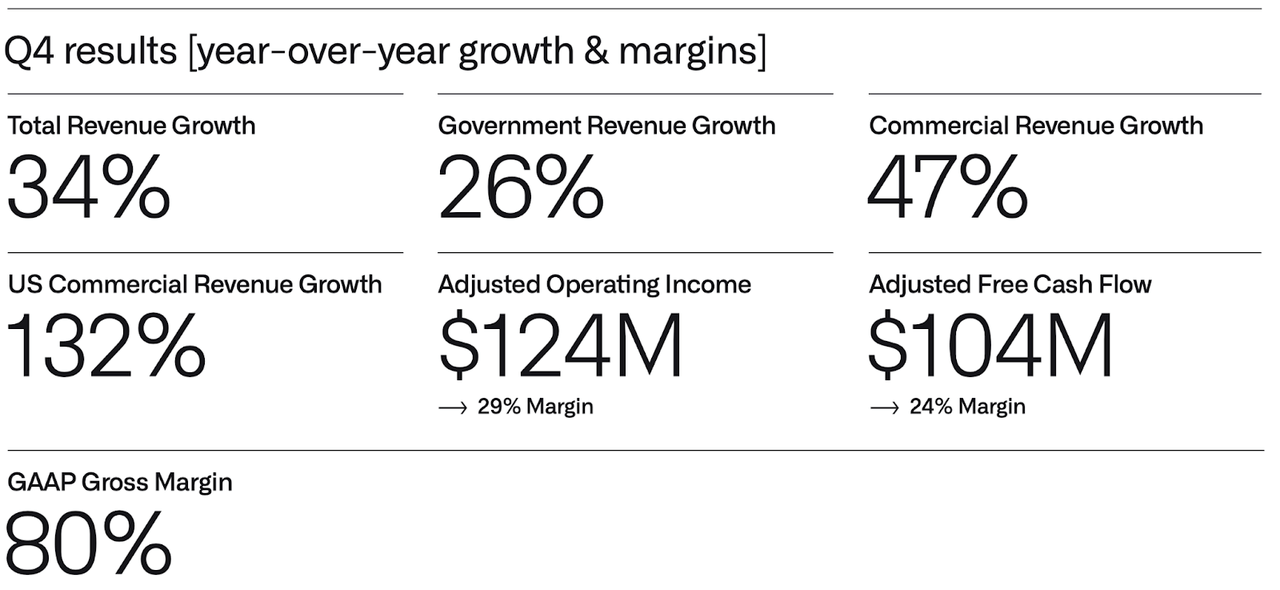 Palantir Earnings Presentation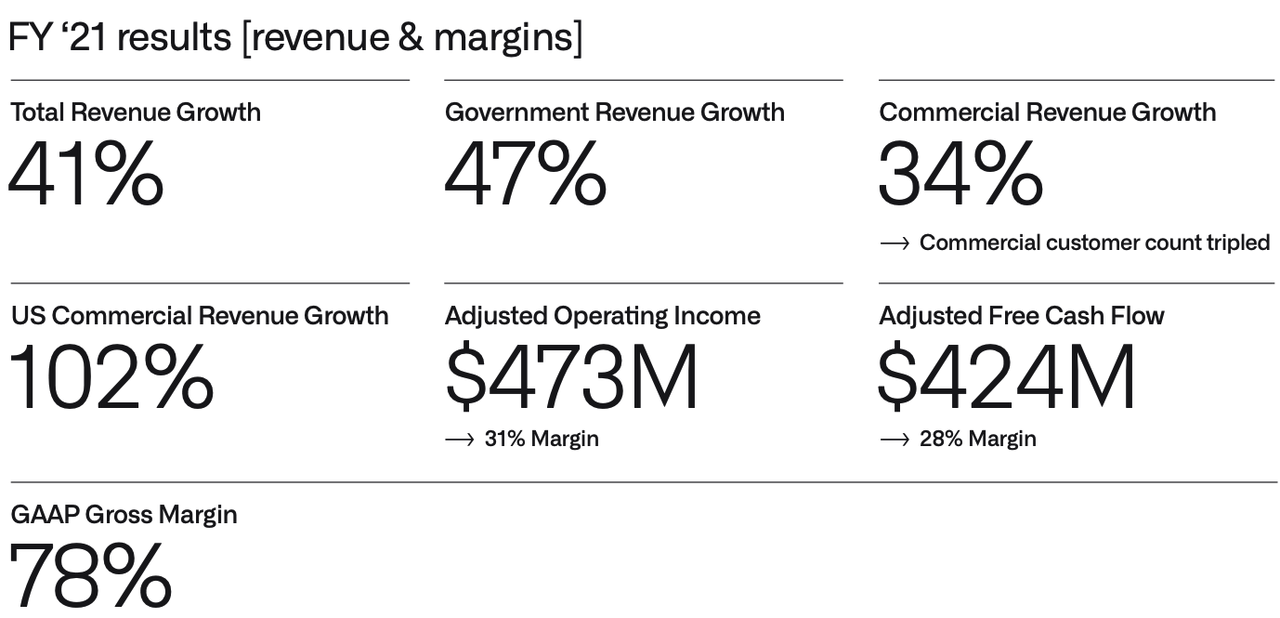 Palantir Earnings Presentation
For full-year 2022, Palantir expects an adjusted operating margin of 27% and still guides for 30% growth or greater through 2025.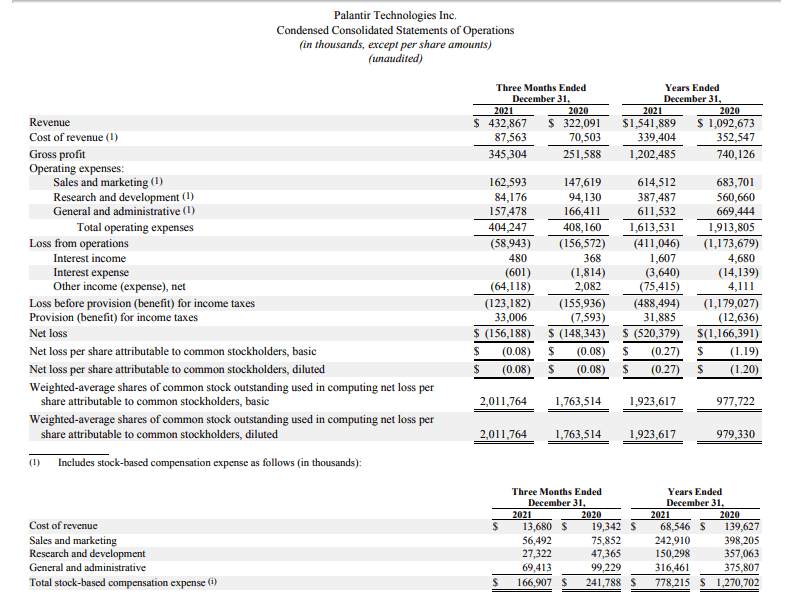 Palantir Earnings Release
Palantir continues to report massive numbers with strong margins, 83% when adjusting for SBC. As seen above, SBC impacts many expense lines of Palantir's income statement but, as Karp referenced, these should continue to normalize over the next 4 to 6 quarters, while SBC is trending in the right direction.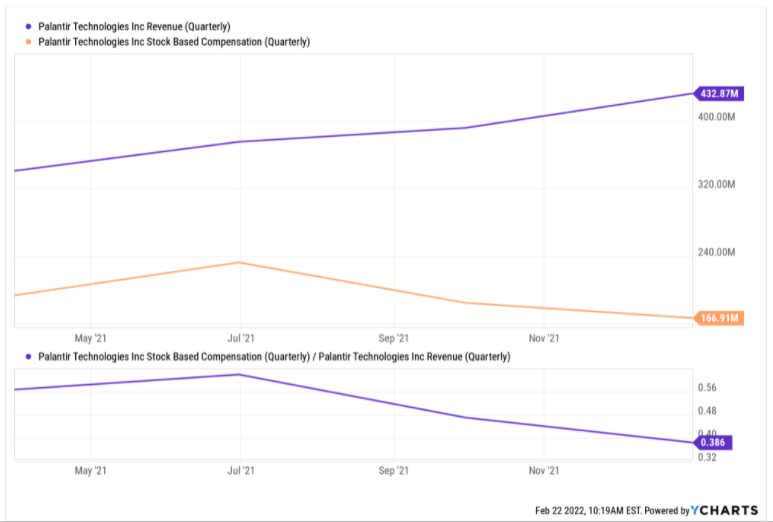 YCharts
Overall, I am pleased with the quarter and $424M in FCF for 2021 (28% margin), while Palantir is poised to generate massive amounts of free cash flow as its revenue is still seeing strong growth, especially in the commercial sector.
To find Palantir's fair value, we will employ our proprietary valuation model. Here's what it entails:
In step 1, we use a traditional DCF model with free cash flow discounted by our (shareholders) cost of capital.
In step 2, the model accounts for the effects of the change in shares outstanding (buybacks/dilutions).
In step 3, we normalize valuation for future growth prospects at the end of the ten years. Then, we arrive at a CAGR using today's share price and the projected share price at the end of 10 years. If this beats the market by enough of a margin, we invest. If not, we wait for a better entry point.
Forward 12-month revenue [A]
$2.2 billion
Potential Free Cash Flow Margin [B]
40%
Average diluted shares outstanding [C]
~2 billion
Free cash flow per share [ D = (A * B) / C ]
$0.44
Free cash flow per share growth rate
27%
Terminal growth rate
3%
Years of elevated growth
10
Total years to stimulate
100
Discount Rate (Our "Next Best Alternative")
9.8%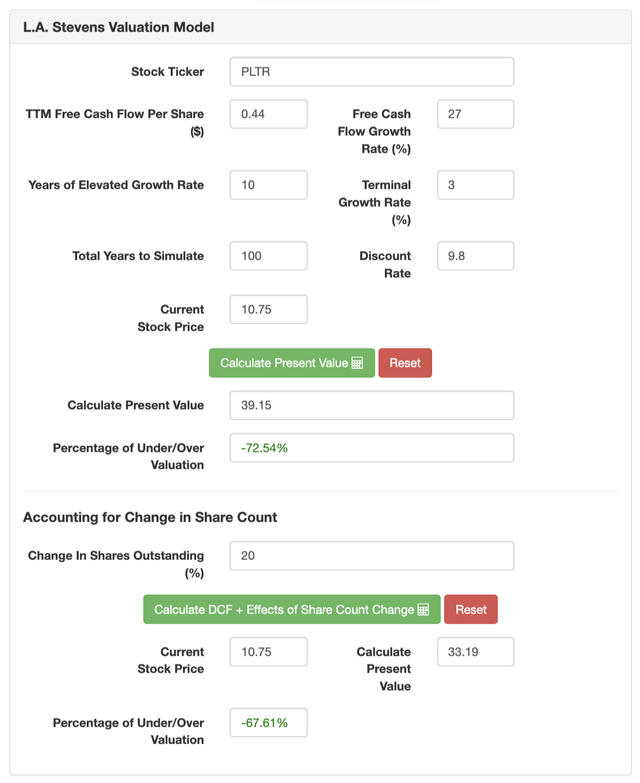 L.A. Stevens Valuation Model
According to our model, Palantir is significantly undervalued with an intrinsic value of ~$33. Palantir appears to be an attractive investment; however, we must assess Palantir's expected returns to make an informed decision whether or not Palantir is a good investment today.
To calculate the total expected return for the next decade, we grow the above free cash flow per share at our conservative growth rate, then assign a conservative Price-to-FCF multiple, i.e., 35x, to it for year ten. Thereby, we create a conservative intrinsic value projection (2031 price target), by which we determine the 10-yr expected CAGR returns. If these returns cross our hurdle rate of 15%, we buy; else, we wait for a better buying opportunity.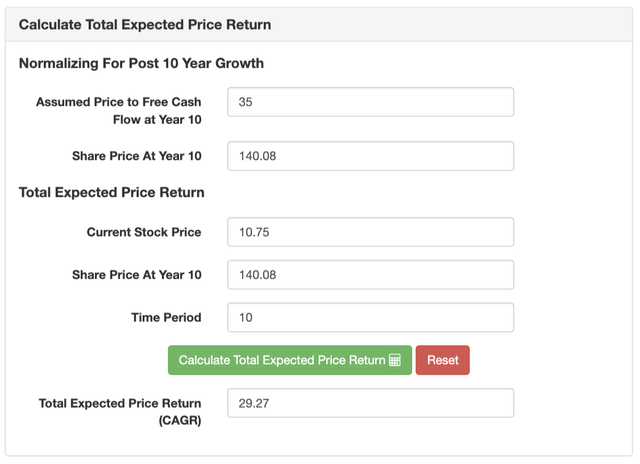 L.A. Stevens Valuation Model
Palantir is expected to generate a 29% CAGR over the next 10 years, while its share price is expected to be more than 10x and reach $140 by 2032. Palantir is trading at just 13x P/S while its business is still showing no signs of slowing growth with ultra-high margins; hence I label Palantir a strong buy trading around ~$11.
Palantir's government revenue decelerated in 2021, while Palantir's SPAC investments are trading at much lower market values.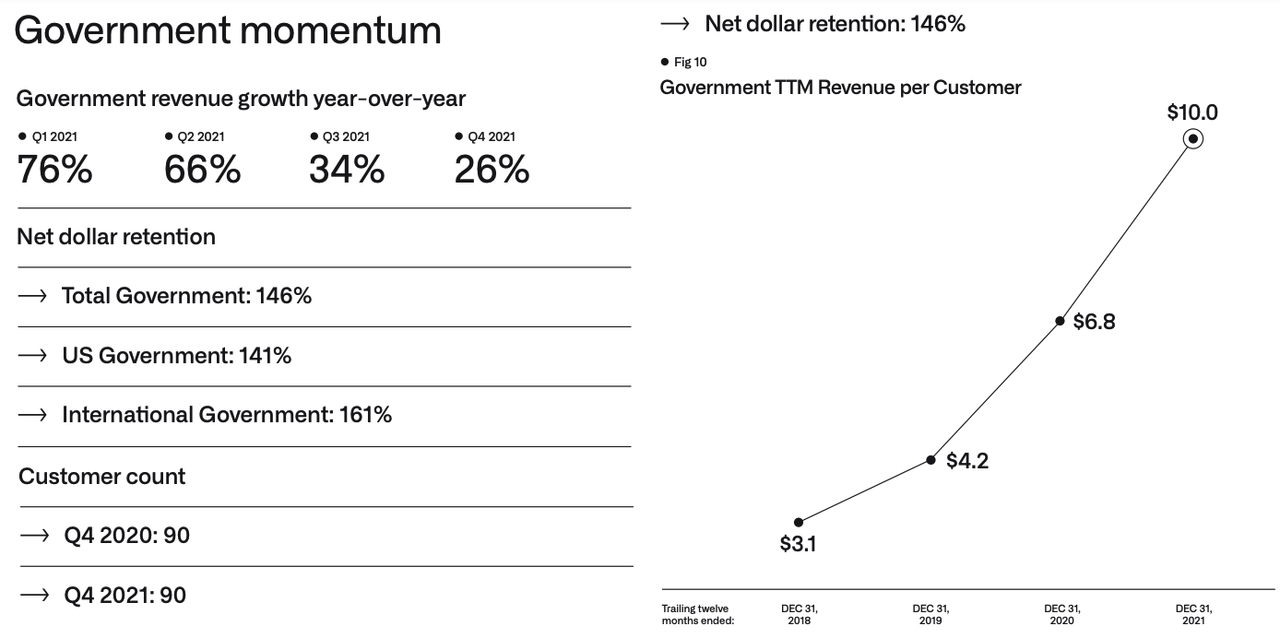 Palantir Earnings Presentation
While the revenue from the U.S. government is reliable and the contracts are big, they are also "lumpy" in the sense that it grows by a 30% CAGR over a 15-year period, while there will be periods of acceleration and deceleration.
One, what will happen this year? Are there — is there deceleration in actual one over a long time series? The answer is clearly no. But then the question is, if the baseline is 30, how does it get to where we want it, which was like the beginning of last year. And now at the end of last year, and the way that happens is the deals we're already positioned to win actually closed.
And so then you get into the granularity of what will happen in the U.S. government, who gets the deals if there's no new budget. There's a lot of granularity there, which we should probably do a better job of sharing. But the short answer is, it's like huge chair gets pulled first. The people are trying to enter the market first, last, so the new start-ups totally screwed. Because the people who are not sitting on crucial programs, partially screwed. The people that have software that is — or products that are useful in the past, but have the right connections probably — another version of this is if you just look at that chart, I showed you with the CAGR on Foundry, these are the most important programs for a dangerous world." – Alex Karp
Palantir's software touches many of the most important parts of the U.S. government and there still remains a significant opportunity for Palantir outside the U.S. government. Palantir's total government customers stagnated in 2021, which will be something to monitor moving forward, but strong net dollar retention rates indicate Palantir's ability to upsell its solutions for these types of customers. Palantir should benefit from new deals closing with a new federal budget in place.
We continue to develop several large opportunities in our government pipeline, particularly in the United States, and we are closely monitoring federal budget negotiations and developments around the continuing resolution deadline." – Palantir's Q4 Accompanying Remarks
On Tuesday, Palantir announced a partnership with the CDC to "bolster" the fight against Covid and Palantir will expand the platform which was originally rolled out for vaccine distribution in mid-2020. The contract is worth $5.3M over a six-month duration.
Palantir invested in a wide range of companies that are also Palantir customers. Many of the investments went public through a SPAC and all of these investments are down from their ATHs, as seen below.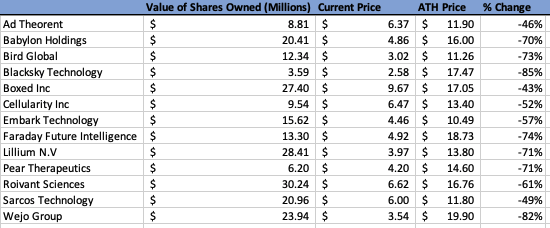 @MT_Capital1 (Twitter)
While Palantir's SPAC revenue isn't a deal-breaker for the company, these investments hurt Palantir's EPS for the quarter and contributed to the miss in EPS. As I highlighted in a prior article, Palantir is making strategic bets on its world-class software that make the company a mini fund that truly partners with and invests in its customers. This could potentially generate magnificent returns for Palantir if one of these companies utilizes Foundry to become a new industry standard, but it's risky as these companies need to perform exquisitely in order to execute successfully. For more on the SPAC investments and the risks associated, check out this note.
Palantir had a strong 2021 and it was encouraging to hear the company's path to profitability on the earnings call from Karp. Palantir continues to build a robust operating system for organizations of all sizes and create new standards for leveraging the data from siloed platforms with advanced analytics to become the standard operations platform. Palantir is well-positioned to grow its revenues by 30% annually or better through 2030.
At its current valuation, I rate Palantir a strong buy.
Thanks for reading and happy investing!
.
This article was written by
I am a Research Associate at Beating The Market, we strive to identify tomorrow's disruptive companies that will generate life-changing returns. At Beating The Market, I work with Louis and Ahan to help people invest in the stock market and find the next Apple, Tesla, or Facebook. We do this by utilizing BTM's Crucial Characteristics and identifying companies using the "Zero-to-One" exercise in thinking when evaluating these companies.
You'll find me writing deep dives on tomorrow's stocks with a potential 10x return or covering the most popular tech stocks and secular growth trends from fintech to AI.
If you want to see more of my investing ideas, check out my Twitter:
https://twitter.com/SimonSaysStocks
University of Florida Alum, Major in Finance
Disclosure: I am a promoting contributor for Louis Stevens' Marketplace service, Beating The Market.
Disclosure: I/we have a beneficial long position in the shares of PLTR either through stock ownership, options, or other derivatives. I wrote this article myself, and it expresses my own opinions. I am not receiving compensation for it (other than from Seeking Alpha). I have no business relationship with any company whose stock is mentioned in this article.
Additional disclosure: Please note PLTR was part of our team coverage, under the Louis Stevens profile (Beating the Market). Ahan Vashi covered this stock in July, August, September, and November.