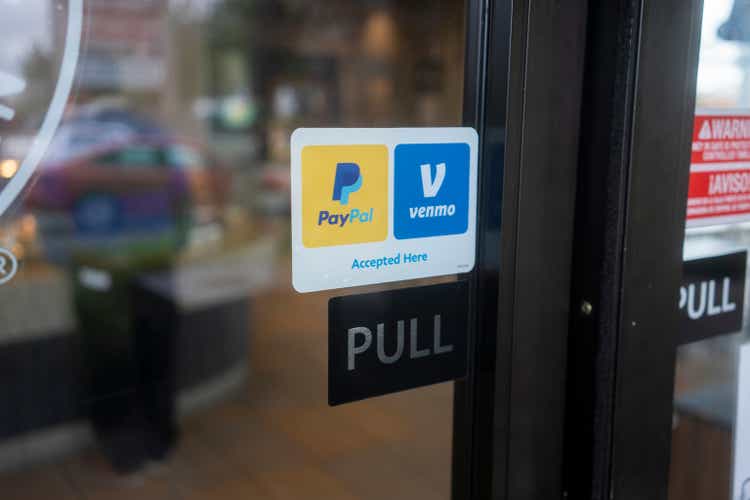 hapabapa/iStock Editorial via Getty Images
PayPal (NASDAQ:PYPL) shares have been in a downward spiral for several months now. The decline in its market value can be attributed to a variety of factors, most notably a broader tech selloff in response to expected interest rate hikes in 2022. More recently, a disappointing fourth quarter earnings announcement and political concerns involving Russia and Ukraine have exerted additional downward pressure on PayPal shares.
On February 3rd, Dan Schulman, the company's CEO, purchased nearly $1 million worth of PayPal stock. Several company directors quickly followed suit, with three individuals investing a combined $2 million into PayPal from February 4th to February 18th. Insider buying, especially from that of the CEO, should be interpreted as a positive signal that management thinks the company is undervalued. I happen to agree with management at this given time – I think the ongoing selloff in PayPal shares is irrational and unwarranted. I won't naively state that there isn't any downside at play for PayPal moving forward. That said, I strongly believe the company has a favorable risk-reward ratio and sits as a leading participant in an enormous secular growth industry. I don't know exactly when PayPal will bottom out, and quite frankly, I don't care to try and play that game. But at today's price levels, I think PayPal presents an advantageous buying opportunity for those who are willing to think long-term.
An unconvincing fourth quarter earnings announcement sent panic throughout Wall Street – too much panic for that matter. PayPal's $6.92 billion in revenue beat analyst expectations, and the company's $1.11 EPS missed forecasts by just $0.01. User growth for the quarter fell short of expectations as well, with management referencing the creation of 4.5 million illegitimate accounts as the primary cause for the miss. It's PayPal's forward guidance that rattled investors the most. Management now expects revenue growth for 2022 to end between 15% and 17%, as opposed to Wall Street's previous 18% forecast. First quarter EPS guidance was slashed 25% to $0.87/share, down from $1.16/share beforehand. PayPal's reduced guidance boils down to eBay-related (NASAQ:EBAY) challenges. Beginning in 2022, eBay will transition to its own payments platform and will no longer accept PayPal at checkout, which once stood as the only payment option on the ecommerce website. As a result, the company expects challenges linked to eBay to put $600 million of pressure on PayPal's top-line in 2022, which represents 2% of its annual revenue in 2021.
Just like in any scenario, PayPal's fourth quarter earnings announcement could have been better. That said, I don't think it deserved the reaction it endured by investors, and I believe the company's long-term commercial prospects remain exciting. PayPal's total payment volume surpassed $1 trillion for the first time ever in 2021, serving as a remarkable achievement for the fintech juggernaut. For the full year, PayPal experienced strong revenue and EPS growth of 18% and 19% up to $25.4 billion and $4.60/share. Management stated that eBay put $1.2 billion of pressure on PayPal's top-line in fiscal year 2021. Revenue excluding eBay grew by 29% in 2021, and while we can expect PayPal to face eBay-related obstacles in the near-term, management is optimistic that it will overcome these challenges by the end of 2022. Investors should be grinning when hearing this news, given that ex-eBay revenue growth has been consistently above 20%. PayPal's ability to expand its product offerings beyond its core business is admirable in my view. Between Venmo, Buy Now, Pay Later, cryptocurrency, and more, PayPal is well-positioned for robust growth in the years ahead.
PayPal's liquidity position isn't slacking either – the company has $16.3 billion in cash and only $9 billion in debt. If you're anything like me, then you'll agree that cash is king. PayPal hits the mark on this front as well. In the fourth quarter, the company's free cash flow and cash from operations increased 38% and 31% year over year to $1.6 billion and $1.8 billion, respectively. Over the past five years, PayPal's free cash flow has experienced a compound annual growth rate of 17%. The company's balance sheet is strong, cash generation is robust, and growth prospects remain intact. At current price levels, I think acquiring PayPal is a no brainer.
As the selloff continues, PayPal shares are starting to look awfully cheap. When you compare the company's P/E, P/S, EV/EBITDA, and PEG multiples to that of its peer group, you will notice that PayPal is trading at a discount to its competition. Today, PayPal is trading at 29 times earnings, 20% less than its peer group median of 36x. Similar trends can be uncovered when observing PayPal's P/S and EV/EBITDA multiples.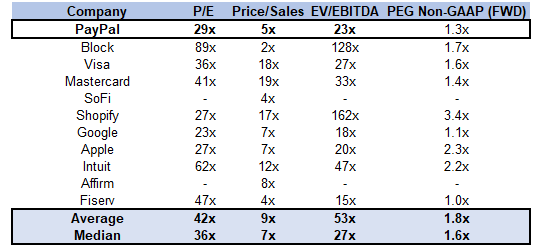 Author's Material, Seeking Alpha Data
It's always difficult to try and forecast a company's value well into the future, but let's try anyways. I'm going to assume that PayPal will generate $90 billion in revenue in fiscal year 2030, which is rather low compared to consensus estimates of $98.5 billion. At a 30% EBITDA margin – which I think is attainable – PayPal would generate an annual EBITDA of $27 billion, or 418% higher than its 2021 figure. By applying an EV/EBITDA multiple of 15x, which is consistent with the broader market's average, I arrive at an enterprise value estimate of $405 billion. This forecast represents 237% upside from today's levels, which I believe offers a nice margin of safety. The sensitivity analysis below shows how different revenue estimates and EBITDA margins would change PayPal's upside when applying an EV/EBITDA multiple of 15x. This approach is by no means perfect and rather simplistic; however, it provides some clarity around the general direction PayPal is heading. Likewise, I don't think this approach is unreasonable given that several analysts predict PayPal will become a trillion dollar company at some point.

Author's Material
The global payment market is forecasted to grow at a compound annual growth rate of 29% up to $11.83 trillion by 2028. PayPal remains at the forefront of this secular growth trend and is uniquely placed to sustain robust growth moving forward. The company's valuation has shrunk to pre-pandemic levels despite making considerable progress in recent years. I think PayPal offers investors a wonderful opportunity to acquire a superb company at an inexpensive price. When we look back several years from now, investors will remember PayPal's latest decline as nothing but a bump in the road on its journey to new success.
This article was written by
Disclosure: I/we have a beneficial long position in the shares of PYPL either through stock ownership, options, or other derivatives. I wrote this article myself, and it expresses my own opinions. I am not receiving compensation for it (other than from Seeking Alpha). I have no business relationship with any company whose stock is mentioned in this article.