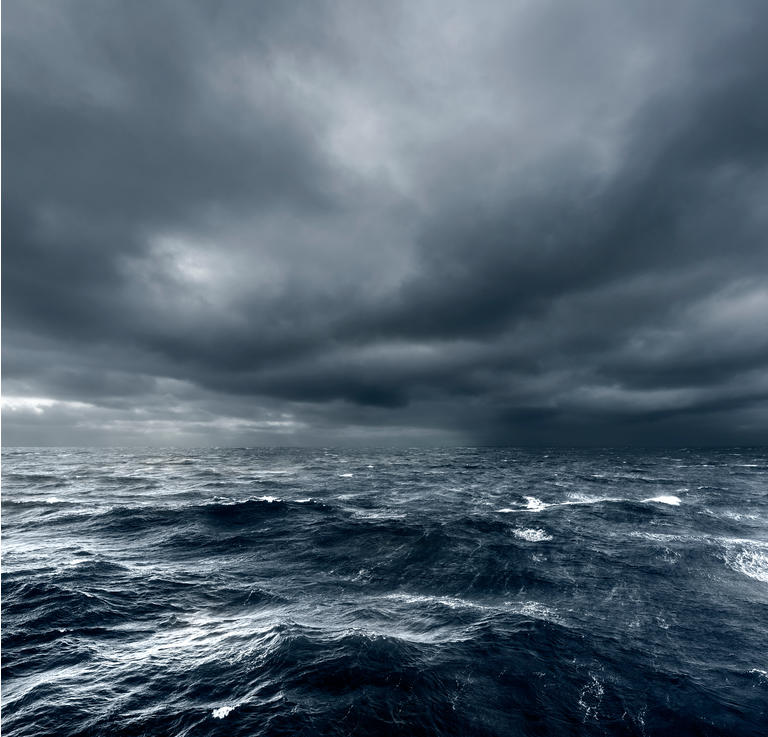 HadelProductions/E+ via Getty Images
This article was amended on 01/18/22 to reflect a minor clarification related to the spread expectations.
Real yields are racing higher, with the 5-yr TIP rate now at -1.22% the morning of January 18. It was just on January 4. The 5-yr "real" yield was -1.6%. This move higher in real yields puts pressure on equity market valuations. The higher this rate climbs, the more the earnings multiple will contract. The biggest problem for the equity markets is that the "real" yield on the 5-yr TIP may be about to go much, much higher.
A technical chart shows that the 5-year TIP rate may make a significant breakout, sending that real yield soaring from -1.22% to around -50 bps. That would be an increase of more than 70 bps, creating carnage in the already overvalued equity market.
The more hawkish the Fed gets, the more real yields need to move higher. Some estimate the Fed owns around 25% of the TIP market, which is massive. Now that the Fed is winding down QE, the buying pressure for TIPS in the market will subside, likely resulting in rising yields. Should the Fed begin to unwind the balance sheet, well, there's only likely to be more upward pressure on TIP yields.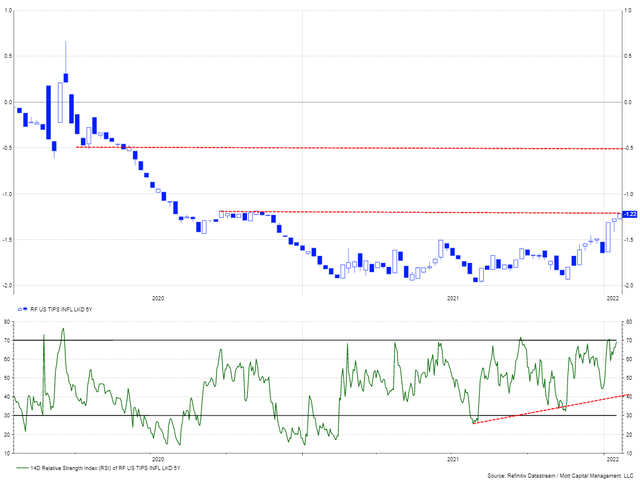 5 Yr TIP can break out if rises above -1.2%
Datastream/Mott Capital
A move of 70 bps on the TIP yield would put considerable pressure on the S&P 500 earnings yield of 4.78%, sending the S&P 500 earnings yield up to 5.5%. That is more in line with previous bottoms, dating back to 2018 and 2020. That would push the S&P 500 PE ratio from its current level of around 21 to about 18.2, a decline of 13.3% or roughly 3970.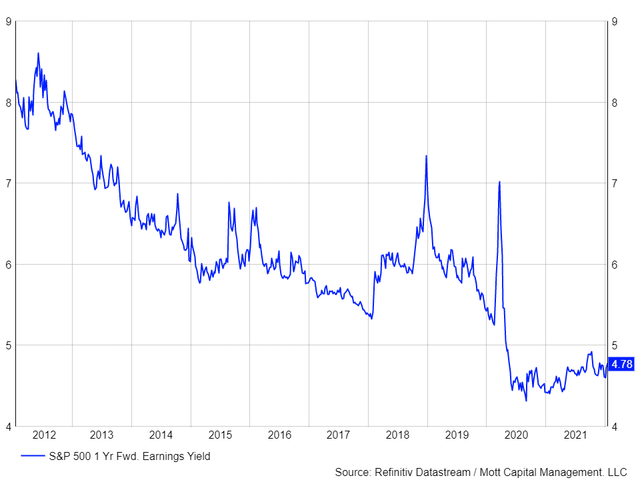 S&P 500 Earnings Yield (EY)
Datastream/Mott Capital
It creates a real problem, and maybe worse, for the Nasdaq composite's earnings yield. It would rise from its current 3.38% to around 4.1%, pushing its PE ratio to 24.4 from 29.5, a drop of 17.6%.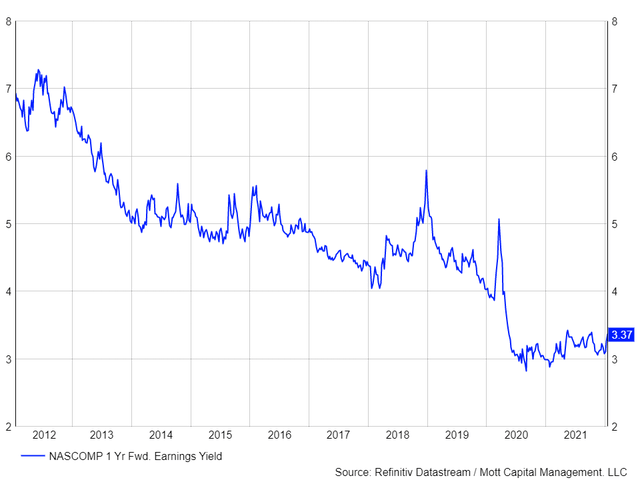 NASDAQ EY
Datastream/ Mott Capital
It looks pretty likely that rising real yields will negatively drag on equity markets. The correlation between the actual one-year change in the 5-yr TIP rate and the actual one-year change in S&P 500 earnings yield over the past 5-years is very high, at 0.71. It's also effortless to see the relationship in the chart below, with both moving in near lock-step. The chart shows that more recently, the earnings yield of the S&P 500 has been moving sideways while the real yield has risen sharply. One could say the S&P 500 earnings yield has only started to move higher.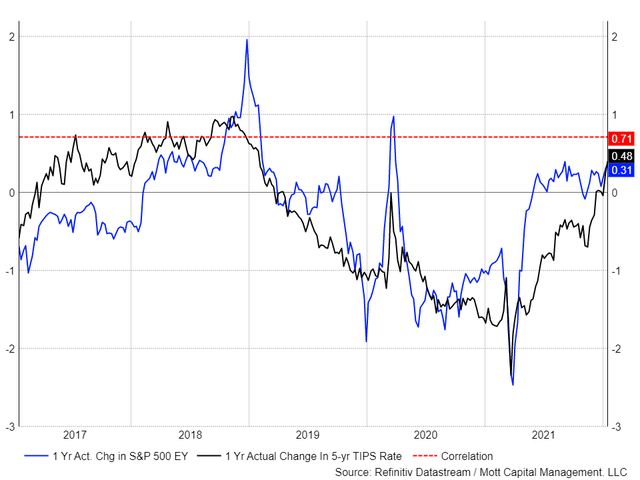 1-Yr actual change for both the S&P 500 EY and 5-Yr TIP rate is highly correlated.
Datastream/ Mott Capital
Currently, the spread, or the difference, between the S&P 500 earnings yield and the 5-yr TIP rate is 5.97%. Which over the past eight years is pretty wide. It would imply that the S&P 500 is reasonably cheap vs. the 5-yr TIP rate. But the problem now for the S&P 500 to maintain that current spread, the index's earnings yield will need to rise basis point for basis point with the 5-yr TIP. If the TIP rate explodes higher, which given the macro backdrop, seems more likely than not, it will inflict a lot of pain across equity prices, especially those that carry very high multiples.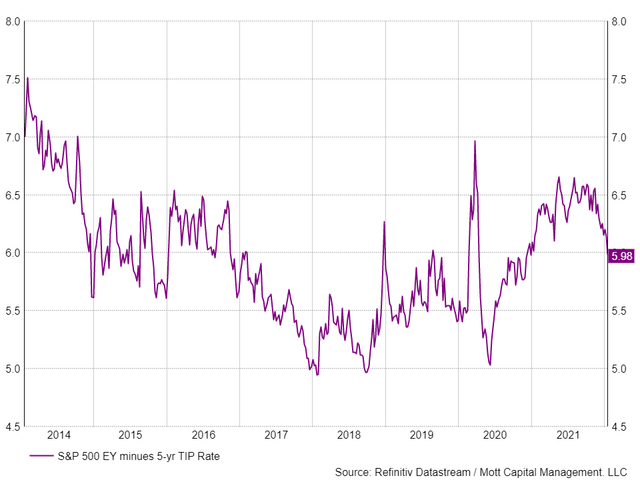 The difference between the S&P 500 EY and the 5-Yr TIP rate
Datastream/Mott Capital
What seems likely to happen is that the spread will widen back to around 6.5%, which is where the index was trading during this whole time. It would imply an S&P 500 earnings yield of about 6%, equal to an S&P 500 PE ratio of perhaps 16.7 or 20.9% lower than its current level, or 3,630.
Yep, stocks rose quickly on the low real yields narrative. Now, they are likely to fall just as fast as the game is over.
Investing today is more complex than ever. With stocks rising and falling on very little news while doing the opposite of what seems logical. Reading the Markets helps readers cut through all the noise delivering stock ideas and market updates, looking for opportunities.
We use a repeated and detailed process of watching the fundamental trends, technical charts, and options trading data. The process helps isolate and determine where a stock, sector, or market may be heading over various time frames.
To Find Out More Visit Our Home Page

This article was written by
Mott Capital Management writes short-to-medium-term focused articles on where stocks may go. We do not write articles on investing for the long-term. In a typical article, we will tell readers where Mike thinks a stock may go over a short period of time. This allows readers to understand why a stock may be rising or falling based on an analysis of fundamental, technical, and options trading activity. 
We do not trade stocks for compliance purposes and to provide our readers with an unbiased opinion. Mike is a long-term growth investor and discloses if he holds a position in his long-only portfolio. 
Disclosure: I/we have no stock, option or similar derivative position in any of the companies mentioned, and no plans to initiate any such positions within the next 72 hours. I wrote this article myself, and it expresses my own opinions. I am not receiving compensation for it (other than from Seeking Alpha). I have no business relationship with any company whose stock is mentioned in this article.
Additional disclosure: Mott Capital Management, LLC is a registered investment adviser. Information presented is for educational purposes only and does not intend to make an offer or solicitation for the sale or purchase of any specific securities, investments, or investment strategies. Investments involve risk and, unless otherwise stated, are not guaranteed. Be sure to first consult with a qualified financial adviser and/or tax professional before implementing any strategy discussed herein. Upon request, the advisor will provide a list of all recommendations made during the past twelve months. Past performance is not indicative of future results.