Bryan Bedder/Getty Images Entertainment
Archegos Capital Management was a family office owned and operated by the now-famous tiger cub investor Bill Hwang. The family office ran into huge trouble back in early 2021 when several of his highly leveraged positions went the other way, causing multiple margin calls that he wasn't able to meet.
ViacomCBS (VIAC) (VIACA), the US-based media and entertainment conglomerate, has been one of his main bets. The company has been hit hard in the following bank sell-off which saw almost $30 billion wiped off the markets. The shares of the company have been selling as high as $100.34 on the eve of the scandal. In less than a week, the stock lost more than 55% of its value. The stock has not recovered since, with ViacomCBS shares now trading at an almost 67% discount prior to the scandal.
This obviously presents a great investment opportunity since the entire situation had little to do with fundamentals. There have been many articles discussing the investment prospects of ViacomCBS as a stand-alone company over the last year, and I will try to stay away from that aspect. I would like to present a different kind of investment thesis, possibly more on the speculative side.
The combination of a huge content portfolio, as well as an incredibly low price tag, is currently making ViacomCBS an attractive acquisition and merger target in an ever-evolving streaming and entertainment market at the height of industry consolidation. The entire media and entertainment empire is currently trading for little more than $20 billion and there are many companies with strong enough financials to exploit that.
ViacomCBS is a leading global media and entertainment conglomerate that creates premium content and experiences for audiences worldwide. The brand portfolio of the company is one of the greatest in the industry and consists of iconic consumer brands such as CBS, Showtime Networks, Paramount Pictures, Nickelodeon, MTV, Comedy Central, BET, Paramount+, Pluto TV, and Simon & Schuster, among others.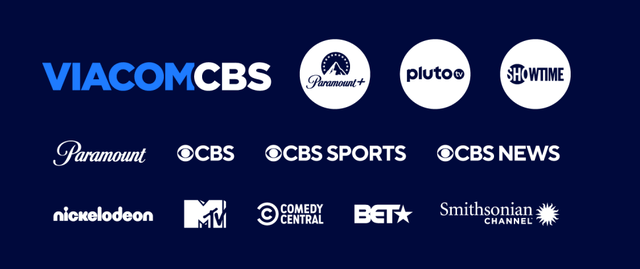 source: Q1 2021 – Presentation
I would argue that the two main assets that ViacomCBS has to bring to the table in a potential merger or acquisition would be Paramount studios and the streaming segment led by Paramount+, PlutoTV, and Showtime OTT. We should not downplay the value and strength of the legacy TV and cable business, but these two are the real assets set to be taken.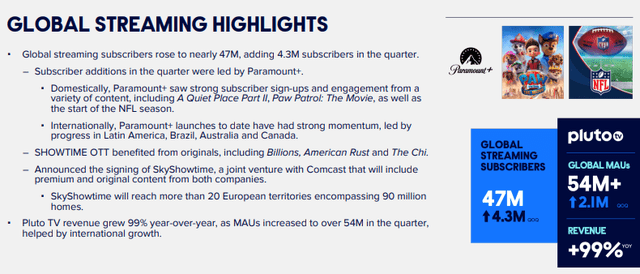 source: Q3 2021 – Earnings Release
Paramount Plus is a subscription-based video-on-demand streaming service that was originally launched in 2014 as CBS All Access. The service currently has more than 48 million subscribers. It offers a growing collection of original series and films but it also gives access to live CBS sports, including NFL and SEC football games and many others. It is considered the main part of the ViacomCBS streaming offering.
PlutoTV is a free ad-supported internet TV service. It is available as an app on most smart TVs, iOS, and Android. There are channels across many subjects, such as entertainment, movies, news, and sport. Viacom acquired the company for $340 million in January 2019. Pluto TV has been an investment that has paid back tenfold with almost 55 million monthly active users.
Showtime OTT is the third and possibly least impressive part of the ViacomCBS streaming portfolio. Showtime's programming primarily includes theatrically released motion pictures and original television series, along with boxing and mixed martial arts matches, occasional stand-up comedy specials, and made-for-TV movies.

source: Q3 2021 – Earnings Release
Paramount Pictures is widely considered as one of the big-five film studios in the United States. Any sort of deal with ViacomCBS would effectively represent a purchase of the greatest studios of all time. The subsequent relationship could possibly be similar to that of HBO Max and Warner Bros. Pictures, which has been immensely beneficial for that streaming service. Whatever company collects the most out of the major film studios is definitely going to hold a significant advantage in the streaming wars.
There are a few companies still in business that share the same sort of history in terms of almost everlasting acquisitions and mergers such as is the case with ViacomCBS. The turbulency can be said to have been outshined only by the likes of AT&T (T). CBS and Viacom have been both merged and split many times before. Some of the deals have been solely business-focused, others were a result of regulation.
So was the case back in 1970, when the Federal Communications Commission forced CBS to spin off the company that became Viacom after ruling that television networks couldn't have financial stakes in shows they aired. CBS and Viacom came back together again in 1999 thanks to the efforts of the Media Mogul Sumner Redstone when Viacom bought CBS for $36.5 billion. Seven years later, Redstone soured on the idea of diversified media conglomerates and split the corporate siblings up.
The latest and greatest chapter in its turbulent history is the 2019 "re-merger" of Viacom and CBS. CBS and Viacom agreed to recombine in an all-stock merger, reassembling the two parts of a historic media empire, with the aim of becoming more competitive in the entertainment industry.
Building on an extraordinary collection of culture-defining franchises and partnerships with creative talent around the world, ViacomCBS will be home to more than 140,000 premium TV episodes and 3,600 film titles, with global production capabilities and more than $13 billion in annual content investment. The company will account for 22% of TV viewership in the U.S. and hold the highest share of broadcast and cable viewing across key audience demographics, with strength in all categories, including News, Sports, General Entertainment, Pop Culture, Comedy, Music, and Kids.
Bob Bakish, President and CEO on the merger
The possibilities of ViacomCBS being acquired by other companies have been discussed, but I would argue that the most likely outcome of the almost never-ending saga would be some sort of merger agreement between ViacomCBS and a third party.
Still, some sort of acquisition by one of the major players in the streaming and media business should not be excluded. However, given the current share structure and ownership, I consider the latter a less likely scenario.
The 2019 deal has seen ViacomCBS become a two-share class structured company. Class A common stock is the voting stock, while Class B is the non-voting stock. There is in effect no difference between the two classes except for voting rights. Investors not looking for an impact on latter decisions, should not look much further than the Class B shares.
This is where we have to introduce Shari Redstone into the story. She is Summer Redstone's daughter and currently one of the more famous and influential media executives. She is the chairman of ViacomCBS and president of National Amusements.
The non-voting VIAC shares are mostly held by the usual institutional investors, but the voting VIACA shares are almost exclusively held by Shari Redstone and the Redstone family.


source: TIKR Terminal
As of today, the Redstone family owns 77.40% of the VIACA voting stock via National Amusements, as well as 3.52% of the non-voting VIAC stock. All of this means that in terms of major business decisions, the Redstone Family practically owned ViacomCBS privately.
The entire business is currently valued at a $21.31 billion market cap and the total enterprise value is set at $36.34 billion. Such numbers seem incredible given the portfolio and brand strength ViacomCBS has. So, we would be looking for companies that are compatible with their business or are looking to aggressively expand in that direction. I would argue that there are plenty of interested parties. So let us take a look at some of the possibilities.
In a deal that is supposed to play itself out this year, AT&T's WarnerMedia and Discovery (DISCA) are going to merge through a reverse Morris trust and form a new streaming and media giant, Warner Bros Discovery. WBD acquisition of ViacomCBS, even if logical, seems a distant possibility due to the level of debt that the new company is going to inherit. Even if discussing a 60+ billion market cap that is supposed to be producing close to $8 billion in free cash flow, WBD is going to be burdened with close to $50 billion of debt. A more realistic solution would be some sort of a merger, which the CEO Zaslav already hinted about, claiming they are not done making deals yet.
Some sort of a deal with Comcast (CMCSA) is already being rumored, given that the two companies have been partnering up to do business ventures together in Europe. As it was reported to Forbes, Comcast and ViacomCBS held at least one high-level talk in June that led to a broader discussion of whether there were other strategic possibilities, from a Hulu-styled streaming joint venture to a more comprehensive tie-up
Netflix (NFLX) has been the first mover and leader in the streaming space for a long time. They definitely do have the financial strength to pull something like this off, but I would argue this is the least possible of cases due to the simple lack of need for such a deal from the Netflix side, as well as the size of the company, most likely preventing the Redstones from getting a good enough deal.
Disney (DIS) is another company with a huge interest in media and streaming that is currently having a relatively limited content portfolio given its size and scale. The almost $290 billion market cap company carries a large premium with it being traded for 141 P/E, bringing in just shy of $2 billion in free cash flow. The company would be sure looking to expand it further beyond its original content portfolio and ViacomCBS does look attractive in that sense.
Amazon (AMZN) on the other hand remains a much more realistic possibility. The company made a huge commitment to streaming with their Amazon Prime platform, which also integrates well with their other business such as AWS. That they are not shy of making deals is also shown by their $8 billion MGM acquisition last year.
One of the names that remain a possibility is Apple (AAPL), which has begun its venture into the streaming space with Apple+. The apple idea does make some sense, considering that both their platform and brand recognition are top of the line, but also that they are having tremendous issues with their lackluster content portfolio. This is where ViacomCBS assets would come in handy. With almost $100 billion in FCF per year, the acquisition might not be that unreasonable.
If one plans to invest in ViacomCBS, there are several things he should be aware of prior to doing so.
The aftermath of the Archegos scandal has in fact presented a unique investment opportunity that does not come often. Like I have pointed out before, the sell-off had little to do with the business fundamentals, which is something that prudent investors might be wise to exploit.
Even if I consider the "legacy" business to be undervalued and a good investment, the main reason why I would recommend the investment is the possibilities that might arise down the road from subsequent mergers and acquisitions. The consolidation of the media and streaming industry that is taking place is hardly going to bypass ViacomCBS. The relatively unique shareholder structure will see the Redstone family box out a most likely lucrative deal for VIAC investors.
This article was written by
Disclosure: I/we have no stock, option or similar derivative position in any of the companies mentioned, and no plans to initiate any such positions within the next 72 hours. I wrote this article myself, and it expresses my own opinions. I am not receiving compensation for it (other than from Seeking Alpha). I have no business relationship with any company whose stock is mentioned in this article.