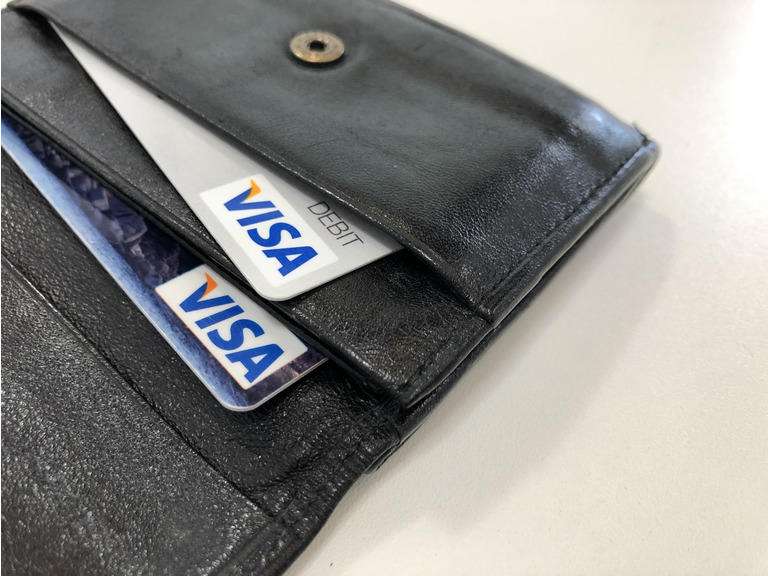 FinkAvenue/iStock Editorial via Getty Images
Visa (V) is one of the world payment powerhouses. However, recent shifts in the payment world have made Visa's outlook look shaky. I believe Visa has staying power within the payment processing industry and they will remain soluble for the foreseeable future. The issue I have is that Visa's business model directly contradicts the growth of Web3. Visa is inherently a centralizing network connecting merchants and customers. This differs from PayPal (PYPL) or a Block (SQ) which thrives on offering everyday consumers access to decentralized finance networks through Venmo and Cash App.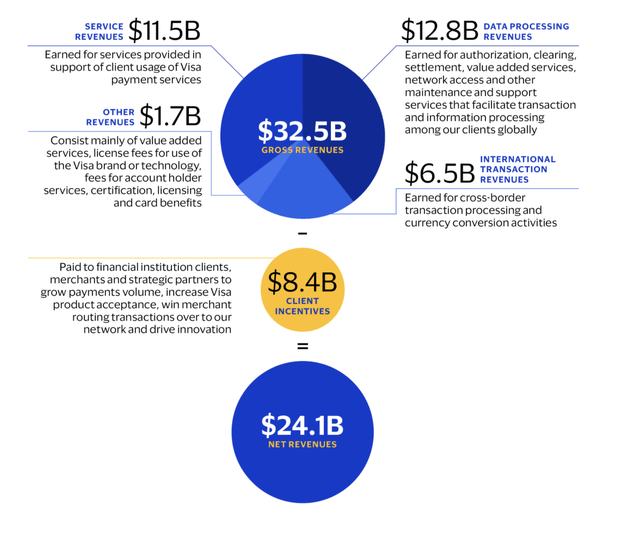 Source: (Visa 2021 Annual Report)
Visa currently trades at roughly 10x net revenues due to their uncertain growth future. Competitors have been coming in and disrupting Visa's steady lead. PayPal and Block are gaining market share every day and I would look for slowing revenue growth for the company after the pent-up COVID demand spike. The most worrying figure from this graphic has to be the 8.4 Billion in client incentives. This shows the desperation Visa has to retain its current customers who are increasingly embracing Web3 monetary systems
Growth has not been occurring naturally for the company. Incentives have been retaining merchants that would otherwise leave for competitors. For value investors, this may not be concerning due to price depreciation, increased dividends, and earnings momentum. However, as a long-term growth investor, these are not metrics I put high weightings on. When looking at a company I want the highest growth that will give me the most bang for my buck tomorrow, not today. Growth needs to be occurring in multiple areas as well as consistent earnings growth.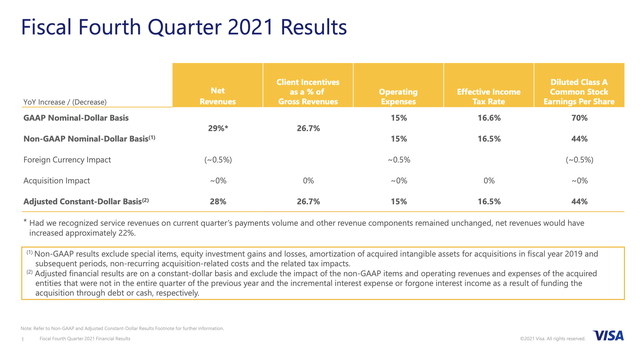 Source: (Visa Q4 Earnings Presentation)
Visa has consistent earnings growth however there are different business units that are dragging the company's share price down. First off the legacy payments business is always going to be a part of the company. However, to increase value to shareholders the company needs to slim down to increase margins or inflate through acquisitions. At today's rate the company has been sitting on the fence and I would look for management to guide investors toward one vision or the other.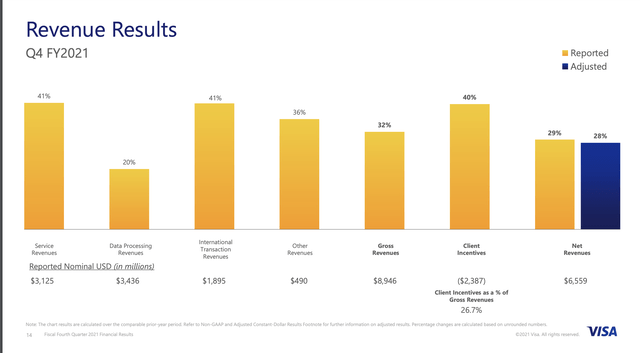 Source: (Visa Q4 Earnings Presentation)
Revenue results were strong during Q4 2021 YoY. This had much to do with schools and businesses reopening after the first wave of the pandemic. Since then consumer spending has been strong. However, this spending was done electronically either through Apple Pay (NASDAQ:AAPL) or through networks like Venmo. I believe this will increasingly disrupt Visa's market share in future quarters.
The one bright spot Visa has is its operations. The company continues to execute at a steady pace with consistent growth rates. Nothing about Visa's operations blows me away. Visa is a legacy operator in the contracting industry. I don't believe investors should fall for positive operating results due to long-term macro headwinds. I believe after much of Block and PayPal's value is unlocked Visa will begin to slowly falter and lose market share.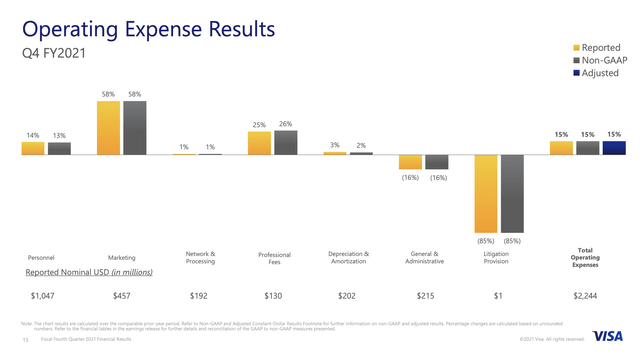 Source: (Visa Q4 Earnings Presentation)
Visa's expense budget has me worried about the future growth of the company. Marketing currently makes up 58% of Visa's overall expense budget. For a legacy enterprise, this is very concerning because Visa is a large brand name. The company is trying to reinvigorate a new consumer base with forays into digital however those have had limited success. Companies like PayPal and Block have full platforms dedicated to Web3 decentralization. Visa short-term will benefit off of Web3 tailwinds however long term their core business is in serious trouble.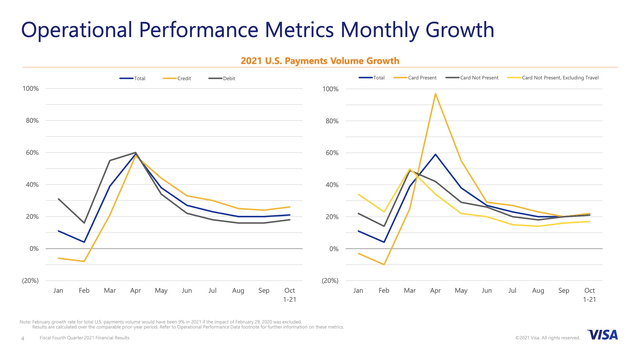 Source: (Visa Q4 Earnings Presentation)
Payments Volume Growth showed massive pent-up demand from lockdowns early in 2021. I believe that as long as there are no further lockdowns, this trend will not continue. Visa operationally has been a steady performer. However, there are no metrics that blow me out of the water and make me want to be a Visa investor.
Visa and Mastercard (MA) are the big oil of the payments industry. New competitors are coming in and making the legacy business model incompatible with future results. The decentralization of tightly held financial systems has been rapidly expanding throughout the world. When Venmo is rolled out at scale internationally, I believe this will replace much of the legacy infrastructure associated with credit unions and payment processing companies. In my opinion, foreign workers are increasingly going to choose to send money to relatives at home through Venmo and Cash App. I look forward to developments in both of these products. Besides consumers, I believe PayPal's merchant business could seriously disrupt Visa's existing relationships with enterprise customers. With digital payments moving forward, Visa will need to form an agreement with an e-commerce company or make acquisitions. Otherwise, a long-term investment in Visa would be a poor decision.
Visa's valuation may look appealing to investors at today's prices for many reasons. However, I believe that Visa is in serious long-term trouble even with a low valuation. I will be comparing Visa with Mastercard and PayPal. Both of these companies operate with payments but on opposite sides of the innovation spectrum. Mastercard is a legacy payment processor like Visa and is a very similar boat. PayPal, on the other hand, is a best-of-breed fintech play with a growth stock valuation.



Source: (Visa Seeking Alpha EV/Sales Peer Comparison)
Visa offers a consistent low 20 EV/Sales ratio. PayPal is a much slimmer enterprise with a 9 EV/Sales ratio due to the inherent low cost of assets. The earnings momentum may be enough to eventually dethrone Visa in terms of market cap and revenue. As far as valuation is concerned, PayPal is the better option compared to Visa and Mastercard.


Source: (Visa Seeking Alpha Asset Turnover Ratio Peer Comparison)
The high turnover in assets is a sign of decelerating growth and attempts to pivot their business. I see this as a very negative sign. I believe Visa is too late to the game. After the Stripe Acquisition fell through, the company is now in a very precarious future position. Moving forward I prefer PayPal to the legacy operators and will increasingly look for opportunities within Web3
Visa is in a very poor position moving forward. While I remain Neutral on the stock, it is purely due to sector rotation into value. This is a trend that may last into mid-2022 and will crush the valuation of growth stocks. Currently, there are many Web3 names at an incredible discount. I rate Visa Neutral and look forward to analyzing the growing fintech space.
This article was written by
Disclosure: I/we have no stock, option or similar derivative position in any of the companies mentioned, and no plans to initiate any such positions within the next 72 hours. I wrote this article myself, and it expresses my own opinions. I am not receiving compensation for it (other than from Seeking Alpha). I have no business relationship with any company whose stock is mentioned in this article.