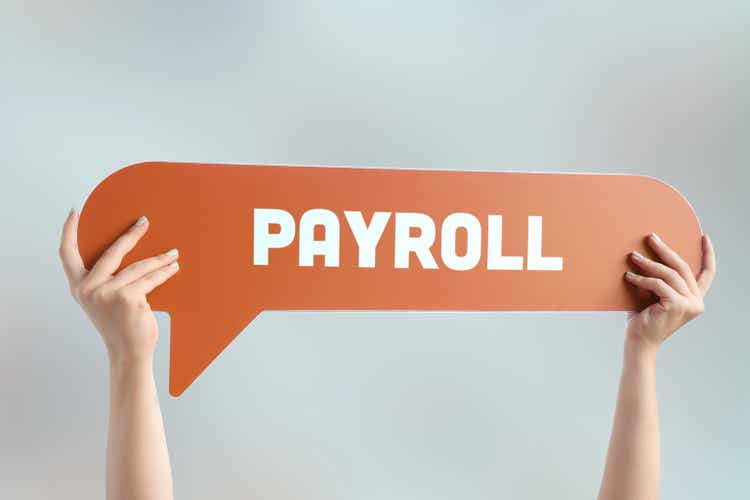 tolgart/iStock via Getty Images
I have read a lot of criticism about those who "bought the dip" in January, but it seems to have been a very lucrative trade so far after a four-day rally that has the S&P 500 recovering more than half the loss from its correction and narrowing its year-to-date decline to just 3.7%. Shares of Google-parent Alphabet (GOOG) fueled yesterday's rally after the company reported solid results and announced a 20-1 stock split. Facebook-parent Meta Platforms (FB) will surely reverse some of those gains today after giving weak guidance last night. Yet where Meta lost it appears that Google gained, and I think the slowdown for the social media giant has more to do with active users being a lot less active on Instagram and Facebook now that the worst of the pandemic is behind us. Additionally, kids are back in school, so they can no longer glue themselves to their phones while attending class online. The Russell 2000 index of small-cap stocks declined yesterday, losing as much as 2% intraday before closing down 1%, as a weak labor market report gave investors pause about the strength of the domestic economy.

finviz.com
After reviewing Tuesday's Job Openings and Labor Turnover Survey, I gleaned in yesterday's market commentary that job creation for the month of January might fall short of estimates. Openings rose to 10.9 million when they were expected to decline to 10.5 million. Friday's jobs number may not just fall short, but outright decline, as ADP reported that private payrolls fell 301,000 in January. That is the first loss since December 2020. The culprit was the Omicron wave, which hit the leisure and hospitality sector the hardest.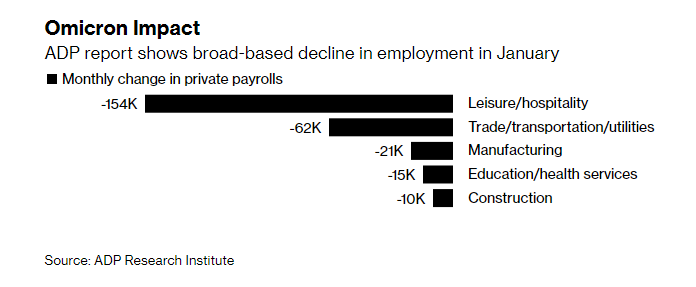 bloomberg.com
Yet indications of economic weakness may not be a bad thing for investors, even if it is temporary, because it should give the Fed pause about tightening too aggressively. This is why long-term bond yields fell yesterday, and the market recovered early losses to move into positive territory. We are moving into a period when bad economic news is good news for markets. We will have another test of this theory after Friday's payroll report. I suspect it will disappoint, which should support risk assets in the near term.
While the first quarter looks soft on the economic front, the peak in the pandemic looks like it is clearly behind us in the U.S. with the 14-day average for new cases falling 44% and hospitalizations now declining as well.


nytimes.com
nytimes.com
More importantly, it looks like the peak on a global scale is behind us as well with the 14-day rate of change closing in on flat. A global decline that mirrors what we have seen in the U.S. would be a tremendous tailwind for growth, but it would also be deflationary to a certain degree. It would increase the pool of available labor, open up the bottlenecks in supply chains, and alleviate the shortages we see today, all of which are putting upward pressure on prices. The conventional wisdom is that faster rates of growth will increase the rate of inflation, but that is not the case when it is supply constraints that are the real problem. It is my expectation that we start to see some relief on this front as summer approaches.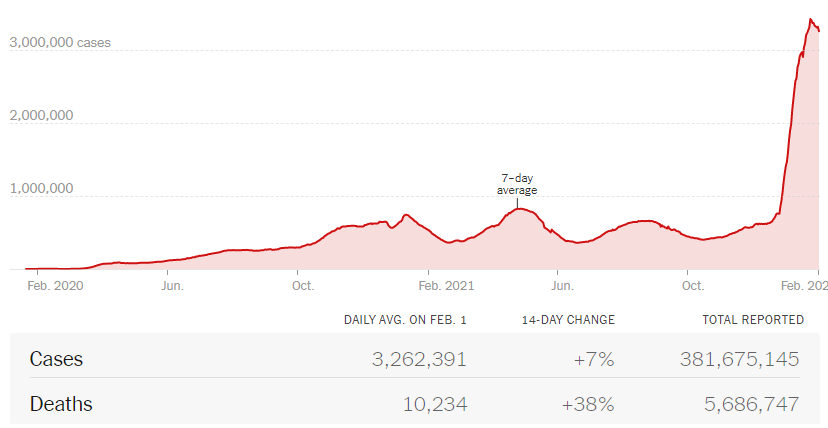 nytimes.com
I have advocated for months that investors reduce, if not eliminate, exposure to momentum plays and expensive growth stocks. Instead, they should be focusing on lower valuation and higher quality names with strengthening balance sheets. I can't think of a greater value than Gannett (GCI) at current levels, particularly after this week's announcement that the board has authorized a share repurchase program of up to $100 million that lasts through the end of this year.
Let us put that in perspective, because the market cap of this company is only $670 million. Therefore, management could purchase approximately 15% of the float at yesterday's closing price. That's a tremendous amount of a demand, and it comes after a year of outstanding operational performance for the company.
At last month's Needham Growth conference, CEO Mike Reed forecast $250 million in free cash flow for 2022, which is a FCF yield of approximately 12.5% for a company with an enterprise value of $2 billion. That also means there will be further debt reduction this year on top of last year's rapid deleveraging. Revenues are expected to start growing year-over-year again by the fourth quarter. Meanwhile, digital subscribers for Gannett's media platform should exceed 2 million by this summer.
Lastly, its digital marketing solutions business (DMS) finished the year at a run rate of approximately $450 million in revenue and $50 million in EBIDTA, making it one of the most undervalued divisions of the company. Reed pointed out in his video presentation that competitors to this division on a stand-alone basis are valued anywhere from 4-8 times revenue, yet most are not as profitable as Gannett's DMS division. If DMS were values at 6-times revenue, it would exceed the enterprise value of Gannett, which is valued at less than 1-times sales. Realizing fair value for DMS is a top priority for the company this year.
This is a stock with far more tailwinds than headwinds, trading at a multiple of less than 4-times EBITDA and less than 1-times sales, with increasing margins, rapid debt reduction, and executing flawlessly in its digital transformation. This is growth at an extremely reasonable price.
The shares have knocked on the door of the 200-day moving average twice in the past week. I am hopeful that the third time is the charm.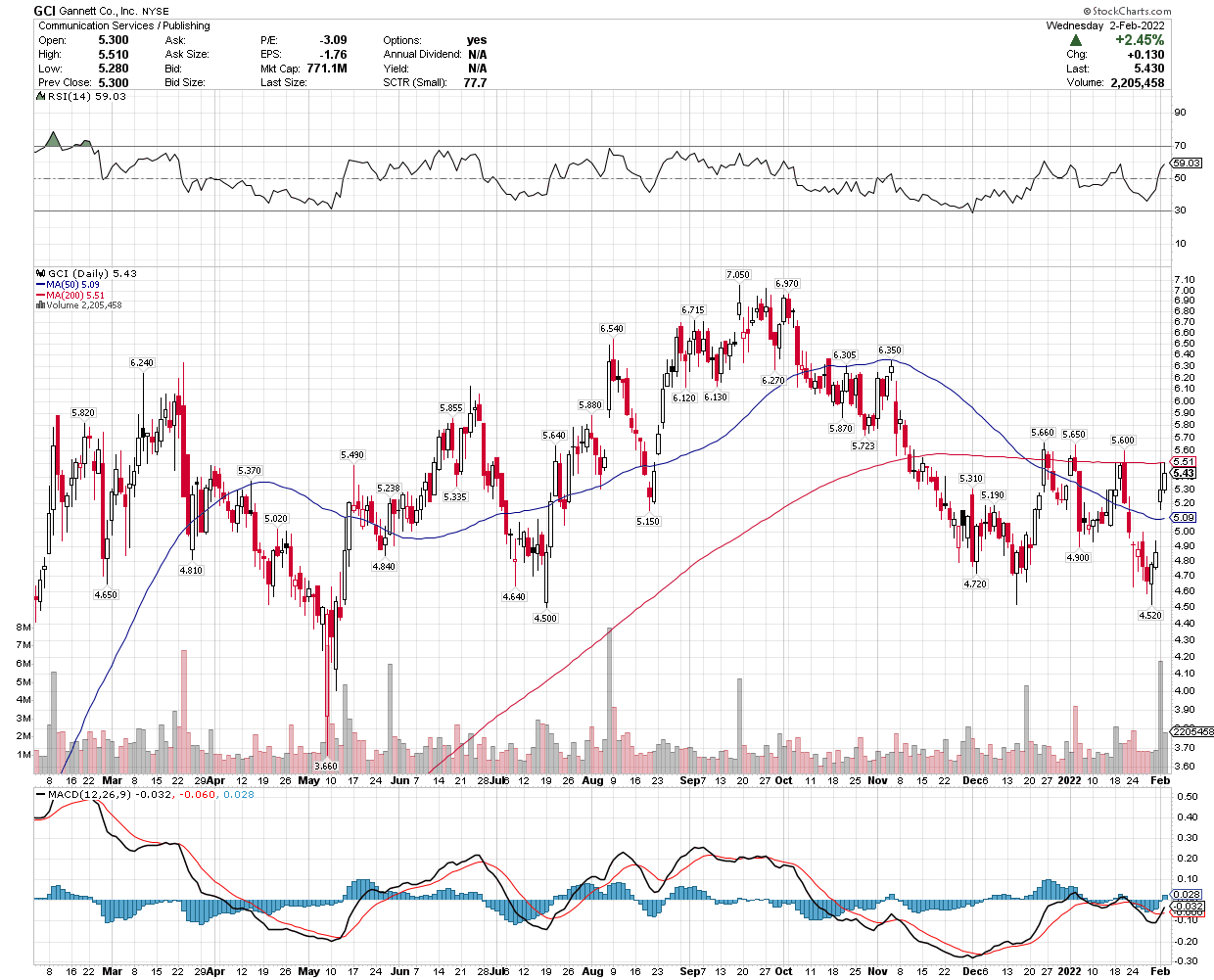 stockcharts.com
Lots of services offer investment ideas, but few offer a comprehensive top-down investment strategy that helps you tactically shift your asset allocation between offense and defense. That is how The Portfolio Architect compliments other services that focus on the bottom-ups security analysis of REITs, CEFs, ETFs, dividend-paying stocks and other securities.  
This article was written by
Lawrence is the publisher of The Portfolio Architect. He has more than 25 years of experience managing portfolios for individual investors. He began his career as a Financial Consultant in 1993 with Merrill Lynch and worked in the same capacity for several other Wall Street firms before realizing his long-term goal of complete independence when he founded Fuller Asset Management. He graduated from the University of North Carolina at Chapel Hill with a B.A. in Political Science in 1992.
Disclosure: I/we have a beneficial long position in the shares of GCI either through stock ownership, options, or other derivatives. I wrote this article myself, and it expresses my own opinions. I am not receiving compensation for it (other than from Seeking Alpha). I have no business relationship with any company whose stock is mentioned in this article.
Additional disclosure: Lawrence Fuller is the Managing Director of Fuller Asset Management, a Registered Investment Adviser. This post is for informational purposes only. There are risks involved with investing including loss of principal. Lawrence Fuller makes no explicit or implicit guarantee with respect to performance or the outcome of any investment or projections made by him or Fuller Asset Management. There is no guarantee that the goals of the strategies discussed by will be met. Information or opinions expressed may change without notice, and should not be considered recommendations to buy or sell any particular security.