4kodiak/iStock Unreleased via Getty Images
Amazon (NASDAQ:AMZN) is a company with many moving parts. The company is experiencing headwinds in some segments and tailwinds in others. The supply-chain and COVID-19 mitigation expenses have limited the profitability of eCommerce in recent quarters, while Amazon Web Services (AWS) has thrived. The Federal Trade Commission (FTC) appears ready to take its pound of flesh. On the other hand, the cloud services marketplace is exploding in size, and Amazon is dominating the market. The legacy business, short-term headwinds aside, is also looking like it could scale to healthy profits. 2021 was a down year for the stock compared to the S&P 500. However, 2022 and beyond are still bright.
Amazon's eCommerce business has faced several short-term headwinds.
The labor market in 2021 was plagued by shortages of available workers. The increase in demand for workers, and competition among employers, led to higher wages and sign-on bonuses for many. This led to increased costs for Amazon and a negative short-term effect on the bottom line.
We've incurred billions of dollars in additional costs to keep our employees safe and to support testing and other COVID-related costs. And we have grown our global headcount by 628,000 employees in the past 18 months and are recruiting for more, including more than 150,000 in the U.S. to support Q4 seasonal demand. This demand for labor has recently coincided with the shortage of available workers, particularly in the United States. It began in Q2, but it really started to impact our operations and cost structure in Q3.
It's led to wage increases and sign-on incentives, as companies compete for workers, as well as inconsistent staffing levels in our operations. In addition, disruption to the global supply chains and inflation in the cost of materials such as steel and services such as trucking has also raised our cost of operations. We estimate the cost of labor, labor-related productivity losses, and cost inflation to have added approximately $2 billion in operating costs in Q3, particularly in August and September.
– Brian Olsavsky – Chief Financial Officer
As mentioned on the earnings call, this hit particularly hard in Q3, and the North America and International segments swung to a combined net operating loss. AWS still made $4.88 billion in operating profits.
Managing hundreds of thousands of employees during a pandemic adds significant costs to the bottom line. Well-publicized supply-chain bottlenecks also caused prices to rise faster than the company passed them to consumers.
In addition, we saw inflationary pressures in raw materials and services, as I mentioned, particularly in steel and third-party trucking. We also saw over $1 billion of cost tied to lost productivity and disruption in our operations. In Q3, labor became our primary capacity constraint, not storage space or fulfillment capacity. As a result, inventory placement was frequently redirected to fulfillment centers to have the labor to receive the products.
This resulted in less optimal placement, which leads to longer and more expensive transportation routes. In short, our operations are normally well-staffed and optimized to be in-stock and to deliver to customers in one to two days. Labor shortages in supply chain disruptions upset this balance and resulted in additional costs to ensure that we continue to maintain our service levels to customers.
– Brian Olsavsky – Chief Financial Officer
From these comments, it is clear to see where the operating profits for the North America and International segments went. In Q1 2021, the segments accounted for $4.7 billion in operating profits, and by Q3 2021, the segments were running at a combined loss due to the above. There is a silver lining here, however. All of these issues are temporary. Even in Q1, when the segments were profitable, COVID-19 mitigation efforts added costs. As these headwinds subside, the segments should quickly snap back to profitability.
Amazon operates in three segments; North America, International, and AWS. For the first nine months of 2021, AWS provided 13% of revenue and over 60% of operating income. This was even more pronounced in Q3 and is expected given the tight-margin nature of the retail business.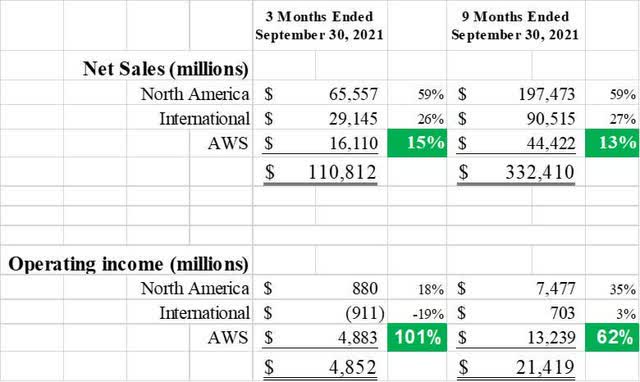 Chart created by author with data from SEC filings.
Depending on the study cited, the global cloud computing market could be worth close to a trillion dollars by 2026. AWS is the world's number one provider with over 30% market share. This opportunity is massive and growing. Over the first three quarters of 2021, AWS provided $13.2 billion in operating income on $44.4 billion in revenue. This operating margin, 30%, is very impressive. The segment is also growing – fast. Net sales for Q3 2021 were 39% higher than in Q3 2020.
Extrapolating these numbers out for five years requires some assumptions. As mentioned previously, AWS revenue was 39% higher in Q3 2021 than in Q3 2020. I assumed that AWS revenue for fiscal 2021 will be up 37% over 2020 and reach over $62 billion. From there, I took a compound annual growth rate (CAGR) in revenue of 25% for three years, followed by two years at 20%. I assumed the operating margin will stay at 30%.


Chart created by author with data from SEC filings and author's calculations.
As shown above, AWS revenue could be pushing $175 billion by 2026, based on these assumptions, and providing an operating income of over $52 billion.
To extrapolate the North America and International segments, I assumed two more years at a 20% CAGR followed by three years at 10%. I assume an operating margin of 3.0% as these segments have struggled with profitability historically. In 2019 the operating margin was just 2.2% for these combined segments, followed by 2.7% in 2020. The resulting operating profit in 2026 would reach $23.5 billion on $782 billion in revenues for these segments.
Combining all segments yields nearly $76 billion in operating profits on $957 billion in revenues by 2026, as shown below.



Charts created by author with data from SEC filings and author's calculations.
Amazon does not typically buy back stock, nor does it significantly dilute shareholders. Since 2018, on average, diluted weight-average shares outstanding have increased about 1% each year. I assumed that share dilution will continue at this pace. By this calculation, Amazon could make $140 per diluted share in operating income, or $110.60 per diluted share after taxes, assuming a 21% tax expense, in 2026.
From here, the share price projections are simple:
According to YCharts, Amazon's P/E ratios at the end of 2021, 2020, and 2019 were 65.23, 77.97, and 80.31, respectively.
The company is expected to earn $41.73 per share this fiscal year and $53.25 in 2022. The projection I performed would create an estimated after-tax EPS of $53.98 in 2022, in line with analysts' expectations.
These results would yield tremendous cash flows. It is possible that Amazon would use some of it to perform share buybacks, pushing the EPS significantly higher still. In fact, if cash flow continues at the current pace, share buybacks are likely in the coming years. Amazon had nearly 5% of the market cap on hand in cash and short-term investments as of the last report, a total of $79 billion.
In many ways extrapolating out the income and revenue of a company like Amazon is an exercise in futility. There are so many moving parts and unforeseen events just past the horizon. Still, I believe the exercise is worthwhile, it's fun, and hopefully, it provides an interesting conversation starter.
As mentioned previously, the FTC is bearing down on Amazon for its retail business, and now, possibly on AWS as well. At the heart of each issue is whether Amazon uses anticompetitive practices to stifle competition. I have written about this in much more detail here. Three scenarios could come about. First, the FTC efforts could fail, and business continues as usual. I consider this to be an even-money bet. Scenario two is that Amazon agrees to voluntarily make some concessions and perhaps pay a hefty fine. Scenario two is the most likely outcome, in my opinion. In scenario three, Amazon splits into three enterprises, either by force or voluntarily. Many investors would like to see this. However, the company has never given any indication that this is even a consideration.
On a more positive note, Amazon may also discover another viable and lucrative revenue stream over the next several years. The company is looking to expand its physical retail footprint. This will also serve to provide mini-logistical hubs in strategic locations. Payment processing software that would take on PayPal (NASDAQ:PYPL) and Shopify (NYSE:SHOP) is reportedly being developed. The technology would utilize inventory tracking and other benefits and fit nicely in Amazon's ecosystem. The worldwide internet connectivity market is said to be worth up to $1 trillion annually. Amazon's Project Kuiper is currently competing with SpaceX (SPACE) to capture this market by installing a field of satellites into orbit. The addition of any of these revenues could further fuel the EPS growth.
Amazon stock took a breather in 2021 after a tremendous run. Headwinds that appeared in 2021 and persist in 2022 should lessen in the latter half of this year. AWS is still going full-throttle and posting tremendous growth and profits. The investments in labor and logistics will bear fruit as supply-chain headwinds subside. There are excellent opportunities for growth, profits, and new endeavors over the next several years, and shareholders will likely be rewarded with the market-beating returns they have come to expect.
This article was written by
Disclosure: I/we have a beneficial long position in the shares of AMZN either through stock ownership, options, or other derivatives. I wrote this article myself, and it expresses my own opinions. I am not receiving compensation for it (other than from Seeking Alpha). I have no business relationship with any company whose stock is mentioned in this article.